This is most likely going to be the last proper travel post on the UK that I'll be writing for a long time and I'm not quite sure how to feel about that. On the one hand, it's a pretty good feeling to see my list of
places that I'm long overdue to write about
start to dwindle down. But on the other hand, it does feel like a chapter of my life is coming to an end. I have a few more posts to write about Norway, but once they're published I'm done writing about my year studying abroad and I guess to me that means that this adventure will be over.
The last time I visited my boyfriend in London, we went on a little trip to Brighton. We had talked about going together for ages, but it wasn't until the very last possible moment that we managed to get ourselves down to the sea. Brighton is about an hour south of London and pretty much the stereotypical example of what you imagine an English seaside town to look like. Brighton is pretty rough around the edges, but it definitely has its own unique charm and it exudes a quirky vibe unmatched by any
other place I lov
e in England
that makes it refreshingly down-to-earth.
Our first stop of the day was the Royal Pavilion. Built at the end of the 18th century by Prince George - who would later become King George IV. and whose rambunctious love and family life is very worth googling - the Royal Pavilion may just have been the most flamboyant and extravagant palace I have seen in my life. Both the exterior and the interior of the building were inspired by many different Asian cultures - if cultural appropriation is the kind of thing that makes you mad, you would probably have a field day in there - and it's not hard to see why Prince George wasn't exactly the best at dealing with finances.
Unfortunately, photography wasn't allowed inside and so you have to take my word for it, but the Royal Pavilion is definitely worth a visit - it's too different from regular royal palaces not to see and actually quite beautiful.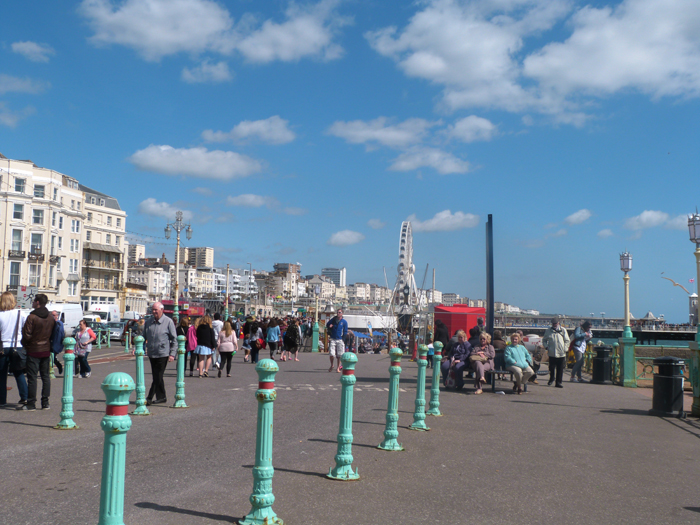 But the one true reason to go to Brighton is, of course, the sea! I may be more of a mountain person, but for me the sea is still the ultimate embodiment of wanderlust - have you ever stared at the horizon and felt absolutely overwhelmed by the thought that there is nothing but water for hundreds of kilometres? That's me pretty much overtime I see the ocean! Which, mind you, isn't very often since I live hours and hours away from the next seashore.
Since it was a gorgeous day - for some reason, I always have good luck with the weather when I travel in England - the beach was full with people enjoying the sun, but bundled up against the harsh wind of the sea. We start to wander over the stony beach and occasionally took a minute to stop and take in the view of the incredibly blue water. We kept on following the promenade with its iconic turquoise-colored metal railings until we reached the remains of West Pier.
West Pier burned down in 2003, but at this point the construction had already been a victim of disuse for many, many years. Plans to restore the pier never really came to fruition and now all that remains is a skeleton of burned black metal rods that stood abandoned in stark juxtaposition to the bright light, the blue see and the animated life on the shore.
After grabbing lunch at
Iydea
- delicious and affordable vegetarian fare - we headed to the town landmark: Brighton Pier. Not visiting Brighton Pier when you're in Brighton is kind of like not seeing the Eiffel Tower in Paris, except that there are at least one hundred more quintessential Parisian things, while Brighton Pier is THE place to catch a breeze of British seaside life.
There are food stalls selling donuts and churros, gambling halls and - a couple of hundred meters away from the shore and towering over the menacing waters - there is also a small amusement park with a plethora of rides. I'm not fond of roller coasters or any rides that have the faintest chance of being wild and so it wasn't really my playground, but I can imagine that the location would serve up an extra adrenaline rush to those who love a little rush!
Despite the glorious sunshine, it was extremely cold, though, and with one person frozen to the bone and a boyfriend that was fighting off the beginnings of a cold, we decided to head back to the station to catch a train back to London, passing the Royal Pavilion one last time on our way.
Have you been to Brighton? What other seaside towns should I visit in England one day?