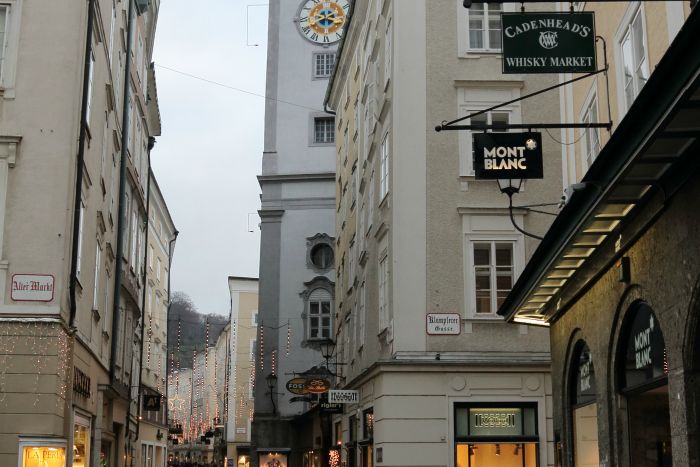 First of all: Merry belated Christmas! I hope you spent a couple of relaxing days in good company and are now ready to tackle the start of the new year! As the passionate cook and foodie of the family, I was responsible for all the Christmas cooking this year and definitely had a blast spending my time in the kitchen. We had a very traditional German Christmas meal - a whole roasted goose with potato dumplings and red cabbage - and it was super delicious. As a kid, I would look forward to the food on Christmas the whole year and who am I kidding: That's still the case today!
Speaking of Christmas: Nothing could have prepared me better for the holiday season than our little trip to Salzburg in Austria a few weeks ago. All decked out in festive lights and my new favorite Christmas Market, the city truly embraced the holiday spirit and nowhere was it as obvious as in the Old Town that we headed down the mountain to after visiting Salzburg's iconic landmark,
Hohensalzburg Castle
.
Before I go on, I should also mention that I'm not really into
The Sound of Music
- I know, I'm sorry, America! I only watched the movie once, during an excruciatingly long bus ride to the Ukraine a few years ago and it kind of failed to leave an impression on my cold-hearted continental heart. Not that I'm in bad company: Pretty much no one in Austria (& Germany) has ever even heard of the movie. That being said, those of you that really dig this movie (I know you do,
Jordan
! ;) ) may recognize some of these shots as
Sound of Music
locations.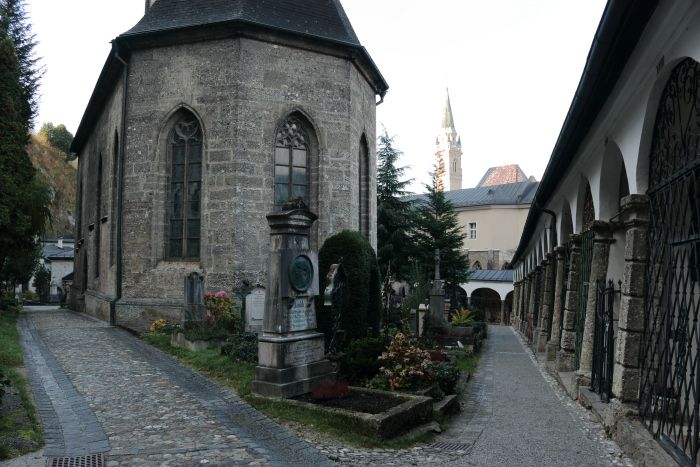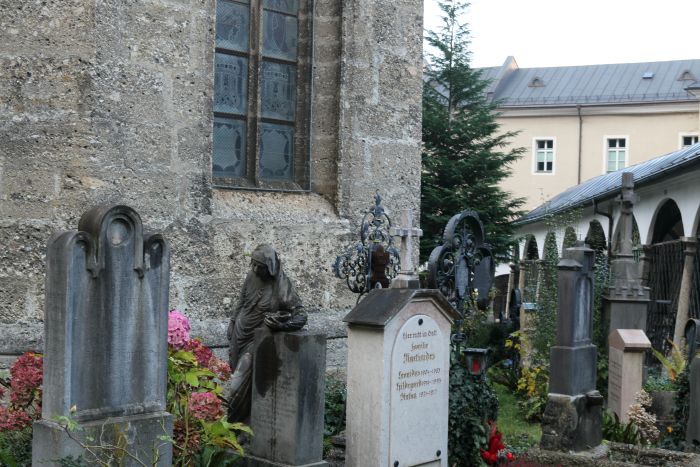 We had discovered St. Peter's Abbey the evening before when the area was so dark that you could barely make out the cobble-stone paths between the ornate graves. It was an eerie, yet somehow hauntingly beautiful place and so we had vowed to come back the next day to see just what we had stumbled upon in the darkness.
St. Peter's Abbey is one of the oldest monasteries in Austria and while there are some beautiful buildings, for me the highlight was the graveyard. The tombstones were all so different from each other: Some were over a hundred years old already, while others were fairly recent and they all had different features. Some were very intricate and little works of art, while others were a bit more simplistic, but they all blended in so very harmoniously with the surroundings.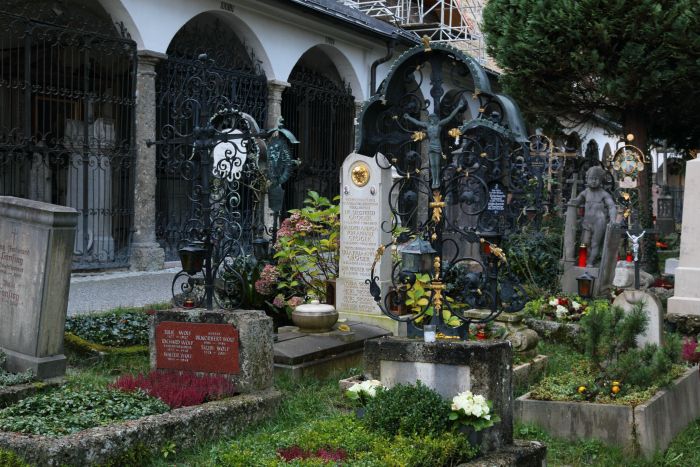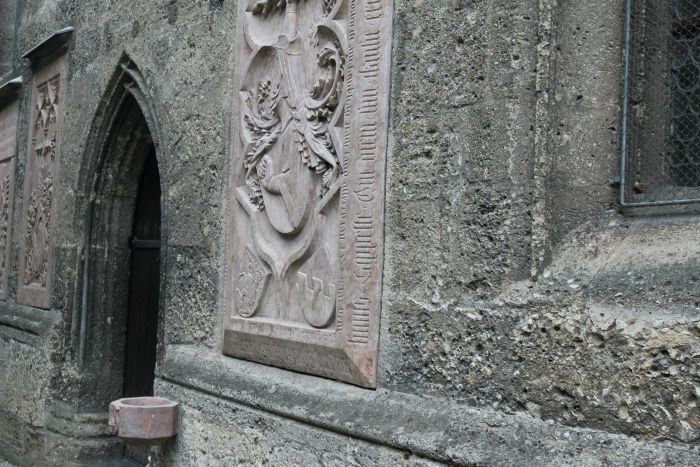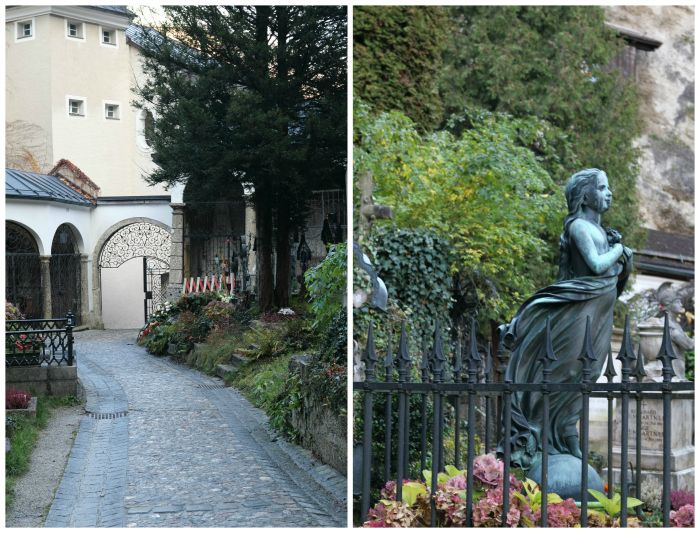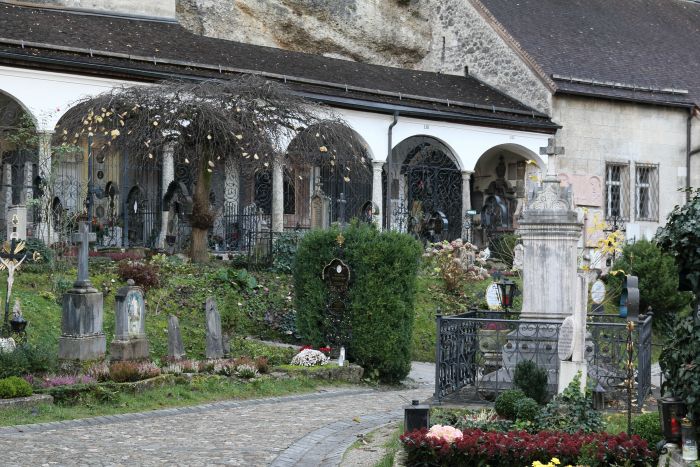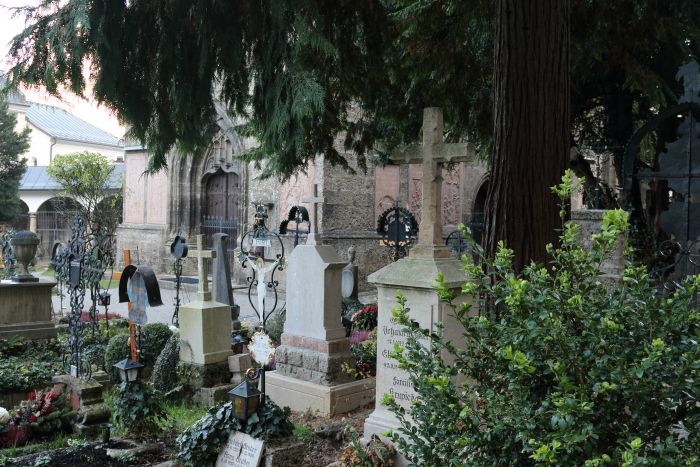 In need of a little late lunch break, we ventured back into the more lively parts of the Old Town where we discovered the narrowest house of Salzburg. Having convinced S that I wasn't actually taking a picture of the adjacent Hermès Store (what does that tell you about me? No comment.), we headed to time-honored Cafe Tomaselli for a cup of coffee and a piece of cake.
Coffee culture is very big in Austria, especially in
Vienna
, and so for me no visit to this country is complete without trying to decipher an Austrian coffee menu and hoping that I haven't accidentally ordered a cup of strong, black coffee: Austrians use very different words for coffee specialities than Germans and so that can lead to some serious confusion. Austrian may look like German, but at least as far as coffee is concerned, it may just be a completely different language.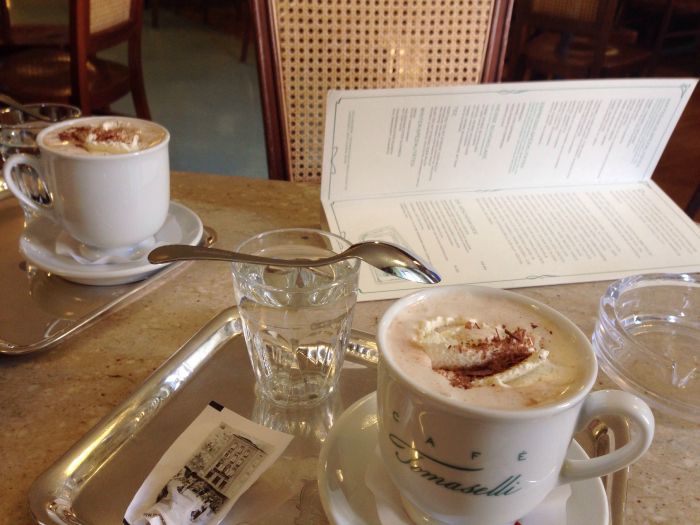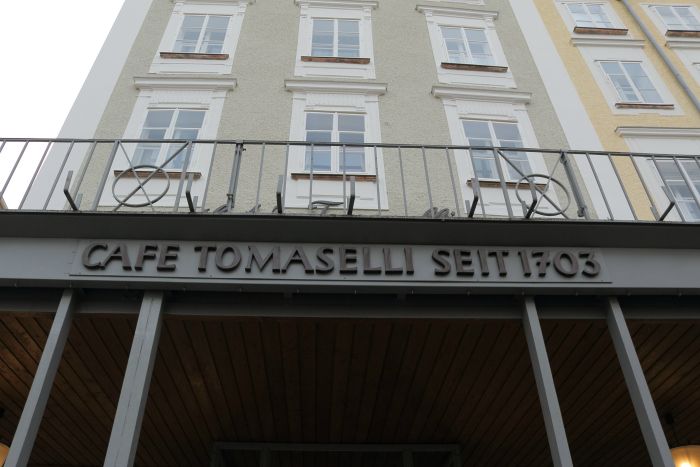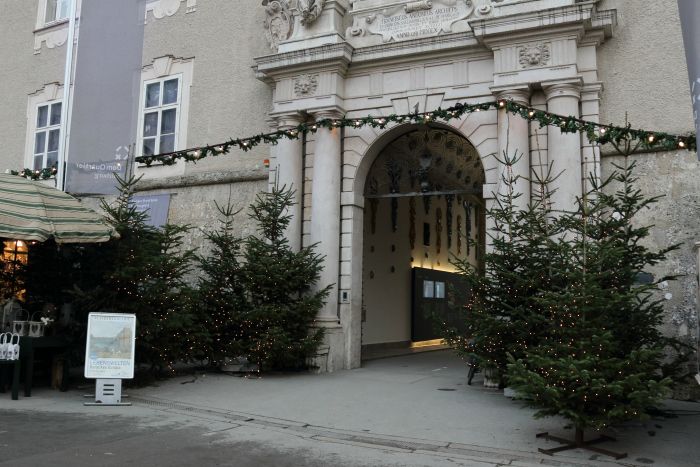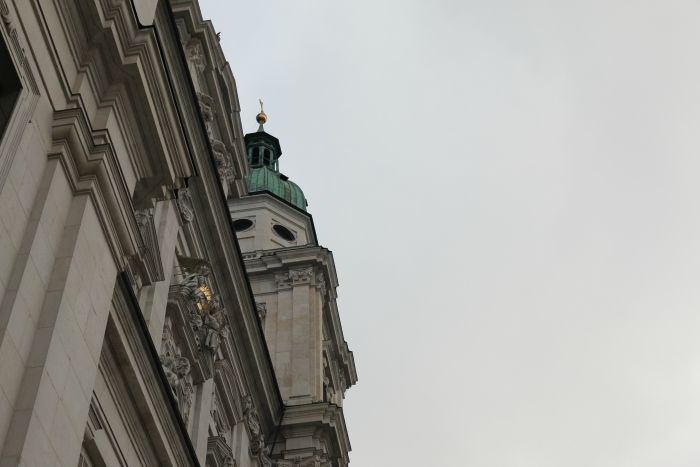 After coffee, we slipped into the nearby Salzburg Cathedral for a bit. The cathedral was one of the biggest surprises for me in Salzburg, because while I had read about it beforehand, I hadn't quite been aware of just how regal and large it would be. The cathedral is just one part of a much larger complex known as the
DomQuartier
that also includes the former residence of the Prince-Archbishop of Salzburg and that we visited a couple of days later and you should not miss out on seeing the opulent, yet not ostentatious interior.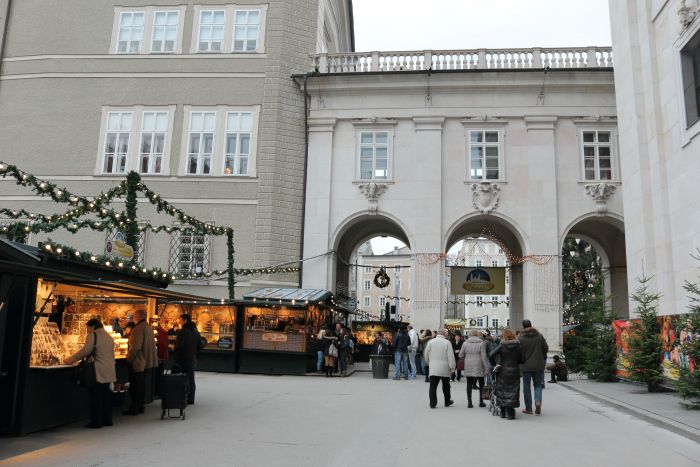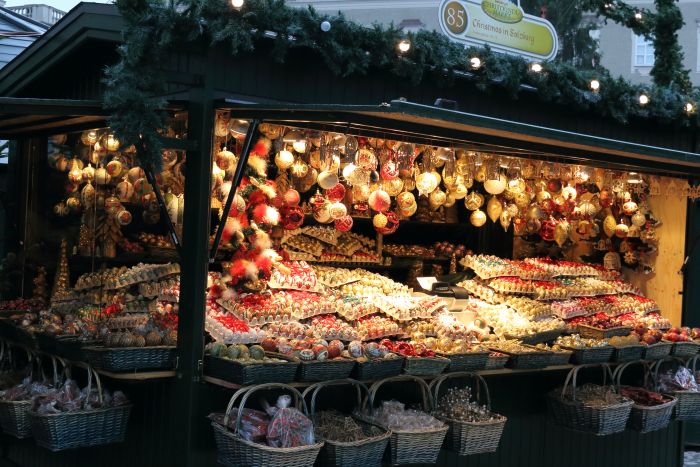 Afterwards, we went for a first quick stroll across the Christmas Market. It was the first day of the market and since our hometown market back in Germany hadn't started yet either, it was our first taste of the holidays.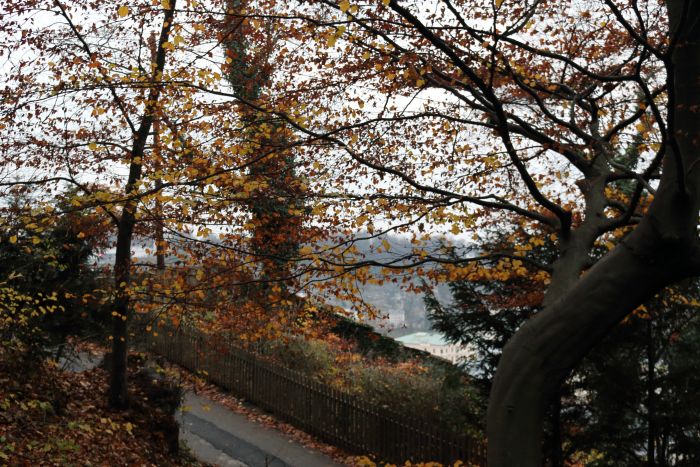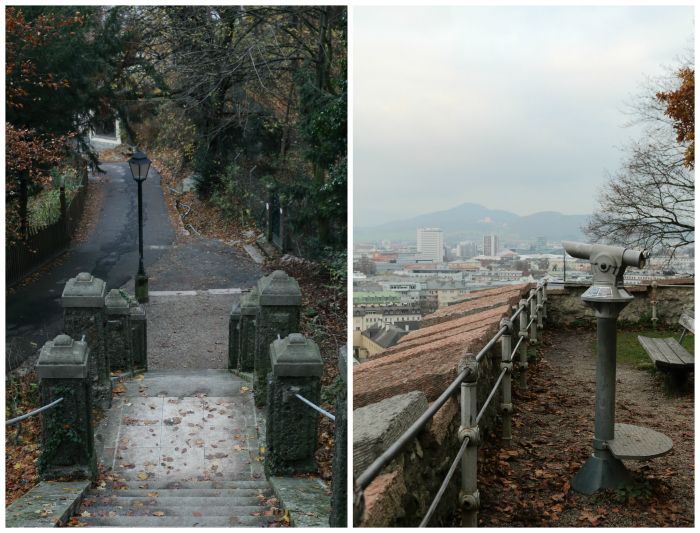 We decided to cross the river next and went on a little walk up the little mountain Kapuzinerberg, from where we had a great view over the city and of Hohensalzburg Castle. It's possible to go along the old city walls of Salzburg, but the park along the walls looked a tiny bit shady, especially in the impending dusk, and so we opted to head down to the city again instead.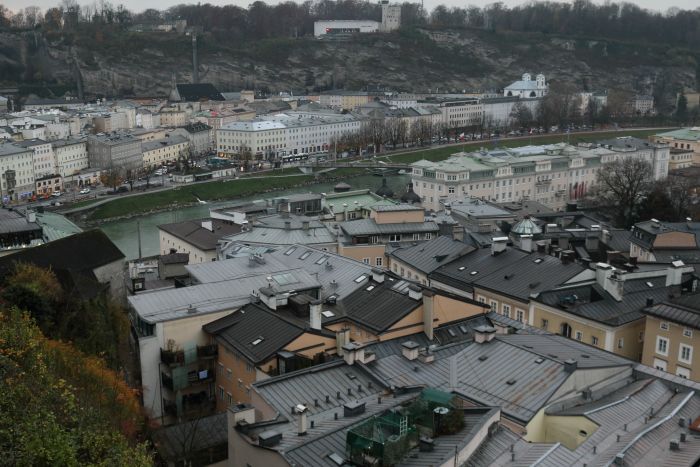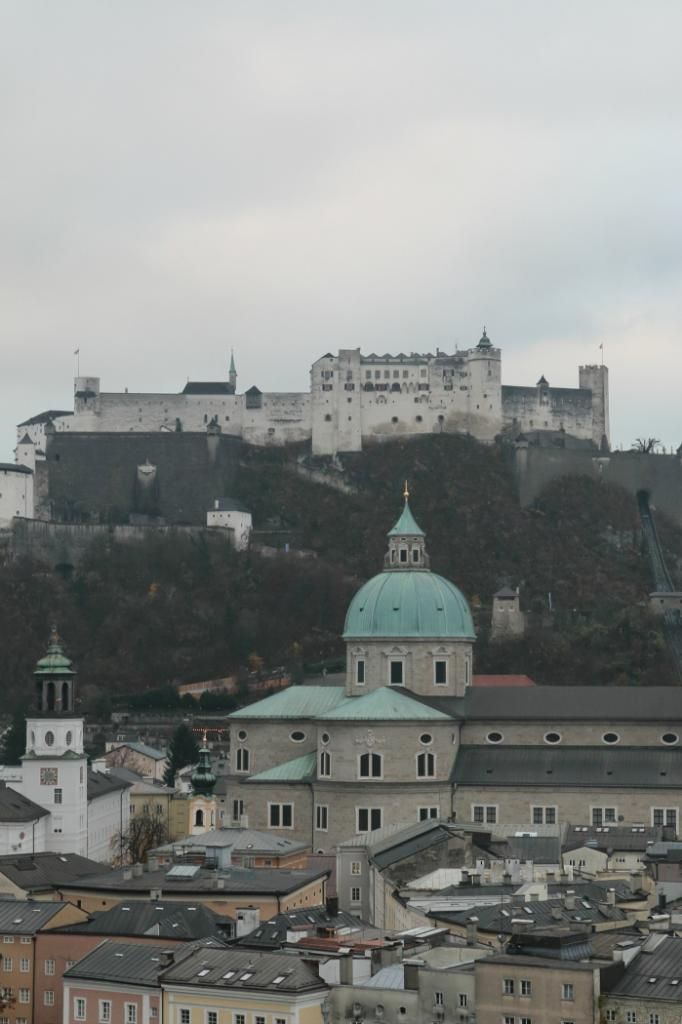 By the time we had reached the Old Town again, it was dark already and we stopped at the Christmas Market again for a quick first
Kinderpunsch
of the year. For many, Christmas Markets may be all about the
Glühwein
, but I hate to say this: Kinderpunsch is just so much more delicious! It's the non-alcoholic, sweeter and fruitier little brother of Glühwein, originally thought of as a festive drink option for kids, and it's everything I always want Glühwein to be.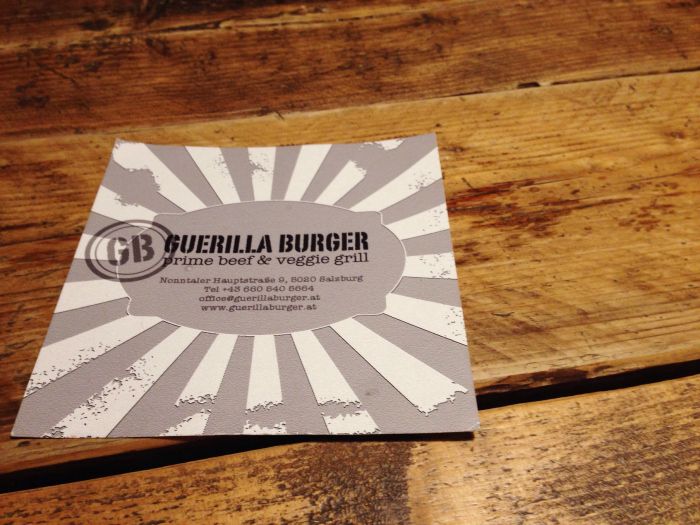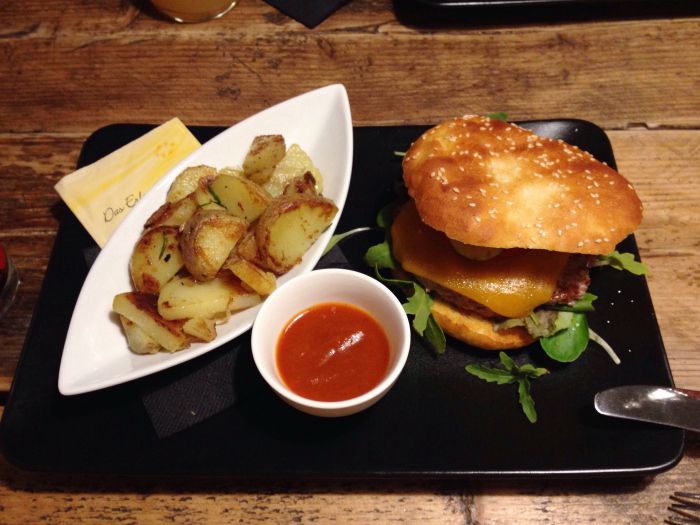 With our bellies growling (cake just isn't quite a proper lunch, after all) and our fingers starting to freeze, we soon headed off to dinner at
Guerilla Burger
though. People sometimes have a hard time believing this, but there are not many things in the world that I love to eat as much as a great burger. For me, London still has the best burgers in the world, but as Salzburg shows the rest of Europe is gaining ground at lightening speed - and I love it!
What's your favorite food?