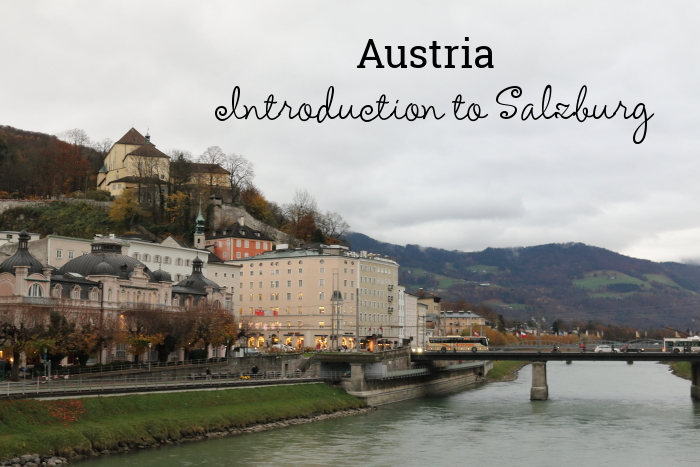 A couple of weeks ago, S and me were at the train station when we noticed a train to Zagreb on display. Croatia isn't exactly close to Germany, so travel-obsessed as I am, I looked up the connection at home and found what must be one of Central Europe's most interesting train links. Starting in Frankfurt, there's a daily Eurocity that goes all the way to Zagreb by way of such iconic places as Munich, Salzburg and Lake Bled in Slovenia and I have to admit that I am kind of sort of already scheming for ways to live my personal tiny version of Theroux's
The Great Railway Bazaar
. How awesome would it be to hop on this train and just stop for a day at every station you find appealing?
Zagreb is a bit too far away from where I live to be convenient for a weekend getaway, but after weeks of non-stop studying, we were in need of a break and a change of scenery and so we spontaneously booked tickets to the charming city of Salzburg in Austria. From all the places I traveled to this year, Salzburg is one of those that surprised me the most. (In case you're curious, the other places are Hong Kong and Chiang Mai in Thailand.) I'd been once as a little girl, but barely remembered anything from that visit and with little time for planning, we arrived only expecting to have a couple of fun days, but not to discover one of the most beautiful places we had been to together.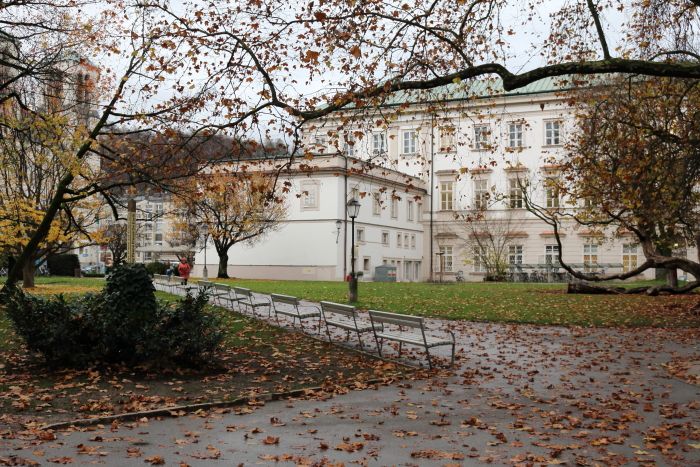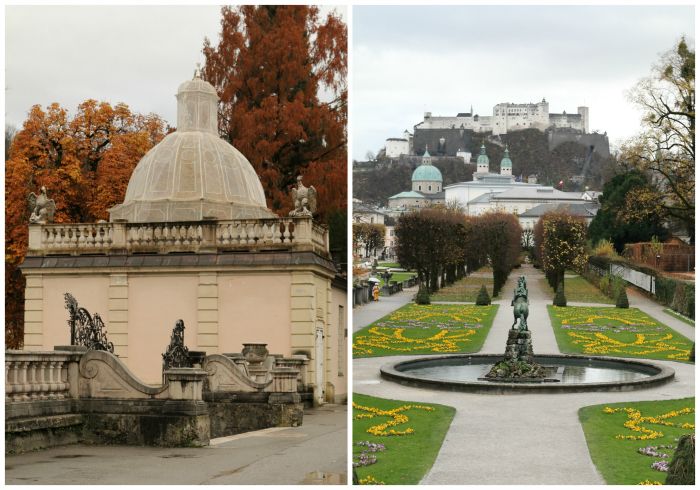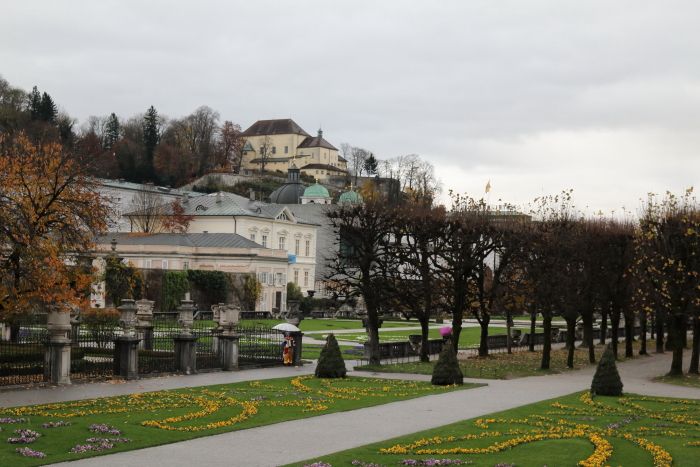 We arrived in the early afternoon and after dropping off our bags at our hotel, made our way towards the Old Town. We passed the beautiful Mirabell Palace and Gardens that were still in bloom even though it was November and I relished in finally having the opportunity to play with my camera again. As opposed to many other places in Europe, the church was in charge of both the clerical and secular rule in Salzburg and so the region was ruled by a Prince-Archbishop until the beginning of the 19th century. The Mirabell Palace was built by Prince-Archbishop Wolf Dietrich Raitenau - who was responsible for the building of many of Salzburg's landmarks - for his mistress, but now houses the city administration.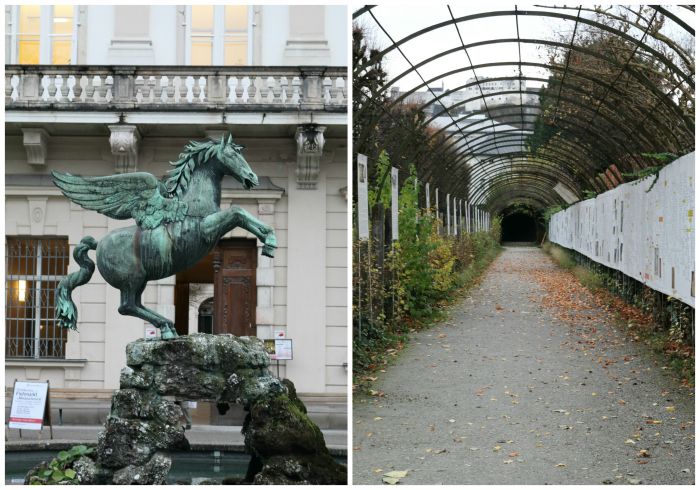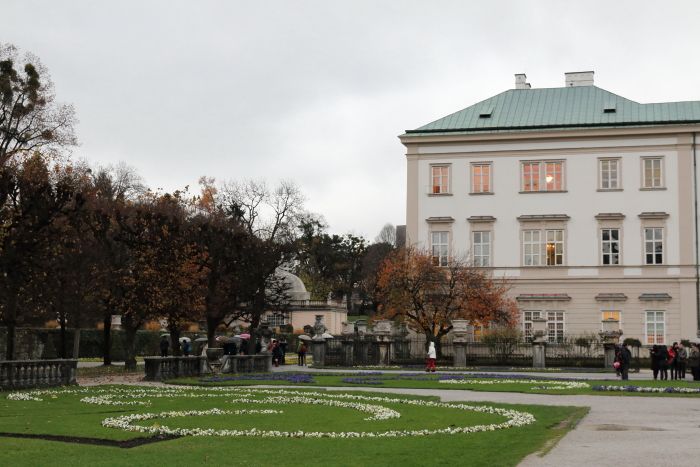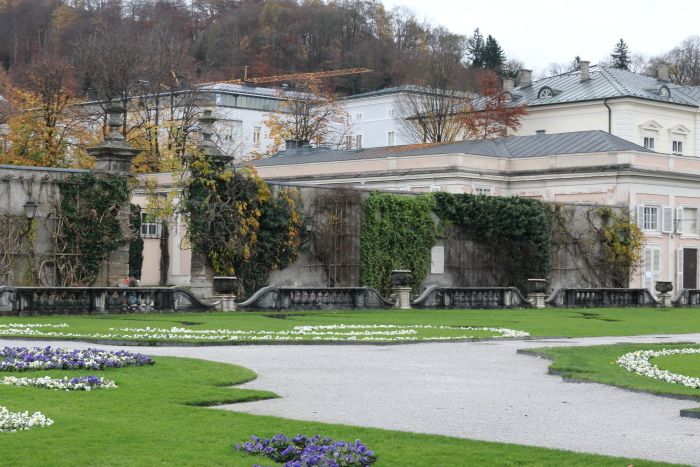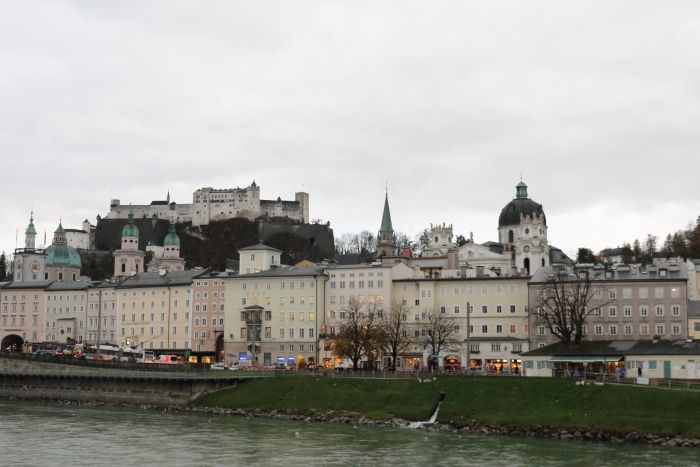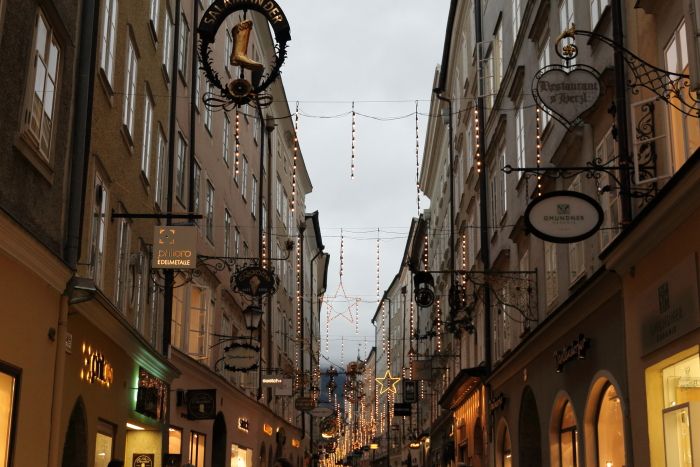 It was a grey and somber day, but thanks to the Christmas lights that were being drawn up all over the city, Salzburg still seemed cheerful. We set out to explore the many little alleys that make up Salzburg's Old Town and soon found ourselves in the Getreidegasse, one of the major shopping streets in the city. Lined with both Luxury and High Street brands as well as stores selling touristy kitsch or traditional crafts, there was a great variety to choose from, but I kept myself in check on the first day and we headed to Mozart's Birth House instead.
It's a great place to learn more about Salzburg's most famous resident, but to be one hundred percent honest, I think you only need to visit if you're particularly interested in Mozart's life. I don't think it's a must-do if you are short on time!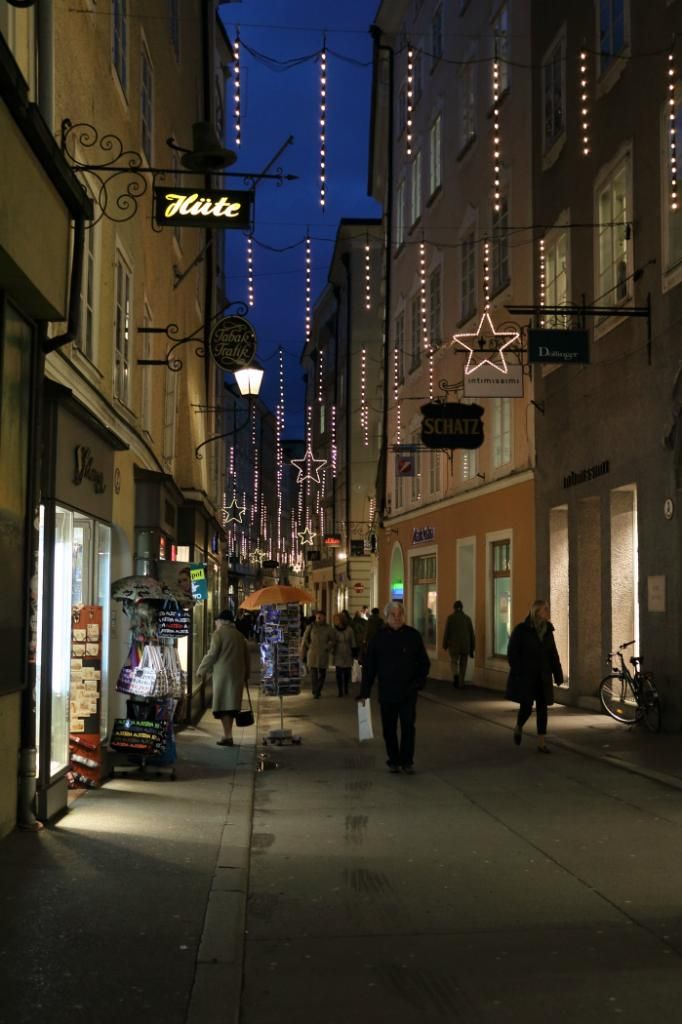 When we left Mozart's Birth House again, it was already dark and the Christmas lights gave the city a festive glow. Wandering through a new city after sunset always feels particularly exciting, because everything retains a certain mystical charm! The shopping crowds of the day had started to disperse and so we had many of the squares and streets almost to ourselves, when we passed a Christmas Store that curiously only seemed to sell Easter decor: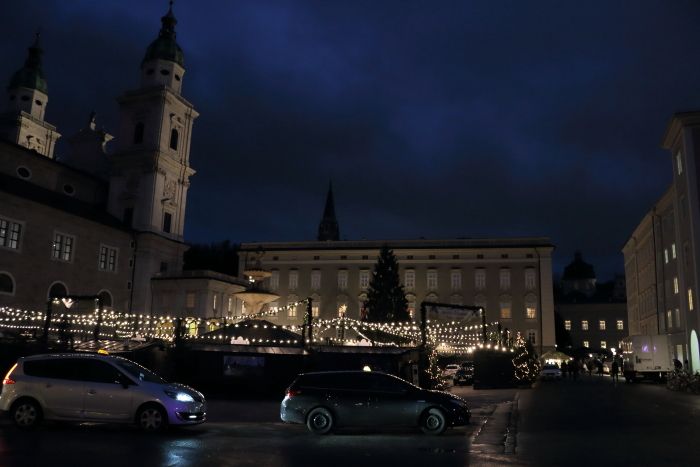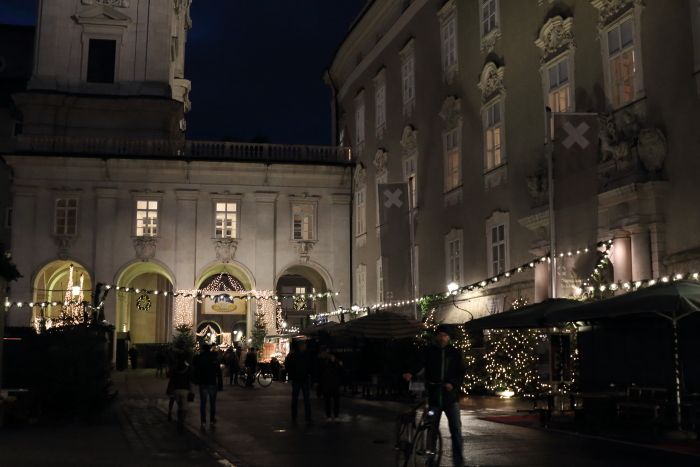 Since Salzburg's Old Town is pretty small and you'll inevitably will find yourself at a known place again, we ditched the maps and eventually stumbled over the Christmas Market that was set to start the next day. Framed by the high walls of the Salzburg Cathedral and the adjacent former residence of the Prince-Archbishop and still devoid of the masses that usually crowd a Christmas Market, it was a relaxing sight that almost made me feel like I was stumbling through a different time.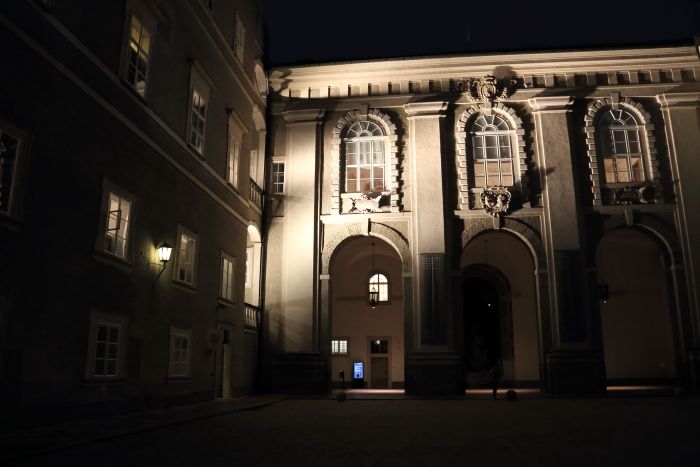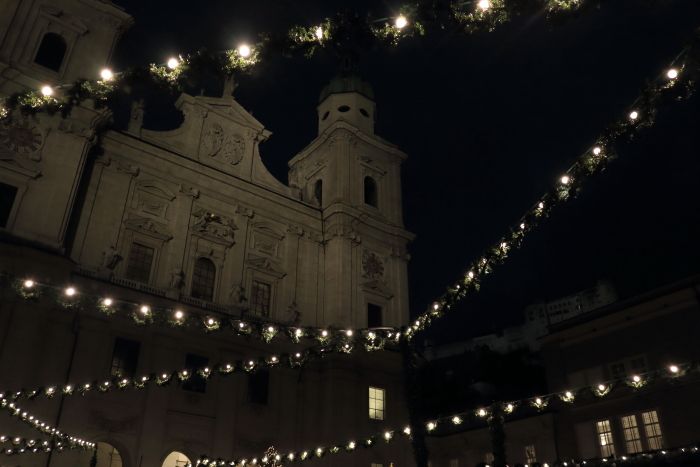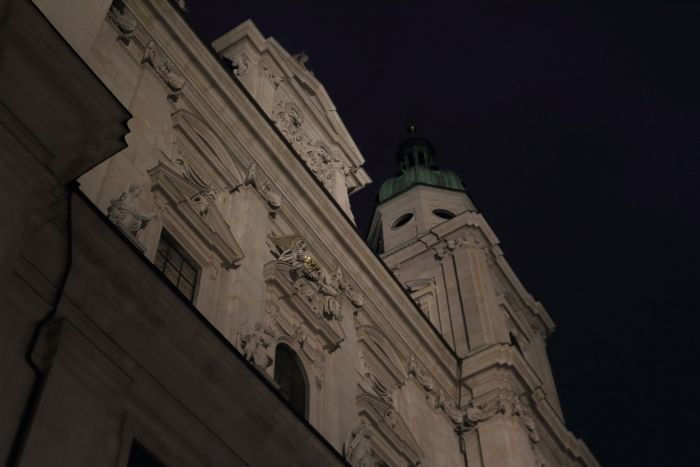 We stumbled upon the most festively decorated archway I have ever seen - doesn't this look like the entrance to Winter Wonderland?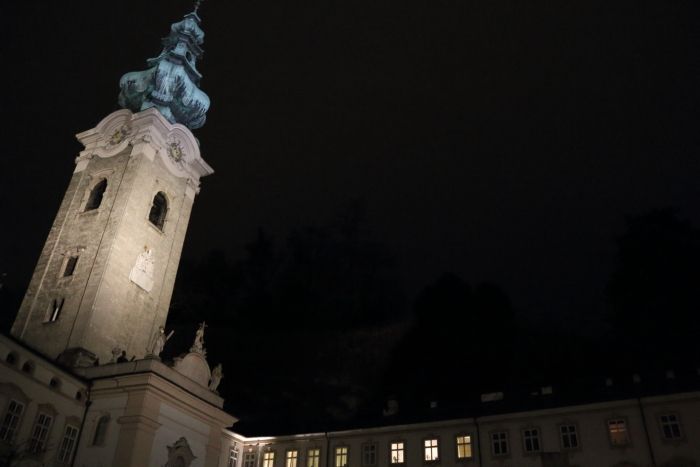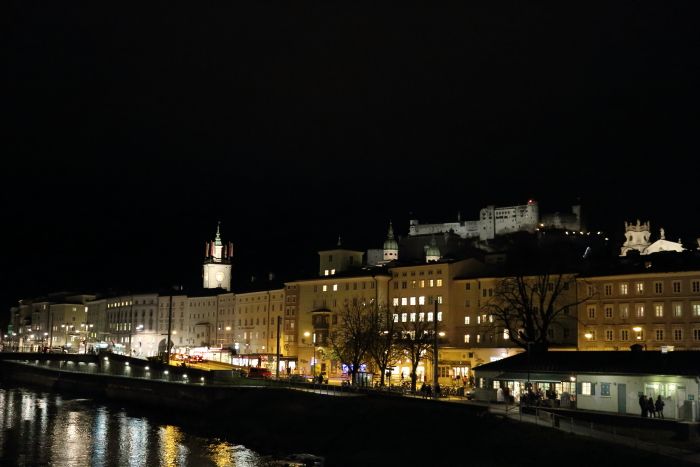 Exhausted from our long train journey and all the walking, we stopped at
My Indigo
for a quick, affordable and delicious curry and then called it an early night in. After all, there was still so much to discover that we needed our energy for!
Have you been to Salzburg? How did you like it?