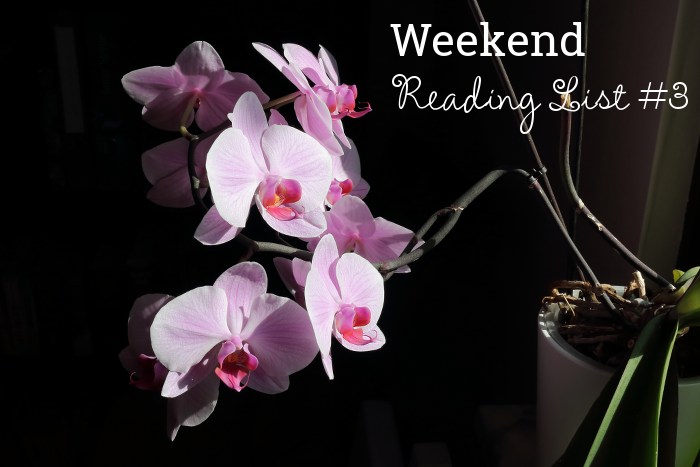 I hope you all had a great week! After my first appointment had been cancelled, I finally had my wisdom teeth removed on Monday and after all the horror stories that people told me beforehand, I was really surprised by just how smooth the whole procedure went and how little pain I experienced afterwards. I did look like a chipmunk for a couple of days and wasn't able to eat much else than soup and yogurt, but I finally start to see a human being again when I look in the mirror.
All in all, this week was a much needed and definitely has helped me to let go a bit from the desperate thinking that has been occupying my thoughts a little too much lately. But now I feel more refreshed and energized and I'm really looking forward to next week, especially since I won't a) have a cold, b) recover from a cold or c) have four teeth pulled – can you tell that I've been a little bit of a train wreck recently? ;)
If you only take a look at one thing that I share this week, then please let it be this five-part video serious on the OWN TV Youtube channel on the Five Habits That Strong Women Keep. I usually think these lists are silly, but there's so much wisdom and positive energy in these videos and I think I'll make it a ritual of mine to watch them regularly from now!
I only just discovered Hope Engaged, but I've been reading Katie's blog obsessively lately. Such a bright and hopeful space!
Aside from the London Blogger Tea, I somehow never went to Afternoon Tea on any of my visits to the British capital - it's high on my list of things to do the next day I'm in the UK, whenever that will be. And this Double Decker Afternoon Tea Bus Tour that Lauren from Aspiring Kennedy did seems so fun!
How did I not know that Moleskine came out with a The Hobbit Limited Edition collection? I'm very much obsessed with Middle Earth and have used Moleskine notebooks for years, so this is an exercise in restraint.
Speaking of notebooks… have you heard about Bullet Journaling before? It seems like such an intuitive way to organize your life!




What were your favorite reads of the week?