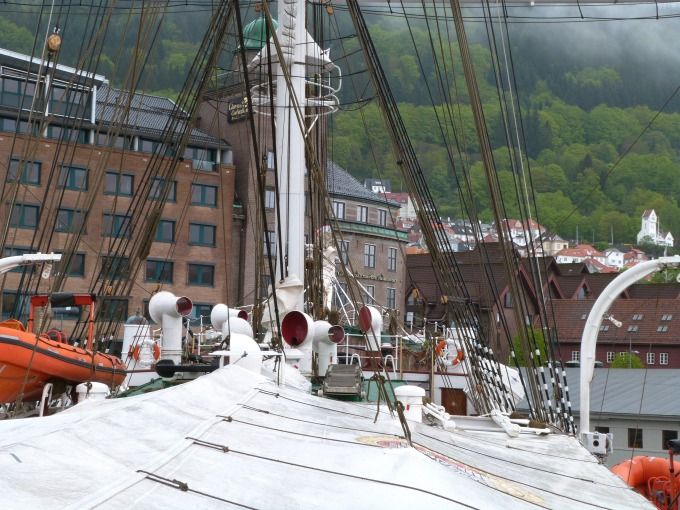 I have just come to the realization that I'll be moving back to Germany in little more than two weeks. That thought is just crazy to me – how can my time in Norway already draw towards a close? But the thing that astonishes me the most is just how relaxed I am feeling about all the changes that are coming up. In between studying and writing exams, trying to see everything that is still on my Norwegian bucket list and planning a trip to Asia, you would think that I would be close to a mental breakdown.
Granted, maybe I just subconsciously ignore the crazy amount of things on my plate because I don't want to deal with any of it. But considering that I nearly lost my head last year when I moved to Norway, I much prefer this state of mind. Studying abroad was an amazing experience and allowed me to experience things that I would not have done had I stayed in Germany.
In Germany, my life was very much focused on academics - there always seemed to be a test to study for or a paper to write. But knowing
that my time in Norway was always going to be limited, encouraged me to become more active and to be more spontaneous and I can only hope that I will be able to take a little bit of that sparkle with me back to Germany.
Last Friday, I went on a beautiful cruise along the skerries of Bergen that was organized by one of the student organizations of the city. Skerries are tiny islands - sometimes little more than small rocks - dotted all along the Norwegian coast. Most of them are uninhabited and some don't even have any vegetation, but there are also some really large islands that are connected to the mainland with bridges that are so high that a cruise ship comfortably fits underneath.
We were cruising with the Statsraad Lehmkuhl, a large sailing ship with a bit of a wild history. Built in Germany just before the beginning of the First World War, it was given to the English as a reparation payment after the war who in turn sold the ship to Norway. During the Second World War Norway was occupied by the Nazis who took possession of the Statsraad Lehmkuhl, but after the end of the war the ship was given back. These days, the ship is owned by a foundation and used for many different purposes: It functions as a trainings vessel for the Norwegian army, goes on regattas and offers tours along the stunning coast of Norway.
The morning and the day before the cruise had been extremely rainy and I think we were all a little bit concerned if the weather would change at all – after all, being on a ship for six hours in the pouring rain isn't exactly anyone's idea of fun. Luckily, the rain stopped as soon as we got to the harbor and boarded the ship and while the sky was still covered with thick, grey clouds with the sun nowhere to be seen, we kept our fingers crossed that the weather would continue to be merciful.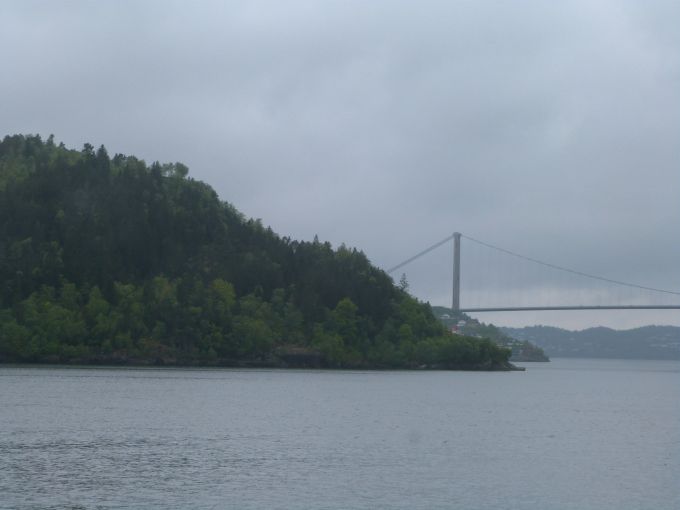 As you are sailing out of the harbor of Bergen – we weren't actually sailing, but that doesn't sound as eloquent – you are passing a couple of bridges that connect the city to the large island groups that lie just off the coast of Bergen. The bridges may not look quite as scenic as the Golden Gate Bridge in San Francisco, but I think the thought that you almost never have to take a ferry in Norway to reach an island makes up for it a bit.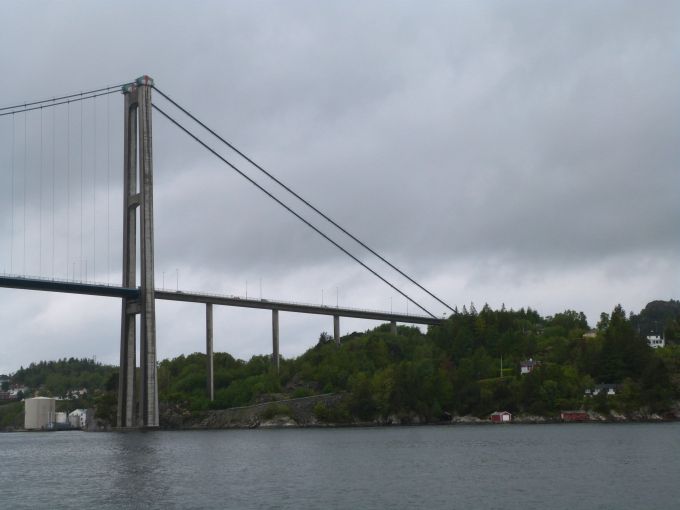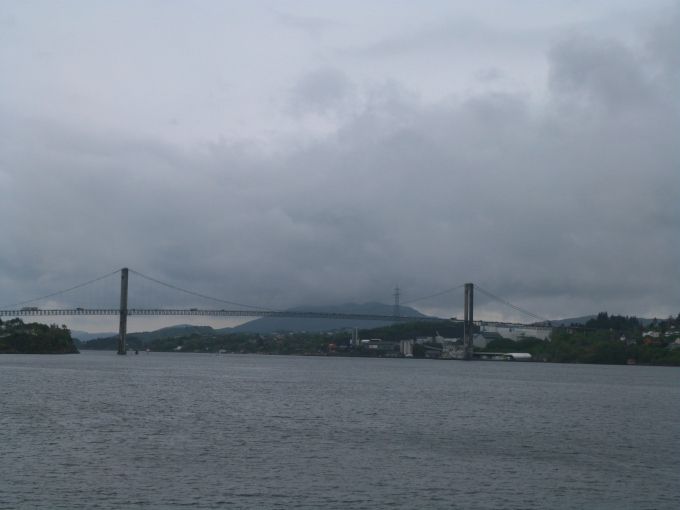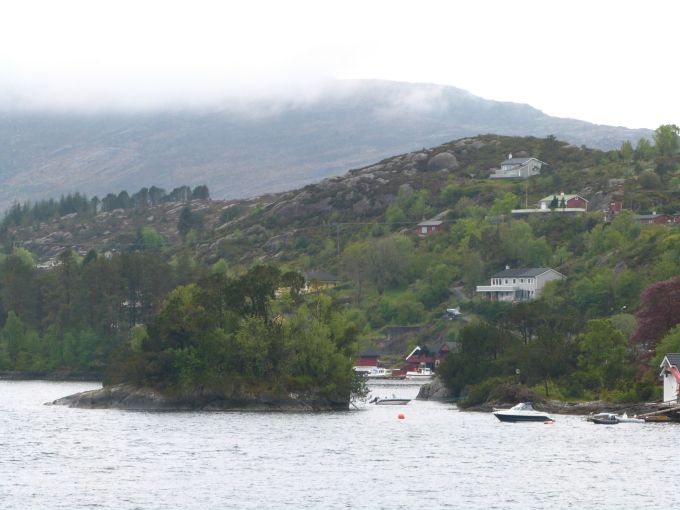 I've been having problems trusting my eyes lately – suddenly, everything has gotten so green! It feels like only yesterday that I was stomping through the snow at the Fløyen. The long winter really has made me forget how beautiful the world looks in bloom, but I'm glad that I get to experience this side of Norway once again before I move.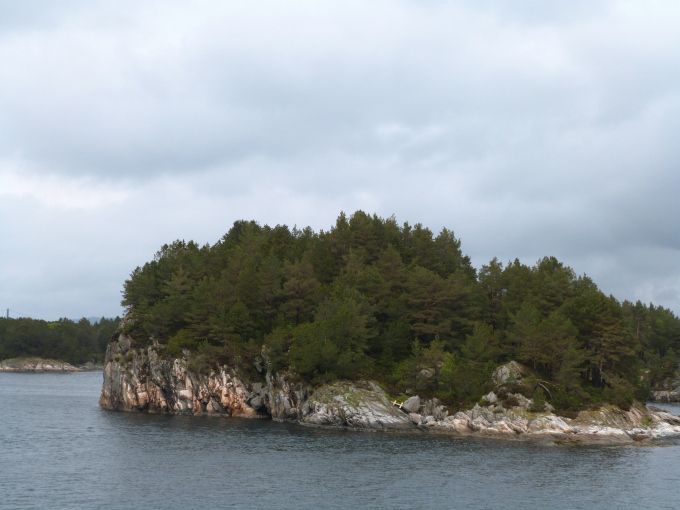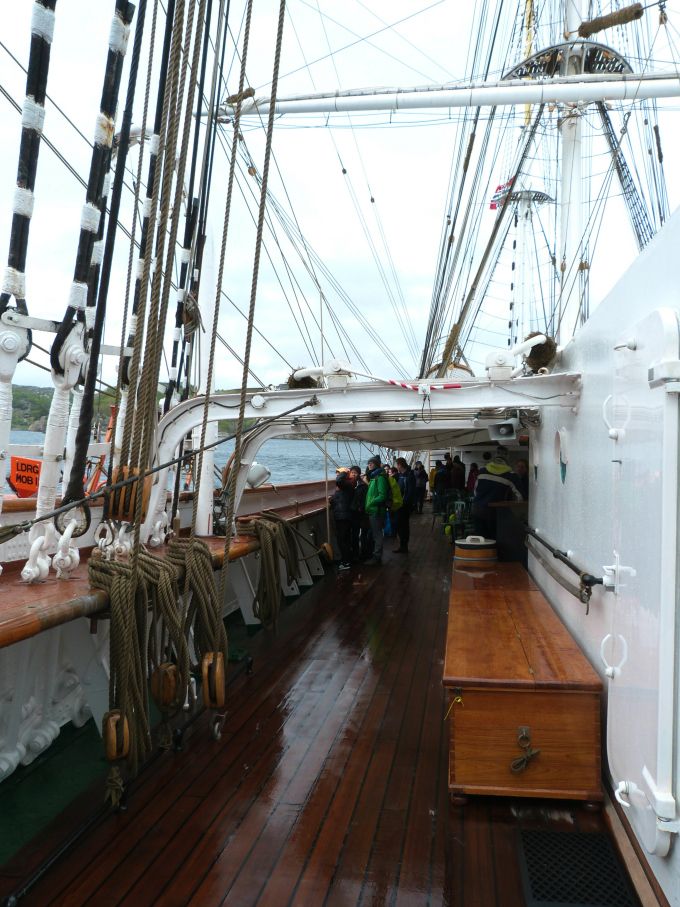 I had never been on a sailing ship before and now I think I can't ever look at a regular ferry or cruise ship the same way again. The ship exuded a lot of character – but most of all it was just extremely photogenic. Is there a rule on how many pictures of sailing masts and railings you can share online without coming across like a crazy person? I did try to contain myself, I promise.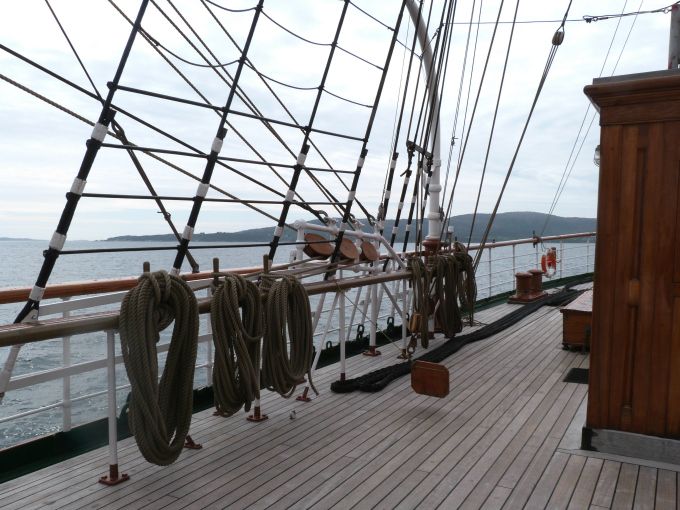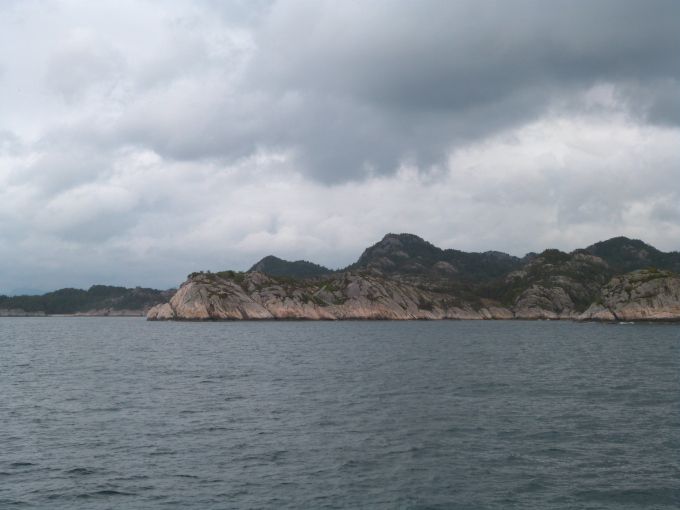 Our route took us towards the south of Bergen where we eventually reached the highlight of our cruise: The Lysefjord. Not the famous one in Stavanger that many of you will recognize from the iconic Preikestolen Rock, but a tiny little one that is as picturesque as it is unknown to most people.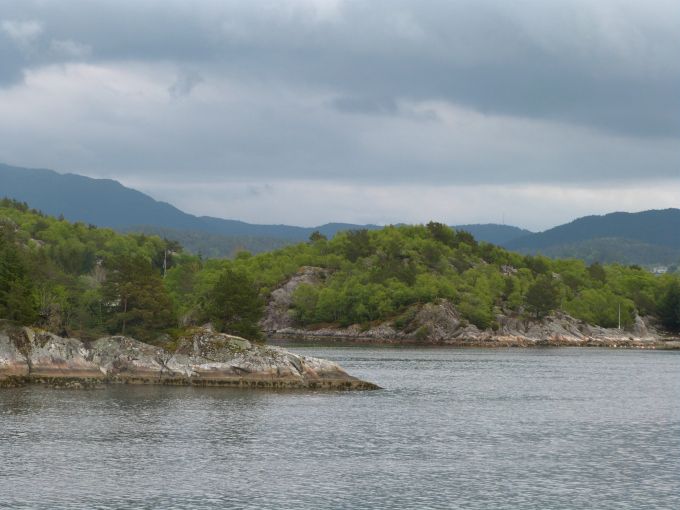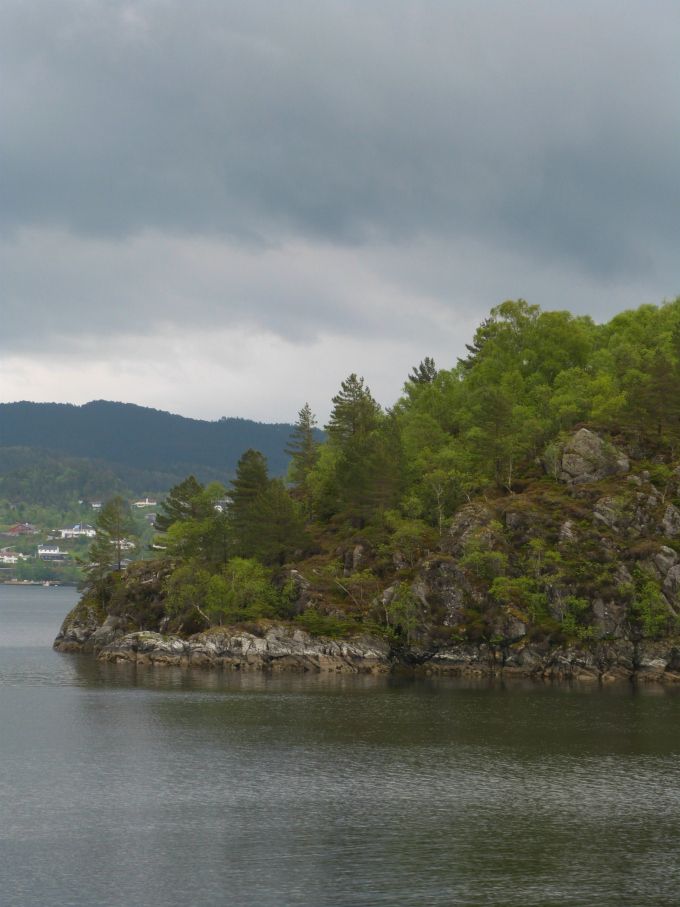 One thing this place is known for, though, - at least by the people in the area – is as the residence of the violinist and composer Ole Bull, who lived during the 19th century and who is one of Norway's most iconic musicians. The guide on a tour through Bergen that I went on just after I had moved to Norway had spoken of him as some sort of old-day Justin Bieber. Women would go crazy at his concerts – am I the only one who feels relieved that erratic groupie behaviour is no invention of modern times?
We cruised along his rather extravagant home that looks a bit like a hybrid of Scandinavian and Arabic architecture on the small island Lysøen. I haven't had the chance to visit yet, but I hope that I will still be able to make it there in the next two weeks.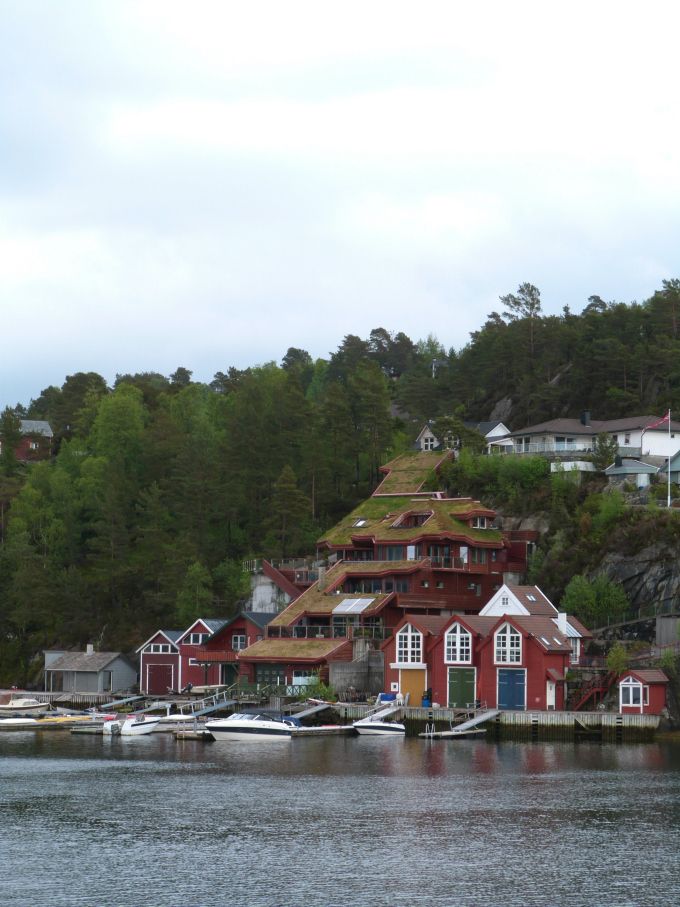 One of my friends described this house as the house that you can sled down in the winter. The idea is a little too appealing! ;)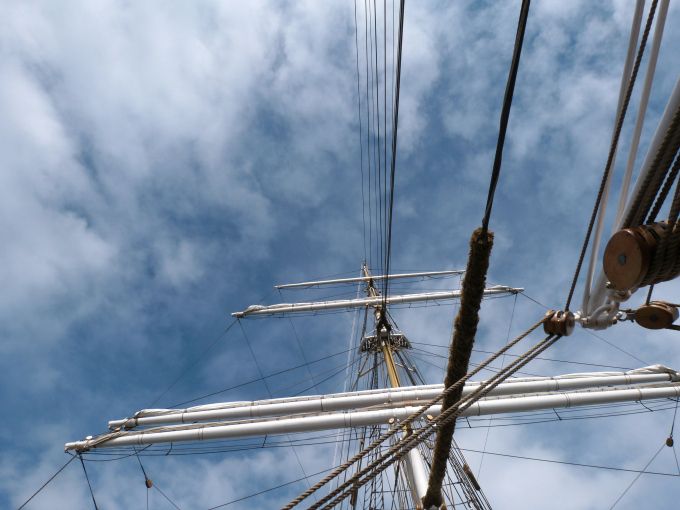 On our way back to the city the sun finally broke through the clouds and we spent most of the return lying on deck soaking up the light. It was perfect bliss.
I might be ready to leave Bergen, but that doesn't mean I am not sad to let go of this time in my life either. I have made so many amazing memories and friendships and I am sure that I will always look back to this year fondly. Studying abroad can be such a wonderful experience – it's not always easy, but you definitely grow with your challenges.
Have you ever studied abroad? Tell me of you experience!