Our main objective for traveling to North England was to visit the Lake District. The Lake District is one of England's prime tourist attractions and even in off season the towns were bustling with people. Stunning nature, the highest mountains and largest lakes in England make the Lake District such a magical places and have inspired legions of writers and artists in their work. But the Lake District is also famous as a walking and hiking paradise for outdoor enthusiasts, so my boyfriend and me were most looking forward to discovering nature on foot.
We stayed in Keswick in the Northern Lakes and I wish we could have stayed longer than one night. There were so many hikes in the area of a varying degree of length and difficulty and it was really hard to settle on only one. But that just means that I'm going to have to go back one day – and that's absolutely fine with me!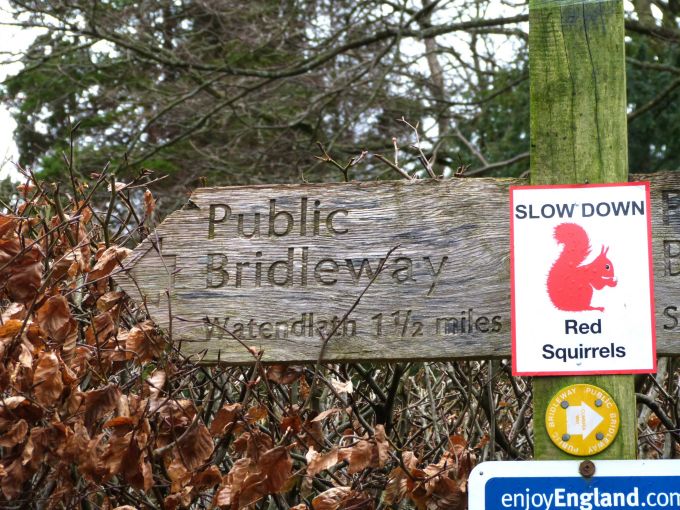 In the end, we decided on a path through Borrowdale, which Lonely Planet describes as one of "the Lake District's most beautiful valleys". Borrowdale lies just south of the lake Derwent Water and is far away from the main tourist routes. Life is quiet, the nature is stunning and there seem to be more sheep than people. Exactly my kind of place!
We took the 'Borrowdale Rambler' from Keswick til Rosthwaite, where we immediately found the beginning of our path. Rosthwaite is a tiny village with only a handful of houses, but the most stunning surroundings you could imagine. Who needs fancy stores and a Starbucks on every corner if you can wake up with mountains on your doorstep every single morning?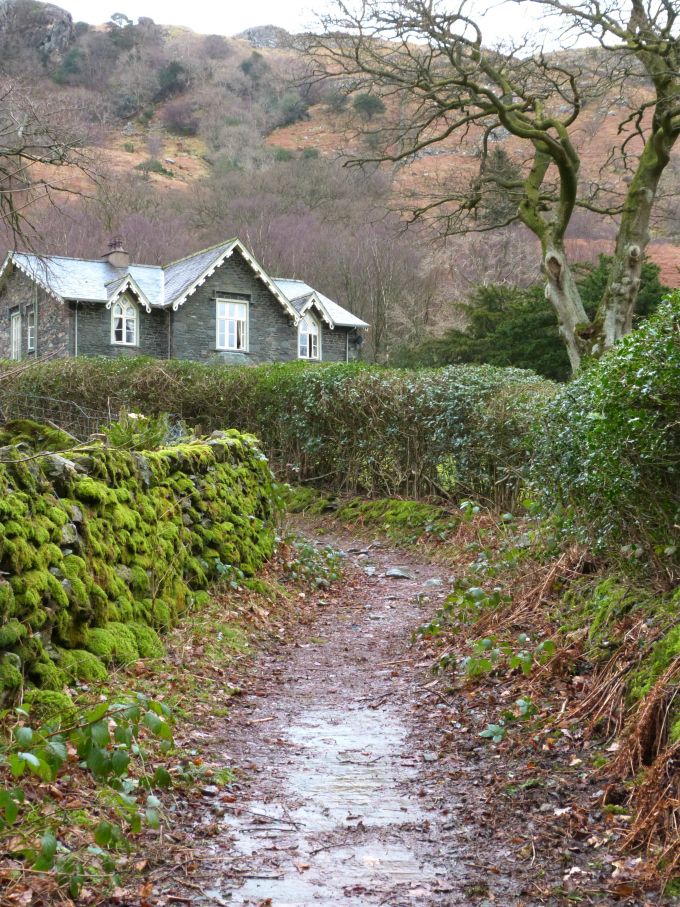 The first part of our walk led us up a mountain towards the tiny hamlet of Watendlath that lies hidden at a mountain pass. It was a steep climb on uneven ground, but nothing that you wouldn't be able to handle. What I love most about hiking up mountains is how quickly you notice your progress. One moment you're standing on sea level and before you know it, you're standing at a lookout enjoying the view and the fruits of your labor. Before I moved to Norway, mountains always intimidated me, but now I enjoy the challenge of a good climb.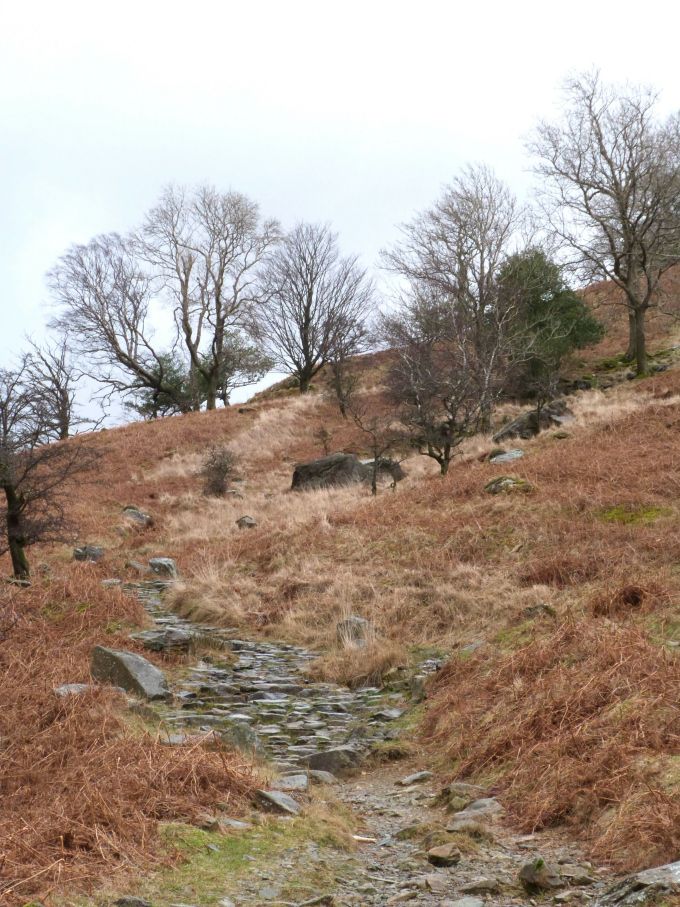 And if this is the view you're rewarded with…
… then it's certainly worth the physical effort. We visited in March which is off season in the Lake District, but I loved seeing the trees without leaves and all the different colors on the mountain sides.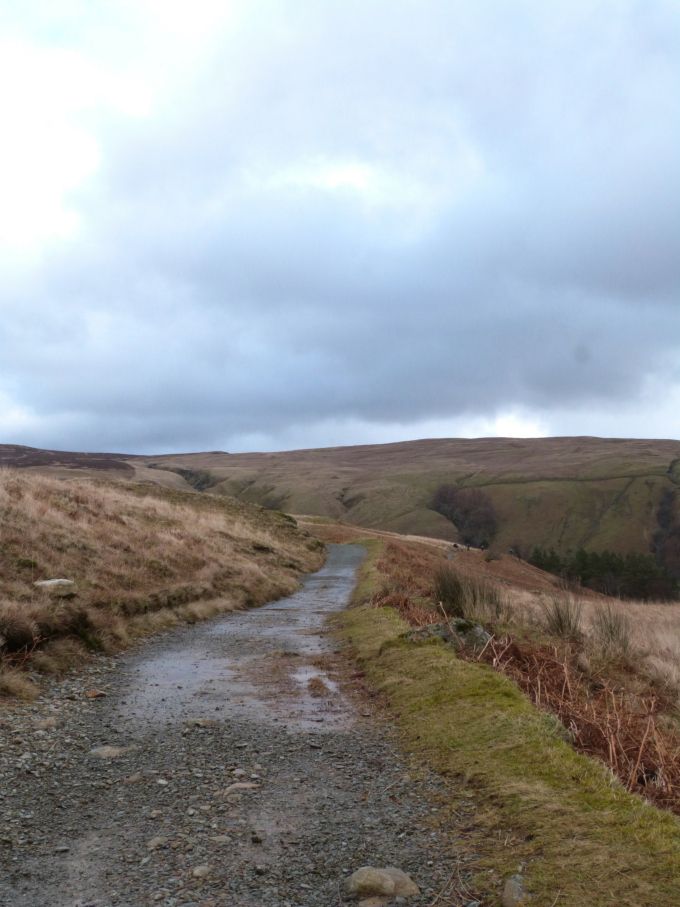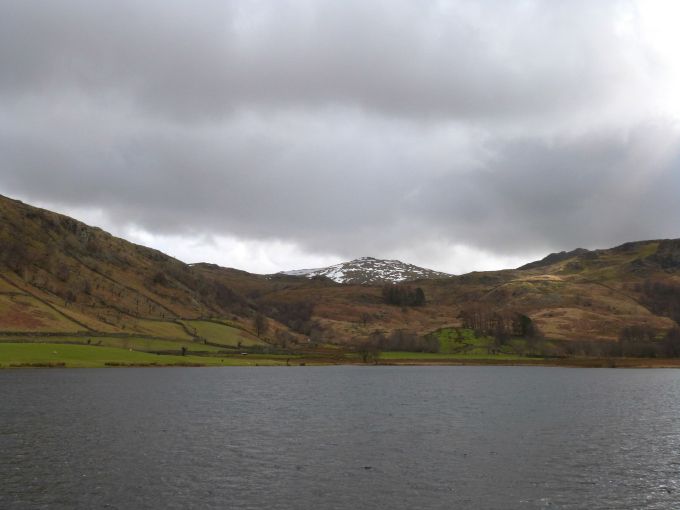 Once we reached Watendlath, the hardest part of the walk was over. We still had some miles in front of us, but it was mostly downhill and flat from there.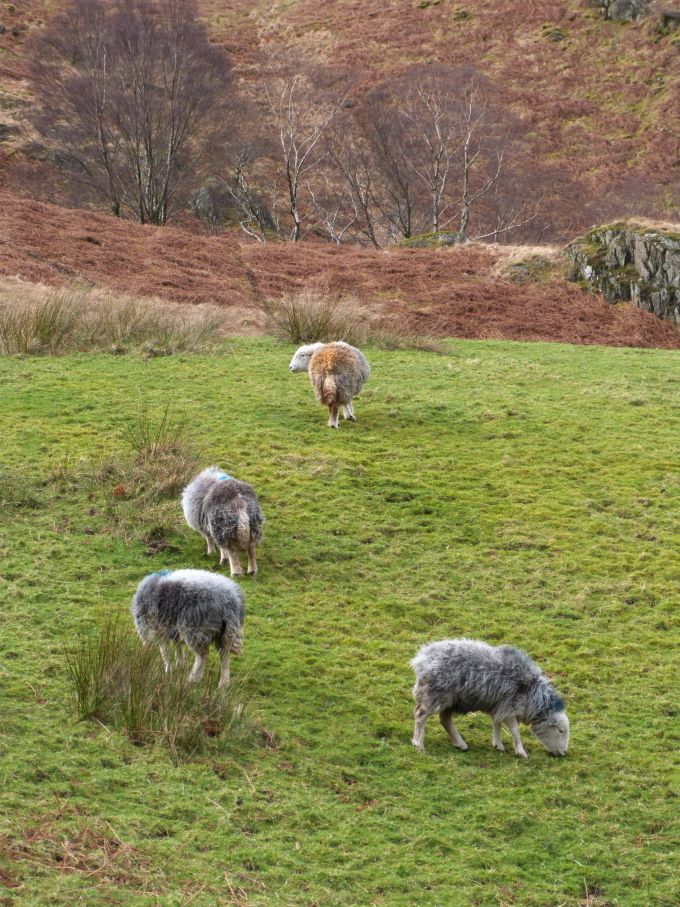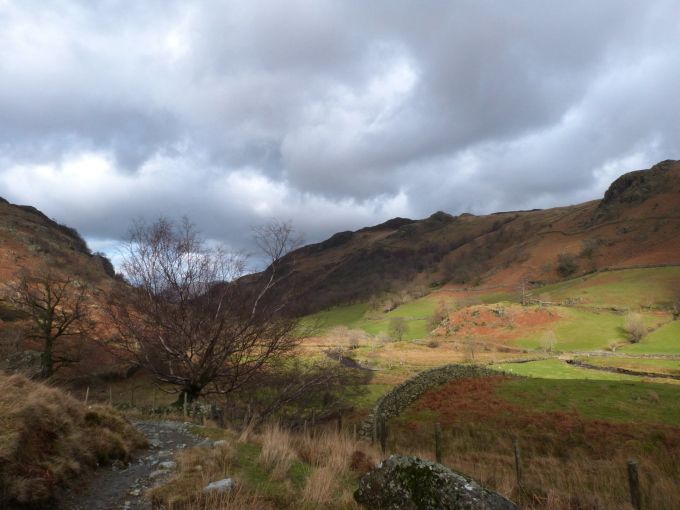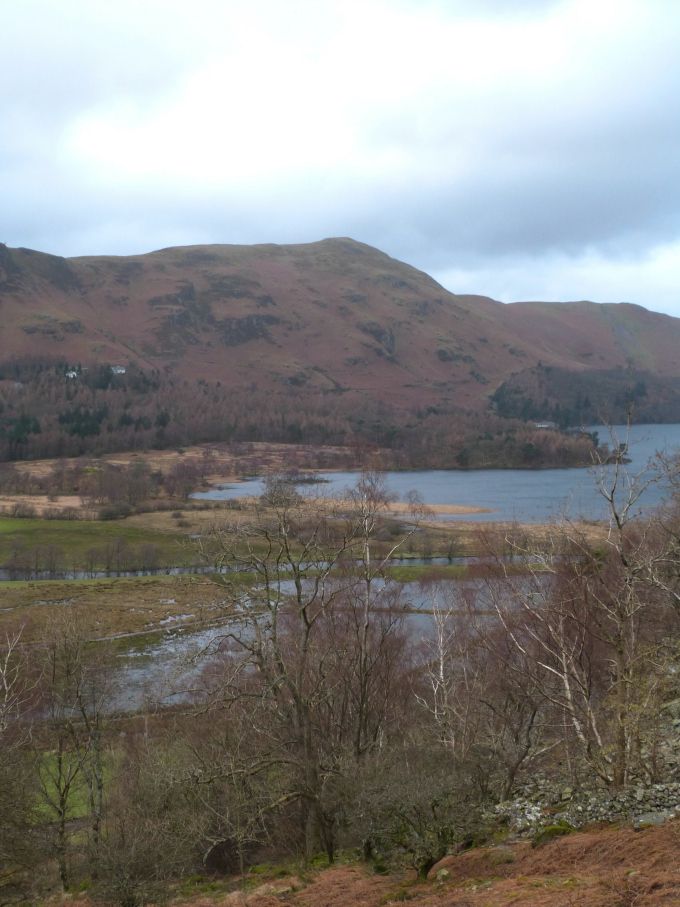 We walked along the mountain range for a bit before climbing down into the valley again. The next part of the hike would have led us along the southern shore of Derwent Water, but because there had been heavy rainfalls the days before, the path was pretty much flooded. It's England, after all!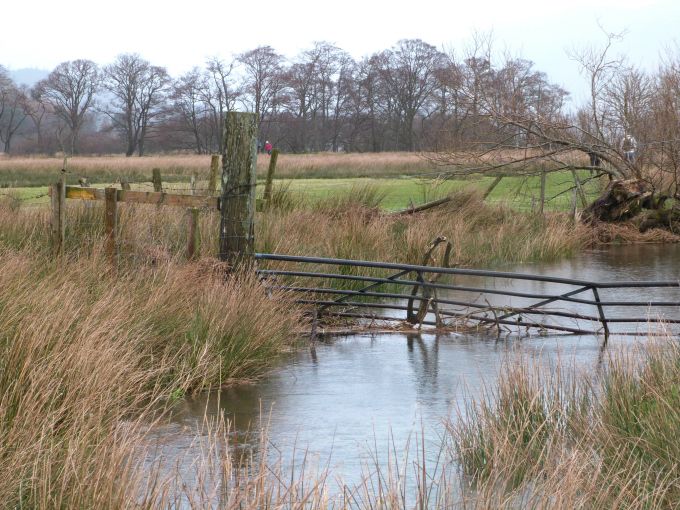 I tried to find a way through the pond (let's be real, it's not a puddle anymore) in my Wellies – remember how I said they were the best fashion piece I've invested in in the last two years? – that was reasonable for people in Hiking Boots as well, but once the water hit my mid-calves, we realized that it was probably a useless effort. So we cut our hike short and decided to walk along the street before rejoining our original path a little bit later.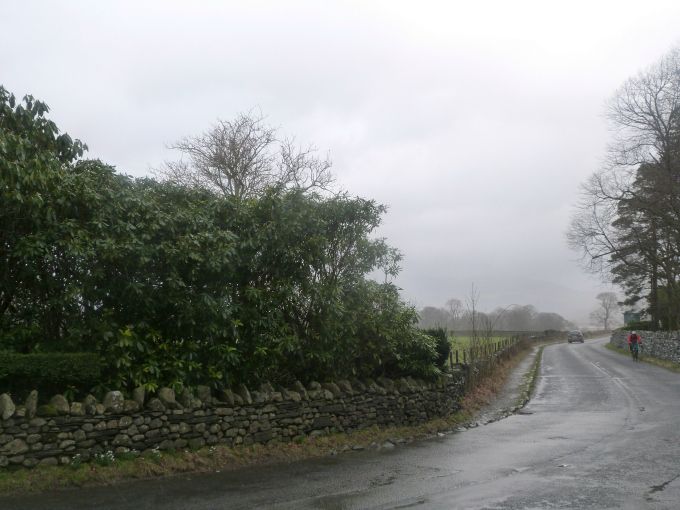 While it certainly wasn't a sunny day, it had been pretty dry that day so far, but our luck changed and soon thick raindrops fell from the clouds. In a moment of insanity thoughtlessness, I had decided to not bring my proper rain jacket to England with me and while the winter jacket that I wore instead at least kept me warm, it did a poor job of keeping my head dry – that's what you get when you're jacket doesn't have a hood. You would think that living in Norway taught me a thing or two about always being prepared for rain, but oh no.
On our way back to the bus station, we walked passed a giant bowder stone. I tried to demonstrate my strength, but it seems like I need to lift some more weights before I can make any sort of impact.

Each week Bonnie, Tina and me select one post each from all the linked up posts the week before that we enjoyed especially. Please make sure to head over to their blogs to see who they picked! :)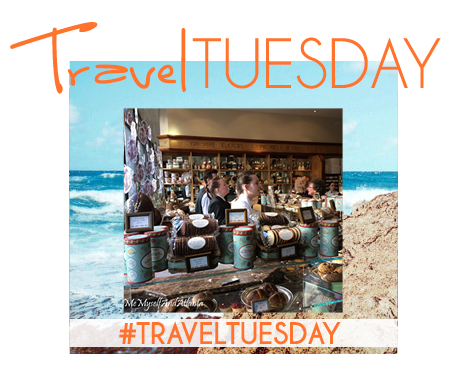 1. SHARE a post about travel! From road trips to trips abroad and from past travels to dream vacations. You can write about travel tips and tricks, favorite places to stay, or anything in between! Just make it about traveling somewhere!
2. GRAB the lovely button. If you run into trouble, just make sure to mention Bonnie, Melanie and Tina in a link!
3. LINKUP goes live every Tuesday at 0800 GMT.
1. Please only one linked up post per blogger. Save other posts for future linkups!
2. The last Tuesday of every month will be a themed prompt if you want to join in!
3. HOP around and meet new travel loving bloggers! Check back to visit some of the newer travel posts!