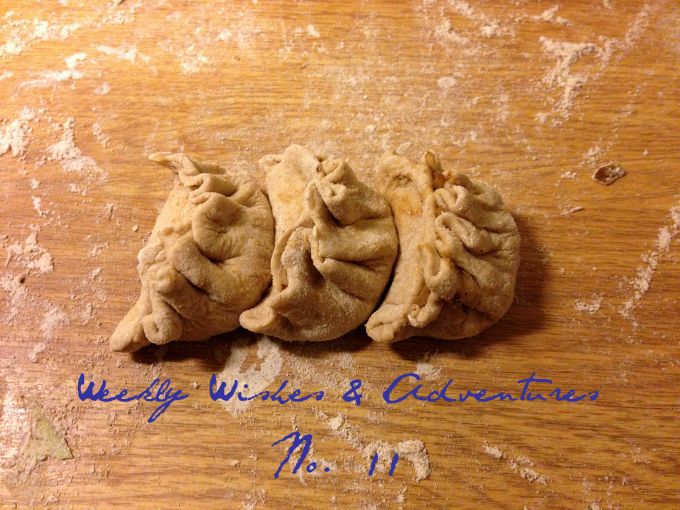 I hope you all had a good start to February! I can't believe that only one month of 2014 is over yet – it certainly feels like a much longer time to me! I honestly believe that Weekly Wishes is an awesome link up and cause – it definitely has caused me to be more proactive about my goals – and I encourage each and everyone of you to join this project for some time as well. You might be surprised by the results!
But at the same time, a lot has changed in the way I blog ever since I first started doing these posts and I've come to the realization that I simply don't want to write them every single week. There are other things that I would prefer to share, other things that make my heart sing more and while it's hard to say goodbye to something that has become such a big part of your (blogging) routine, I now realize that the time has come.
I'm not saying farewell, but I've decided to only write these post twice a month from now on. One in the beginning of the month to share my goals for the whole month and then one half-way through to update you on my progress or lack thereof. I guess that means I should start calling these Bi-Weekly Wishes. Or Monthly Wishes? I don't know, but if you have any suggestions, please do share.

I'm going to spend the second part of February in the UK and if my blogging past is any indicator than you know that I suck at blogging when I'm not at home. I just never seem to find the time or leisure to sit down and write – no matter how many exciting things are happening! I won't be blogging as much when I'm in England, because I don't get to see my boyfriend very often and obviously prefer to spend time with him (& explore London) than sit behind my computer screen.
But I do want to challenge myself to at least write every once in a while and to not disappear for a couple of weeks – I love the blogging community too much for that! There are also some other things that I have wanted to do for a while to make my blog easier to navigate and this month I should really get behind that.
I started running last summer, but when I moved to Norway I stopped quickly when it got too cold (or I got too lazy. But let's ignore that.). I took up a fitness routine again this January and I would probably be able to keep up with it this month, too, if it weren't for my trip to England. I'm not kidding myself into thinking that I would actually go running while I'm away – a girl's gotta be realistic – but it can't be so impossible for me to do a workout from a YouTube video three times a week, can it? Luckily, my boyfriend is really into fitness, so that should offer plenty of motivation for me.
I can understand most written Norwegian just fine, but once people open their mouths and say something I'm completely lost. Spoken Norwegian is nowhere near similar to written Norwegian – at least to my ears. This month, I want to not only concentrate on recaping grammar & vocabulary, but also on improving my listening comprehension. After all, it's not exactly helpful to only be able to read Norwegian. I will also have to work on my own spoken Norwegian, eventually, but that's a task for another month. This month is all about hearing or in other words, watching lots of Norwegian TV.

So this is it for this month. There are not a whole lot of goals, but I would rather concentrate on few goals and do them properly, than try to work on too many things at the same time and be sloppy about it. I guess my goals for February could be summed up by saying to act more like I'm living my regular life and less like I'm on vacation when I'm in England.
What are your goals for February?