Back in December, my boyfriend and me went up to Northern Norway for a couple of days. We flew to Tromsø and then took the Hurtigruten along the Arctic coast until Kirkenes, just before the Norwegian-Russian border. The North of Norway is one of the most remote places I have ever visited (rivaled only by the Outer Hebrides in Scotland), but is still surprisingly accessible.
Being in the Arctic North in the middle of the winter definitely was the experience of a lifetime. It was so very different from everything I'm used to and so very different from what I imagined it to be, but in the best way possible. Visiting Northern Norway in the winter time may not be the most pleasant vacation experience you'll ever have, but it might be one of the most unique travel adventures you'll ever go on.
The winter is harsh – it's cold and dark (probably much darker, but not as cold as you think), the weather and the Northern Lights are unpredictable and I'm not sure if I would want to live here during the Polar Night. But I do want to go back during the summer one day and experience life so far up in the North at the different side of the spectrum, when the sun never seems to go down.
While it may look like the middle of the night in most of my pictures, but I assure you that most of them were taken in the late afternoon. There are only a couple of hours of daylight each day (and it is hard to actually classify it as proper daylight) and I'd be lying if I said that I didn't feel some of the psychological effects by the end of our stay. The lack of light is something that can't quite be described, but living in Norway has taught me a whole new appreciation for sunshine.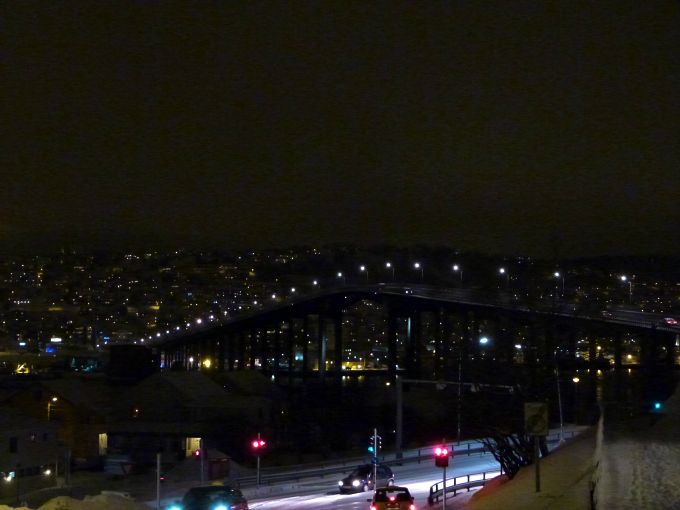 Tromsø is situated on a big island and connected to the mainland by a giant bridge. Most of the town's attractions are located on the island itself, but there are also some things to see over the bridge. It was snowing very strongly on our first day, but with only a little time on our hand we were determined to make the most of our stay and decided to cross over to the mainland to have a look at the Arctic Cathedral. The Arctic Cathedral is a church built in a modern style that is quickly rising to become Tromsø's landmark.
There are concerts and other events, but we just had a look from the outside and then got the crazy idea to take the Fjellheisen Cable Car up to the Storsteinen, one of the mountains of Tromsø. I don't think this is a must when visiting Tromsø during a snow storm when it's super dark, but we had a lot of fun anyway and I'm sure it would be an awesome experience (and a stellar view) if you were to go during daylight hours.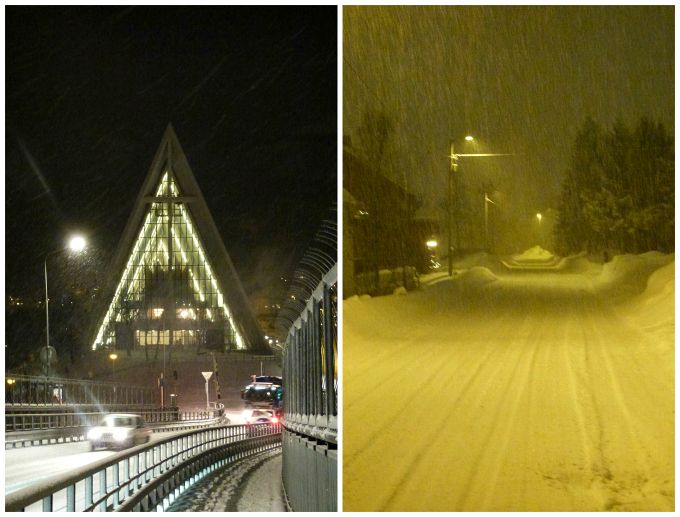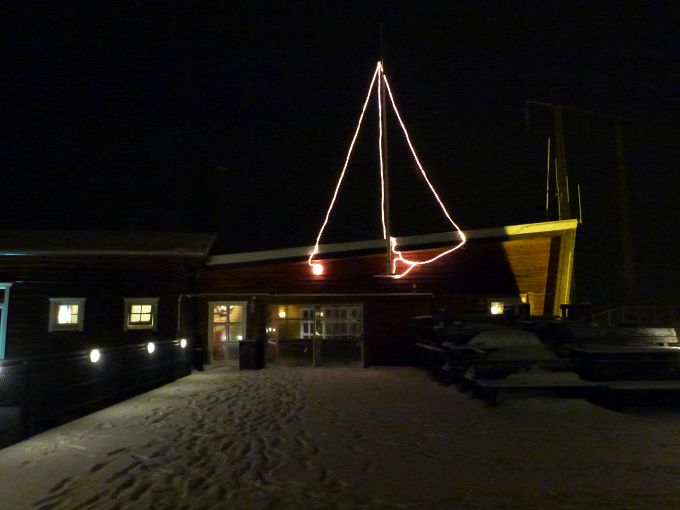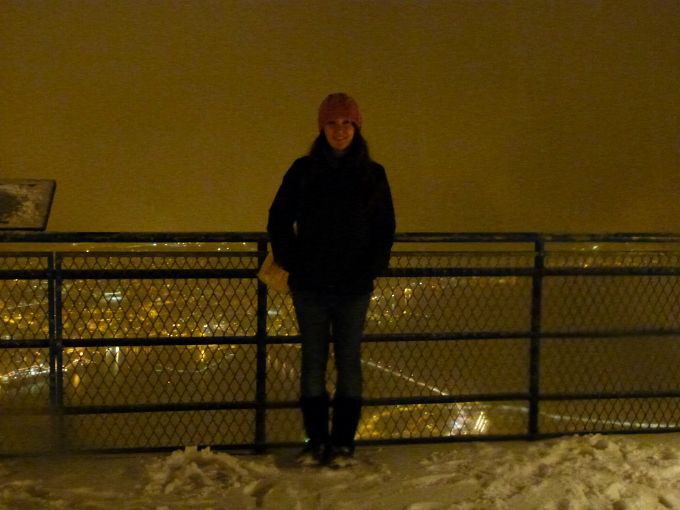 Tromsø is a pretty small city by international standards, but it's the biggest city in all of Northern Norway and thus a bit of a capital for the region. It feels much bigger than the amount of inhabitants it has! And while Tromsø may lack the variety in stores, restaurants and cultural activities that other, bigger cities boast with, I couldn't help but be enchanted with this town. If it wasn't for the darkness in the winter, I imagine it would be really fun (not to mention unique) to study/live here for a bit.
The next morning we got up very early for the one thing that we were probably most ecstatic about before arriving: Dog Sledding! If you're traveling to Tromsø, then Dog Sledding is kind of THE outdoor activity to do. It's definitely a huge travel splurge (no matter if you're a budget traveler or not), but since we knew that this was most likely going to be a once-in-a-lifetime opportunity we didn't want to miss out. Besides, it afforded us with the opportunity to see more of the nature around Tromsø which alone almost made it worth it.
I honestly had no idea what the landscape would look like, but I'm sure I assumed it would be very flat, uninviting and bare. How wrong I was! The only way I can use to properly describe the scenery around Tromsø is magical. As with many others of the remote places I tend to love, this is a very special kind of beauty. It's not the stuff that you see pinned thousands of times or on a big billboard, but a kind of beauty that's more raw, less cultured and simply utterly wild. How I would love to hike these mountains in the summer one day!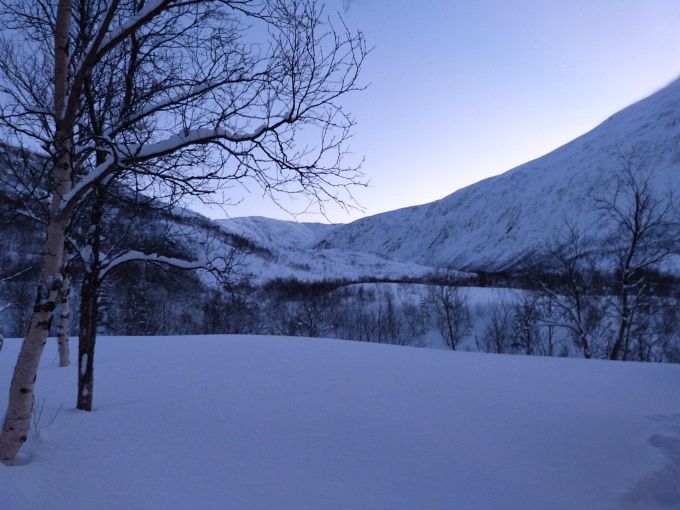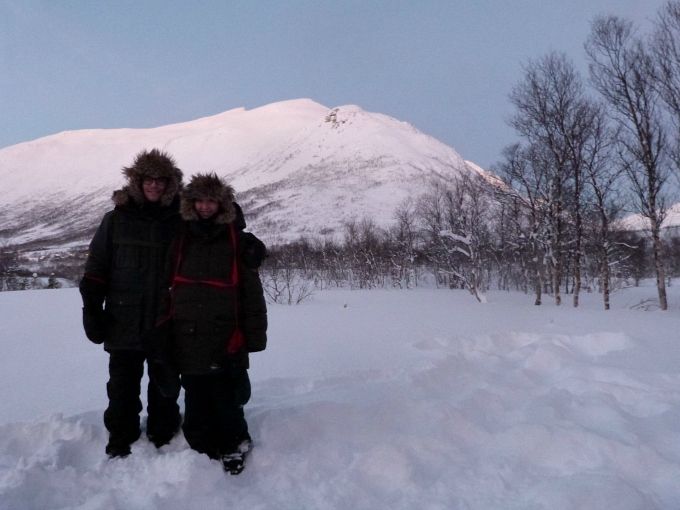 We had relatively mild weather while we were in Tromsø. The temperature was usually just around °0 C (and we were hundreds of kilometres over the Arctic Circle already!) and besides from the snow storm that greeted us on our first day, father weather treated us pretty nicely. We only brought our normal winter clothes and while I never felt downright freezing, I was never really warm either. We were given proper Arctic Proof Clothing for the Dog Sledding and it felt like we were stumbling around in Space Suits – I just couldn't wipe to grin off of my face!
If you never listened to your mother when she told you to put on warmer clothes, because you thought that it's not helping anyway, then think again. I didn't feel an ounce of coldness! Arctic Proof Clothing may not be the sexiest thing you'll ever wear (it kind of feels like wearing a warm sleeping bag and I'm pretty sure that's never been in fashion), but it dang well gets the job done. And never mind that our tour guide was wearing regular winter clothes – by now I'm convinced that Norwegian have a whole different understanding of the concepts of warm and cold anyway.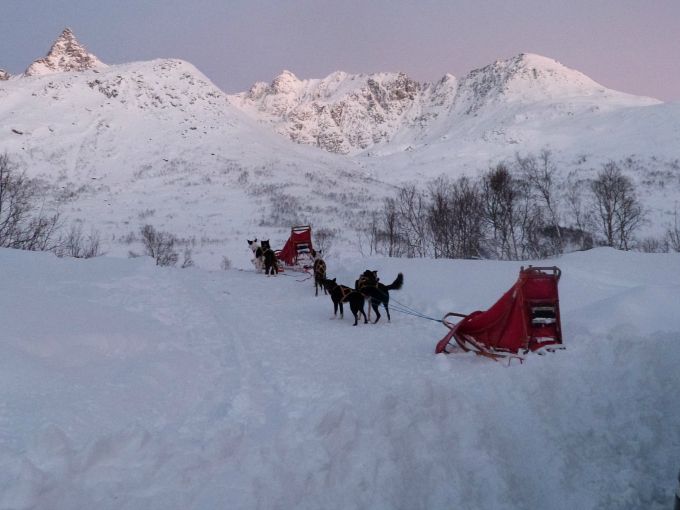 I've never done anything that even closely resembles Dog Sledding. The dogs – all Alaskan Huskies – were full of energy and super friendly and I spend a fair bit of time cuddling them. The thing that I found the most intriguing was the relationship they all had with the tour guides. If you're a dog owner, you'll probably laugh at me, but I know next to nothing from personal experience about these animals. When we first arrived, all the dogs were barking loudly, but at one word of our guide, they were immediately all quiet and intent on receiving their next command.
Dog Sledding doesn't have a whole lot of tradition in Norway, but it's become increasingly popular and there are a lot of events centered around Dog Sledding as a sport. Europe's longest Dog Sledding race, the Finnmarksløpet, actually covers over 1000 kilometres from Alta to Kirkenes – talk about marathon.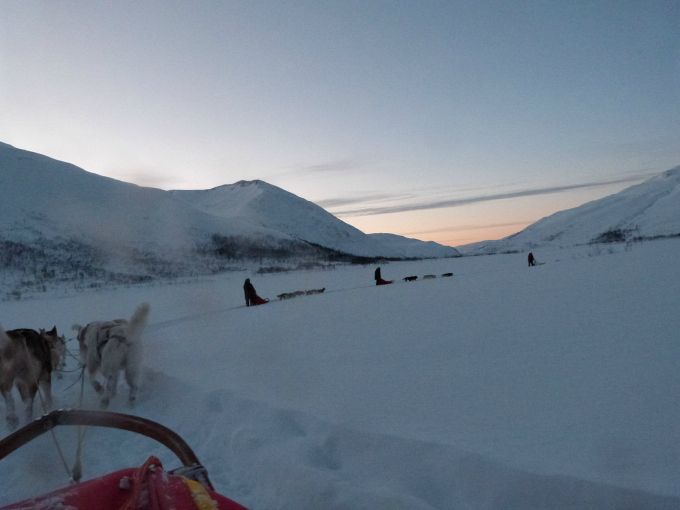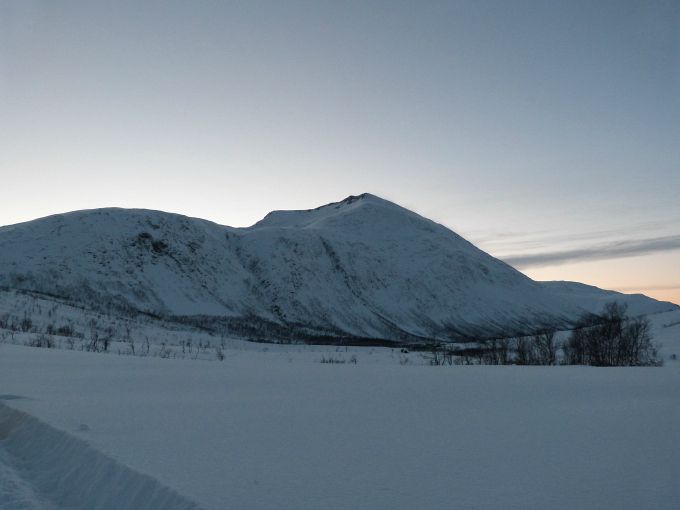 After the Dog Sledding, we went back to Tromsø, ready to board the Hurtigruten for the second leg of our Arctic Adventure – but more on that soon. Tromsø was beautifully decorated for the holidays and while it's not Christmas anymore, I think that this is still approriate right now:
I hope you have a great week leading up to Valentine's Day, regardless of your relationship status. Remember to celebrate yourself!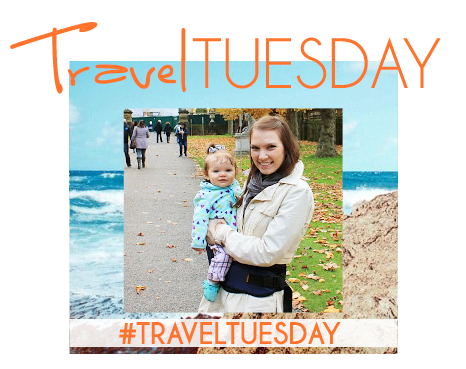 This week, I chose to highlight Sarah from
The Not Quite Military Wife
who is a Southern Girl that now lives in England and shared her story of visiting Chatsworth House in Derbyshire on Travel Tuesday last week. For many of you, Chatsworth House is probably more familiar as Pemberley from the 2005 movie adaption of Jane Austen's novel Pride & Prejudice. I'm a big Jane Austen fan and P&P is one of my favorites, so visiting the place that has literally become Pemberley in my mind would be a dream! Sarah's husband actually proposed to her with the ring hidden in a Jane Austen novel, so I'm sure that the place holds a lot of significance for her as well. Thanks so much for sharing, Sarah!

Now it's time for your post! Please make sure to read the rules before adding your post to the link up!
1. SHARE a post about travel! From road trips to trips abroad and from past travels to dream vacations. You can write about travel tips and tricks, favorite places to stay, or anything in between! Just make it about traveling somewhere!
2. GRAB the lovely button. If you run into trouble, just make sure to mention Bonnie, Melanie and Tina in a link!
3. LINKUP goes live every Tuesday at 0800 GMT.
1. Please only one linked up post per blogger. Save other posts for future linkups!
2. The last Tuesday of every month will be a themed prompt if you want to join in!
3. HOP around and meet new travel loving bloggers! Check back to visit some of the newer travel posts!