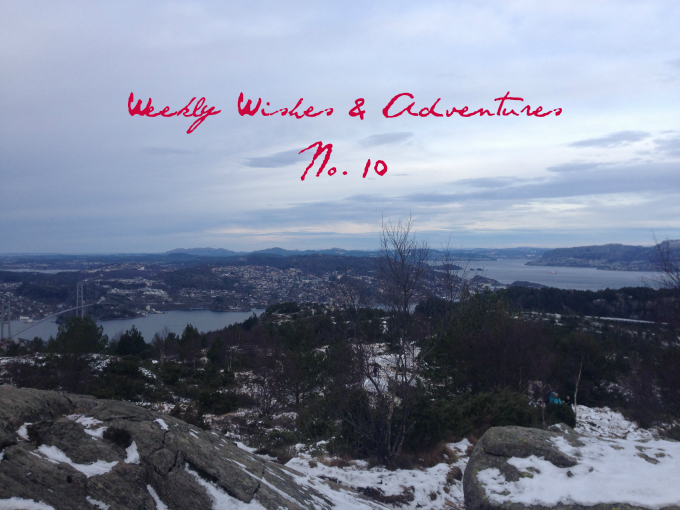 I've been back in Norway for a week now and to be honest, that week has been better than I imagined. I was apprehensive about coming back to Norway, because many of my best friends from the last semester didn't return for a second and having to start my social life again seemed like a daunting task. But luckily, everything turned out for the best and easily so, which is just one more sign that most situations in life don't turn out as horrible as our imagination tries to make us think – quite the opposite actually!


I went to my first Norwegian hiking outing of the year over the weekend and we decided to climb the Lyderhorn – probably my favorite of the seven peaks around Bergen. It turned out to be a bit of a bad idea since the whole path was covered with treacherous ice and we constantly had to be very careful to not slip, but in the end we managed to reach the peak (and make our way down again) without any injuries. Did I mention that we spotted plenty of locals who did their usual mountain running despite the icy rocks?
All in all, it was an exciting, but still relaxing week. I met plenty of new people, charged my batteries and now feel re-energized again and simply enjoyed being in one place again. Oh, and did you read my latest travel announcement?
My goals last week – aside from regaining my energy – were to complete my To-Do-List and to blog at least three times. The latter was a success: I even blogged more than I set out to do! I think that I was pretty blog-jaded for the better part of the last six weeks, but focusing on the community aspect of blogging and just writing more has definitely helped me to overcome these feelings. There are a lot of things that I would love to say on this topic, so I might write a post about in the upcoming weeks.
I did manage to do almost everything on my To-Do-List, except for one thing and unfortunately that one thing is particularly embarassing to admit: I still haven't properly unpacked my bags since returning. Well, I unpacked about half of what I brought back from Germany, but putting away the last of your clothes and then hiding your suitcase under your bed, just seems to put the last nail in the coffin of travel life. I might be a bit melodramatic, but I'm sure other frequent travelers can relate. But I'm doing it today – it's embarassing enough as it is.
During the last week, I allowed myself some time to just relax from all my travels in December and to adjust back to life in Norway. But now that I feel re-energized and everyday life has started again, it is time for me to get back into a routine. I know that 'routine' is a terrible word for some people, but for me it is something utterly comforting in between my travels. I love the excitement, adventure and change that travel brings into my life, but I also need to work on finding balance – both in between and during my trips – in my life and a routine was a nearly magical way of achieving that goal.
Most of my goals this week are therefore designed to keep me accountable to live my everyday life more consciously.
1. Have breakfast everyday.
I usually don't have very stressful mornings, but somehow I always seem to have trouble to ensure that I eat a proper breakfast. You know, something more substantial than chocolate. I have never been a good breakfast eater, because it's a meal that either tends to bore more or that I just can't be bothered to prepare in the morning: Even if it's just adding an apple to a bowl of yogurt. But we all know, how important a good breakfast is to start off the right and with a burst of energy, so there won't be any excuses this week.
2. Do all my readings for university.
I don't have to read terribly much at the moment, but that is precisely why I want to make it a priority this week to do all my current readings for university. Better spend some time on it now, than having to suffer from an incredibly high workload in a couple of weeks.
3. Start practicing Norwegian again
I'm not taking a Norwegian class this semester, but that's no reason to slack about learning the language. This week, I'm going to start to review my last textbook for a bit every single day and hopefully I will be able to move on to study the next level independently in the weeks to come. All in all, I just want to improve my Norwegian ability, so that I can return back to Germany with some solid language skills under my belt.
This is the same as last week: Including this Weekly Wishes post, I want to blog at least two more times, if I manage even more. I have come to notice that blogging brings me the most joy when I do it a lot and really focus on creating some content that I love and feel passionate about. And sometimes you just gotta force a blogger to her luck.
What are your goals for the week?