The last trip my boyfriend and me took in 2014 was to Colmar in France. Colmar is the third largest city in the Alsace Region and is located very closely to the German-French border which makes it a great day trip from Southwest Germany. Because of its location, Alsace-Lorraine was a disputed area between France and Germany for a very long time.
Both German and French cultural influences are apparent when you walk through the streets of Colmar, but the Alsace has its distinct own character: It's not quite Germany and it's not quite France. It's simply the Alsace.
Passing borders is really fascinating. Sometimes, it blows my mind that you only have to step over a line to be in a completely different cultural. Once you cross the river Rhine from Germany and venture into France, you immediately notice that you're in a different country. The street signs look different, the buildings look different, the streets look different - even the acreage looks different! And these changes only become more apparent once you get off the bus in Colmar.
The Old Town of Colmar consists of beautiful half-timbered houses. This is a style of architecture that can be found all over Germany, but the buildings in Colmar are still unique because they come in all colors of the rainbow. Even though, Christmas was already over when we visited, the Christmas Market of Colmar was still open and many of the buildings were decorated in the Holiday Spirit. Many other bloggers say, that Colmar reminds them of a Disney Fairytale town and I couldn't agree more! We definitely frequently had to remind ourselves that this was a place where people actually live.
While strolling through the streets, we found a small market building that immediately made me want to move to France. You know that I love cooking and even though Colmar only has about 67 000 inhabitants, the market had the most amazing selection of different spices, vegetables, cheeses, pastries and many other things that a Foodie heart desires. In Germany, you would have to head to one of the really big cities to find a selection like this under one roof!
The thing that Colmar is probably most famous for is Petit Venice. It's an area of especially colorful half-timbered houses along a canal and definitely Colmar at its most picturesque.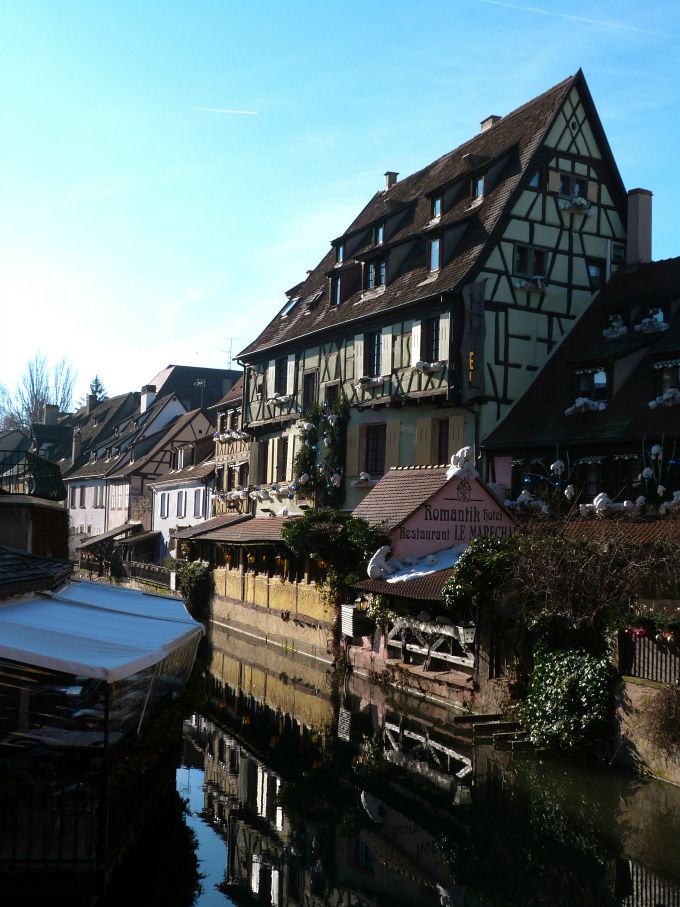 For lunch, we stopped at one of the many Brasseries where I had a delicious Tarte Flambée or flammekuechle. Tarte Flambée is an Alsatian speciality and most traditionally consits of dough topped with Crème Fraiche, Onion and lardon (a sort of French bacon), but also comes in tons of other alternatives. I have seen vegetarian Tarte Flambées before (not in France, I should add), but all the options in Colmar that we found included some sort of meat: Come on France, don't you like veggies?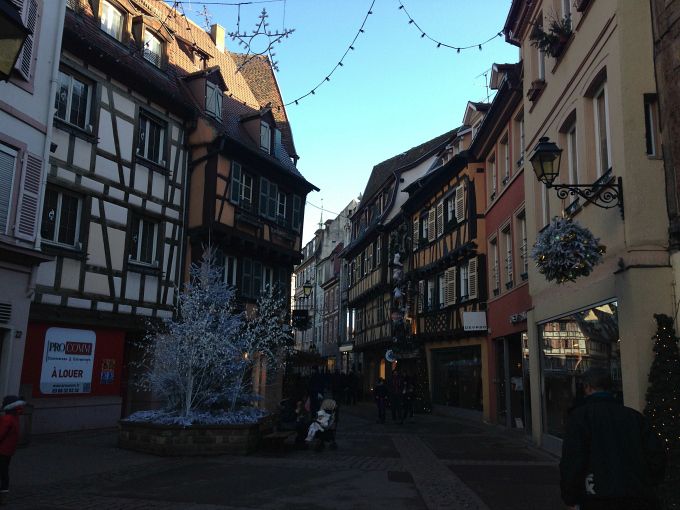 We also visited the Unterlinden Museum that mostly exhibits medieval, clerical art. Its most prominent piece is the Isenheimer Altarpiece. I know that this doesn't sound terribly exciting, but it really is an amazing piece of Art that you shouldn't miss when you're in town. It consists of multiple painting on wood that are connected with each so that they swing open like windows – I'm not sure if this description makes a whole lot of sense (wow, I need to work on my writing skills), but the shere size of the Altarpiece makes it jaw-dropping already.
Colmar is a beautiful small city that can easily be explored in a half-day. And make sure your camera is properly charged (mine died half-way through our visit) – you don't want to miss out on the great photography opportunities!