When I studied French in Paris, I spent most of my time in Rive Gauche, aka the southern bank of the Seine dividing the city into two parts. This was were I lived and where my language school was located, so it was simply natural that I would do most of my exploring, shopping and simply living there. To this day, many of my favorite places in Paris are in Rive Gauche: The Musée d'Orsay, the wonderful English bookstore Shakespeare & Co, the Jardin du Luxembourg… I could go on!
I think a part of my heart will always remain in this part of Paris. I made a lot of great memories there and while I enjoyed exploring the city on my own, it also was a solitary experience. I met great people in my classes, but I also spend a lot of time alone and I think I needed that time in my life. I needed those two summers where I would museums alone and go sit in a park for an afternoon to read, where I would visit the Galeries Lafayettes for hours to shop the sales and constantly buy books.
I was still in school during the first summer and I loved the feeling of independence and freedom I felt strolling through Paris. Adjusting back to school life was hard – I had gotten a taste of an adventurous life that my life back in High School just didn't really compare to. But time has moved on. I'm not 18 anymore and many things have changed. After my second summer in Paris one year later, I still loved the city, but I wasn't so desperate to feel independent anymore. It was okay for me to move on from that stage in my life.
Today, I'm more aware and okay with who I am. I have a better idea about the way I want my life to go. But best of all, I have found a companion to share all of this with – and I don't know if I would have been ready for a relationship like this if it wasn't for my two summers in Paris.
On my recent trip to Paris, we spent most of our time on the northern side of the Seine. Our rental apartment was near the Place de la Republique and so were pretty much all of the sights we wanted to visit, so it just followed naturally that we only crossed the Seine twice – once to see the Eiffel Tower and then one other time to visit the Musée Delacroix in Saint-Germain-des-Prés. I was a bit sad about spending so little time at Rive Gauche, but now I'm glad that we took the time to explore some parts of Paris that I'm not very familiar with.
I had been to Montmartre before, but probably only once during each of previous visits, so it's still a very unknown territory for me. Located in the far north of Paris, Montmatre and the surrounding parts of the city have a very different character than the South. Where Rive Gauche is quiet and refined, Montmartre is loud, colorful and full of life. For an introvert like me, visiting can seem like a challenge at first: There are so many people, so many stores, so many impressions to take in… but in the end, you get lost in the bustle and come to enjoy all the life around you.
While you make your way to Montmartre's heart – the Sacré Coeur (pun intended) – you pass tons of fabric stores. My mother remarked that nothing in this area had changed at all in the last twenty years and a part of me is convinced (and hopes) that this will also be the case another twenty years from now. The walk up the hill to the church may seem daunting, but once you're standing on top you will be graced with a great view over Paris – do you recognize any other famous landmarks?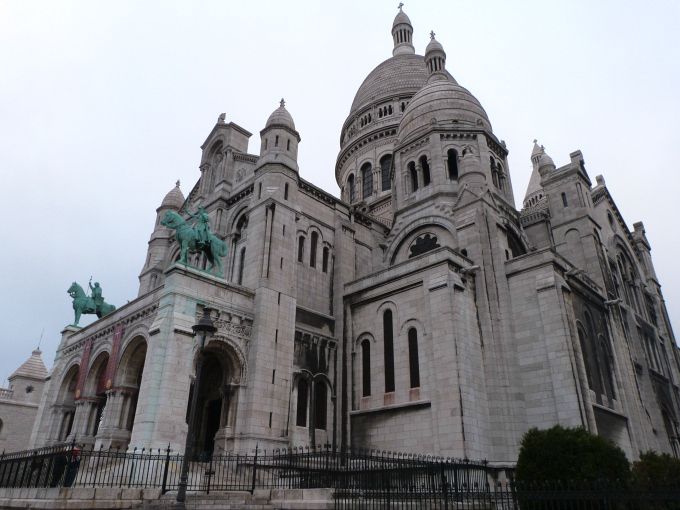 The Basilique de Sacré Coeur is different from most other churches you can find in Western Europe. While the Basilique is a catholic church, the architecture and the interior reminded me a lot of the orthodox churches I visited in Greece – though obviously toned down a lot. It's definitely a breath of fresh air, especially if you have visited more cathedrals in your life than you would be able to count.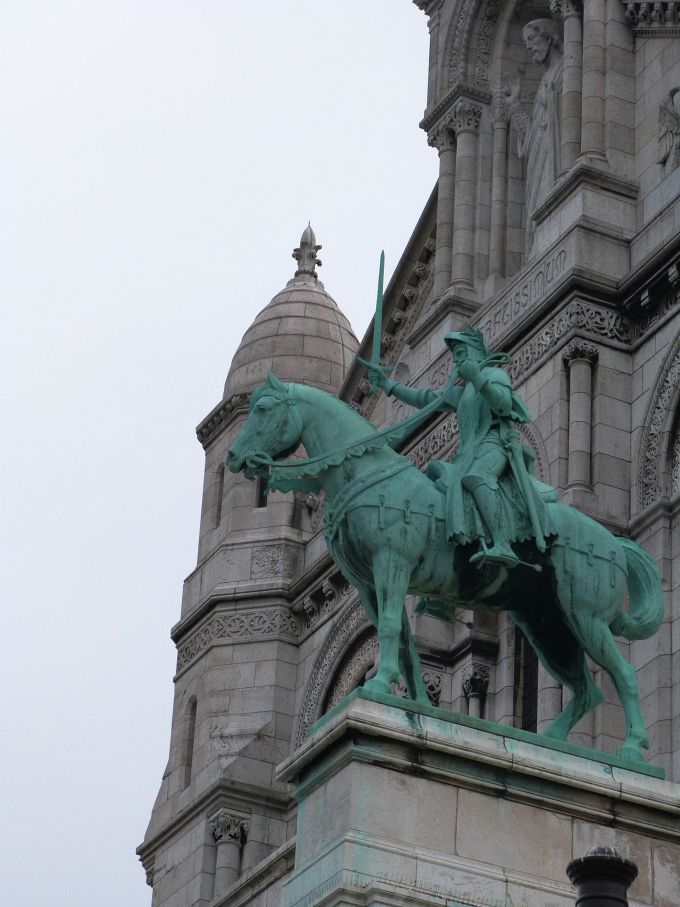 But Montmartre may even be more known for the striving art scene it housed for such a long time. Even today, there are still plenty of artists showcasing their work and offering their service on the street. I had my portrait taken here as a very little girl (doesn't that sound fancy? I promise it isn't) and it still hangs on the wall in my grandmother's bedroom.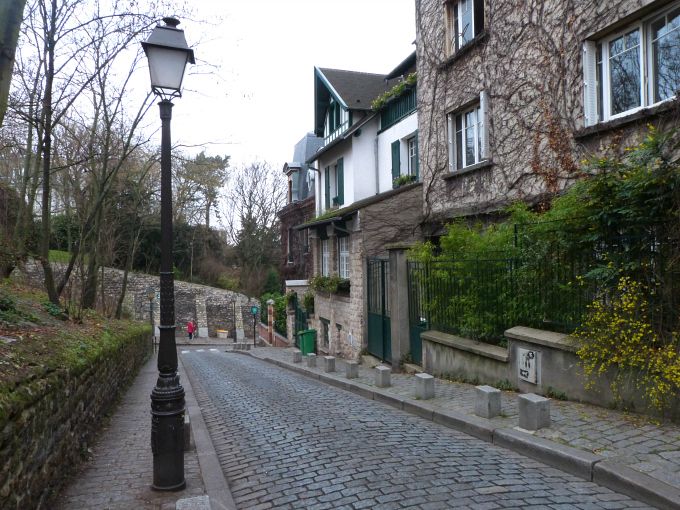 Parisians, don't hate me, but I love that the buildings in this picture look like they could be anywhere, but in Paris!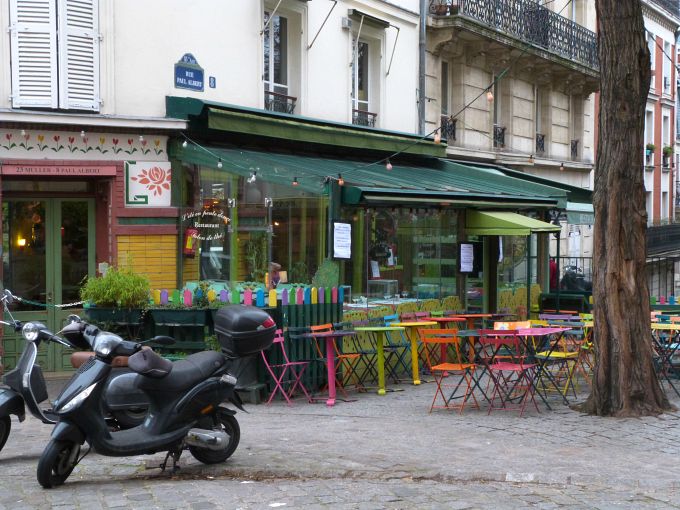 Being on top of the Montmatre feels a bit surreal. You constantly wonder if what you see is real or just an illusion for all the visitors – but once you start climbing down the stairs, it hits you: People actually live their lifes here. You see people having coffee and carrying their groceries, you realize a bus is passing you buy and behind you a family is getting out of a taxi. You're illusion is someone else's reality. But maybe this is getting too deep. So you keep on walking down the stairs.
What memories – whether or not you have been before – do you associate with Paris?