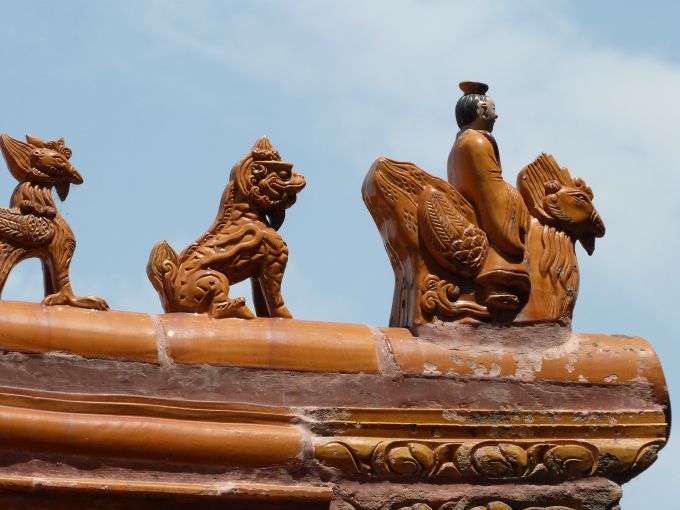 It seems like Friday is becoming the day of travel announcements on this blog! If you've been reading my blog for a while, then you know that I have been hinting about some major travel plans for the summer for a long time and you're probably getting annoyed that I don't just come out with plans. But today the day has finally come: I'm going to Asia for seven weeks this summer! I finally booked my plane ticket this week and it feels so surreal to know that I will definitely go on this trip that I had in my mind for such a long. I still haven't fully realized it!
Over the months, my travel plans have changed a lot. Originally, I wanted to travel to the Philippines with a friend that studies in Taiwan and then visit Thailand and China with my boyfriend. But eventually, I just had to be honest with myself that these plans just didn't make me excited anymore. As much as

I heard about the beauty of the Philippines and the friendliness of the Filipinos, I had to admit that my heart was drawn to another island nation: Indonesia.
I e-mailed my friend about my doubts and suggested traveling to Indonesia instead and you know what? She not only agreed, but also told me that she preferred going to Indonesia as well. Funny how fate sometimes works out, isn't it? At the same time, my parents suggested that I should just come to China with them in early June to visit some relatives before heading to South East Asia and before I knew I was only looking at flights, realized how ridiculously cheap they were and booked my ticket.
The plan is to go to China with my parents, then meet my friend somewhere in Indonesia (probably Bali, but do you have any other suggestions as well?) and then to only travel to Thailand with my boyfriend. I'm a bit sad that I won't get to show him Beijing and to share part of my heritage with him this summer, but this way we will have more time in Thailand and I'm sure we will be traveling to China often enough in the future.
There are so many amazing things to do in these three countries that this visit alone will definitely not be enough to cure my curiosity and I'm already so looking forward to doing more research on my destinations, but there are five things that are definitely high up on my Asian To-Do-List:
My mother went to university in Shanghai and insists it's the most beautiful city in China. I have been to China a handful of times already, but I never visited this harbor city and now I'm excited to finally go. I can imagine that Shanghai is quite different from Beijing and I've been told that the colonial architecture is really stunning. What are your Shanghai recommendations?
2. Practice Yoga in Ubud, Bali
I have slowly, but surely become one of those girls. You know, the ones that insist on drinking plenty of Green Smoothies & Yogi Tea and eating a lot of vegetables while minimising meat intake. And I don't feel the least bit bad about it! I'm super new to Yoga, but my mind is so curious to learn more about it and I'm stoked about the prospect to take a class in Bali or even to go on a small retreat. Do you have any suggestions?
3. Getting a Diving License
This is a maybe at the moment. I became interested in diving last year and I think that this trip to South East Asia might be a perfect opportunity to learn it. However, part of the reason why I would love to learn how to dive, is to simply overcome the physical limitations I always thought I had. I spent the better part of my adolescence being utterly convinced that I'm not made for any kind of physical challenge and it's only been over the last couple of months that I realized that it is mainly my mind and my lack of confidence that hold me back. Is that a good enough reason to learn diving?
And in case you dive: Where should I get my license – Indonesia or Thailand? I know that Ko Tao is a diving paradise, but unless my boyfriend decides he wants to get licensed too, I will probably do it in Indonesia. What's your take?
4. Relax on the beach at the Andaman Sea
The Andaman Sea was the reason I first wanted to go to South East Asia. After seeing too many beautiful pictures, I just knew I had to go there some time soon. I'm usually a very active traveler and love to run around from one place to another when I travel, but I know that I won't be able to keep up that pace for seven weeks, unless I want to have a meltdown halfway through. Traveling while staying balanced will have to be a priority this summer and therefore I really want to take a couple of days to just relax at the beach in beautiful surroundings and maybe splurge a bit more on accommodation. Do you have any lodging tips?
5. Experiencing City Life in Bangkok
If I can't visit Beijing this year, I at least want to experience the Thai capital! Not everyone loves Bangkok, but a visit to South East Asia just wouldn't be complete without at least visiting one metropolis. I'm really keen to lay eyes on the Grand Palace, but at the same time I also can't wait to experience crazy Asian city life!
If you have any travel suggestions & tips, please send them my way! What is not to be missed?