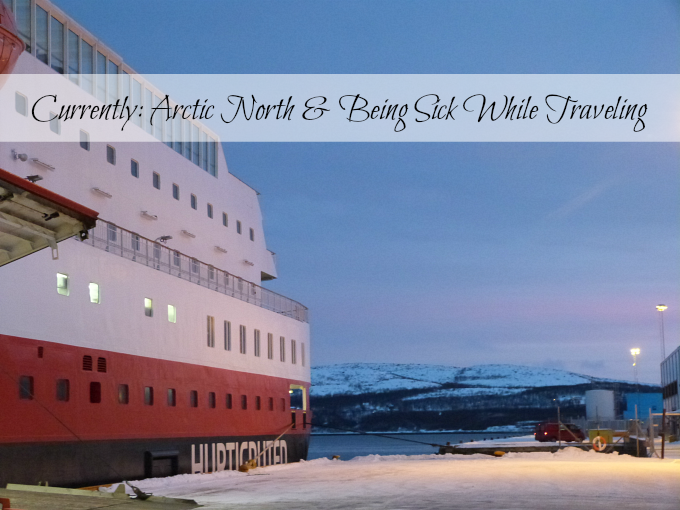 I just arrived back in Germany from my first semester abroad in Norway, but before leaving the country my boyfriend and me took a little trip up to Northern Norway. We flew to Tromsø and then cruised along the Arctic Coast with the Hurtigruten to Kirkenes, just before the Norwegian-Russian border.
It was a fun and eventful trip – we saw the Northern Lights one night, went Dog Sledding during the few hours of Daylight and stopped at the end of the world at the North Cape. I can't wait to share more about it! The only thing I am sad about is that I couldn't enjoy our journey as much as I could have because I got sick on the Hurtigruten. I got pretty seasick for parts of the cruise and there were moments where all I wanted to do was lie in bed and hope to feel at least a little bit better.
For those of you that have cruised before: Have you ever experienced this? The Hurtigruten are quite small ships as far as cruising goes, so I'm assuming they are much more likely to induce seasickness, but if you know anything more about this then I would love to know! Aside from being seasick, I also started to experience severe problems with one of my wisdom teeth – sounds like fun times, right?
So yeah, being sick while traveling is really annoying, especially if there's not a lot that you can do about it. I'm not sure if there's any way to properly with being sick while traveling, because if there is I have yet to find it. Should I ever find out – let's be real you're bound to get sick while traveling eventually – I'll let you know, but if you have any tips, please share them with me!
In other words, this is what's been up in my life lately. I've done a pretty bad job at blogging consistently, but that happens when life – or rather a stupid tooth – comes in the way. But I'm glad to be back in Germany for the next couple of weeks now and excited for Christmas to come! This is the first time I have a proper vacation (relaxation instead of my usual power traveling) ever since I left High School – no internships, no assignments – and I am immensely looking forward to not having to do anything. God only knows when this will happen again. In the meantime, I hope you won't experience any health problems soon – or ever, really – and that all of your holiday preparations go well! I still have to do all my shopping, but this year I'm actually looking forward to it!
Hope you all are having a good pre-Holidays time! :)