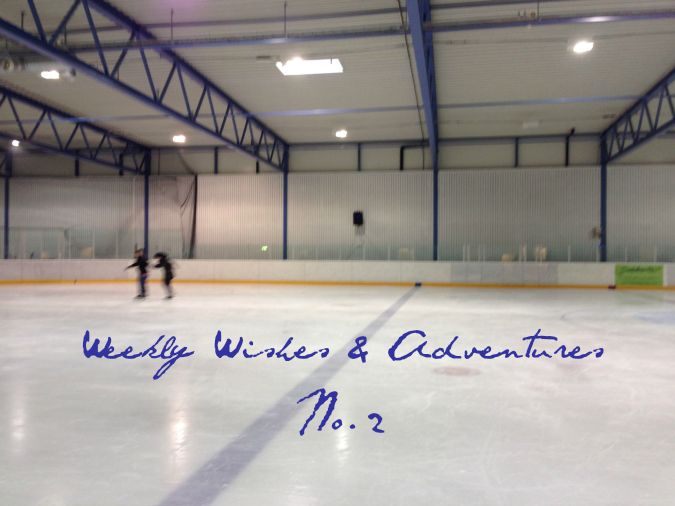 I know that I'm going to sound like a broken record by now, but last week was intense! By the time the weekend had come around, all I wanted to do was crawl into bed and go to sleep for twenty hours. Yeah, it was that kind of week. But I stayed diligent, got up, headed to the library and finally finished the paper that had kept me on my toes all week long.

My main focus last week was definitely work for university, but I did take a break once to go Ice Skating and made myself look creepy for a Halloween party. Ice Skating is the type of thing that people (and with that I really only mean people who still go to school) in Germany probably do once a year, but it seems to be a much more common thing in Norway. At least, I've already been twice ever since I arrived in Bergen and that's more than in the last four years combined. I also really threw myself into the blogging world and community again – probably to make up for the lack of social life that seems to come with spending the days without end in the library – and wrote some posts that I just had to get off my chest.
My goal from last week was to finish my paper and I'm so glad that it's done now. Well, I still need to hand it in later today, but the body of work is completed and now I feel like I can finally breath again. There were times in between when I thought I would never be able to finish it (let's face it, we've all been there…), but now I just hope that all the work will have paid off.
There's so much going on this week! I'm going to the UK again where I will be traveling for a bit and on Saturday I will be at Selena's Blogger Afternoon Tea. I'm a tiny bit nervous, but I'm also very excited to get to meet some fellow bloggers and I'm sure we'll have a fabulous time. I mean, there will be cake, so how could it not be fabulous? I'm just really excited to be in London again – it feels like it has been ages already!
My goal for the week is not that exciting though, because I'm just going to continue to be a diligent grown up: I need to do some reading for university. It's not really a requirement, but I do have exams coming up in the near future and I don't fancy having to finish all my readings once I come back, so I'd rather just get a bit done every day I'm in England. I'll be proud if I manage to do this.
Apart of that, I plan to eat my weight in food (any recommendations?) and then to eat some more. Could you expect anything less from me?