My favorite author as a kid was Enid Blyton and my favorite book series were the "Famous Five". Many of the books played somewhere along the English coast, where there were hidden coves and uninhabited islands, beautiful cottages and long beaches, dangerous rocks carved by the rough sea and enough secrets to discover to last a lifetime. I loved these books, because they made my fantasy go in overdrive and whisked me away to a world that was more fantastical, more unreal and more adventurous than my own.
As I'm writing these lines I also begin to think that maybe this is the reason why I love travel so much. Travel allows me to add adventure to my life, to experience things that I would not experience if I was at home, things that are both beautiful and fantastical. But the bottom line is this: I don't want to live a life in which I have to imagine myself away to experience adventures. And this is not something that can only be achieved by travel.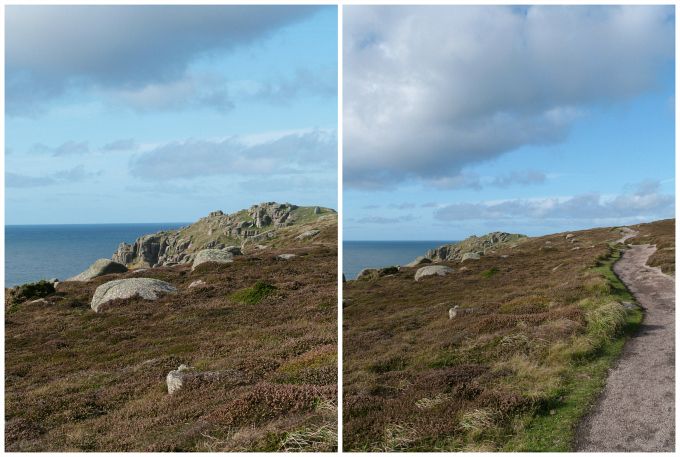 I wholeheartedly believe that adventure will come to those who seek it, whether it's in their home town, a neighboring state or a couple of thousand miles across an ocean. Travel is an easy way to achieve that, but I realize that because of different reasons this may not be in the cards for everyone, at least not at the time being.
Still, I want to inspire you to take a chance and to do try doing things that you're not completely sure, you're able to achieve. Starting a new job can be an adventure. Moving to a city where you don't know anyone is an adventure. Cooking some exotic foods in your kitchen is an adventure. Heck, even taking your dog for a walk in a different park can be an adventure! The world is full of opportunities to add some sparkle and interest to our lives – we should embrace it.
I don't know what Enid Blyton's inspiration for the setting of "Famous Five" was, but it could have been Cornwall. The South Coast of Cornwall is the kind of place that irradiates a certain air of unworldliness: I had to pinch myself multiple times to remind myself that I wasn't dreaming. Can I make it any more obvious that I absolutely fell in love with Cornwall?
The farther we walked away from Land's End, the mellower the coastline became. The cliffs were less step, the sea less violent and the overall sense of roughness gave way to a more gentle landscape.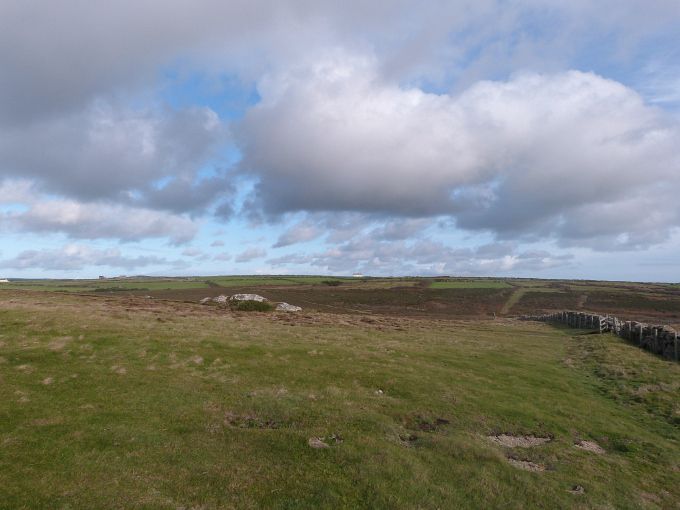 One interesting thing while walking along the coast is to notice the stark difference
between the sea and the back-country, which mainly peaceful consists of peaceful pastures.
The first signs of civilization.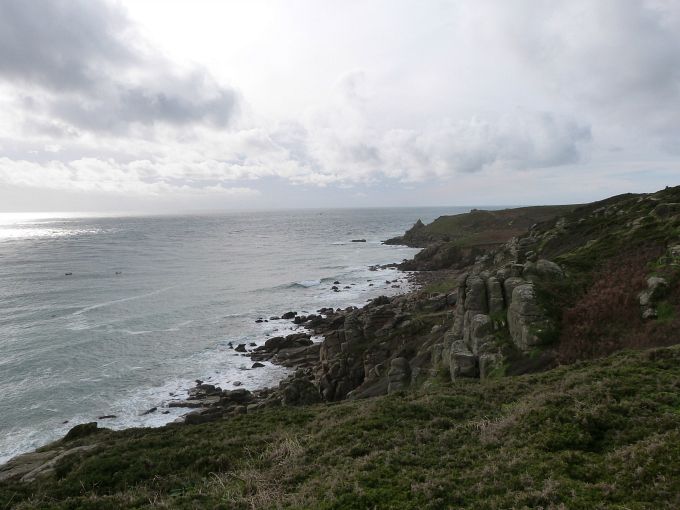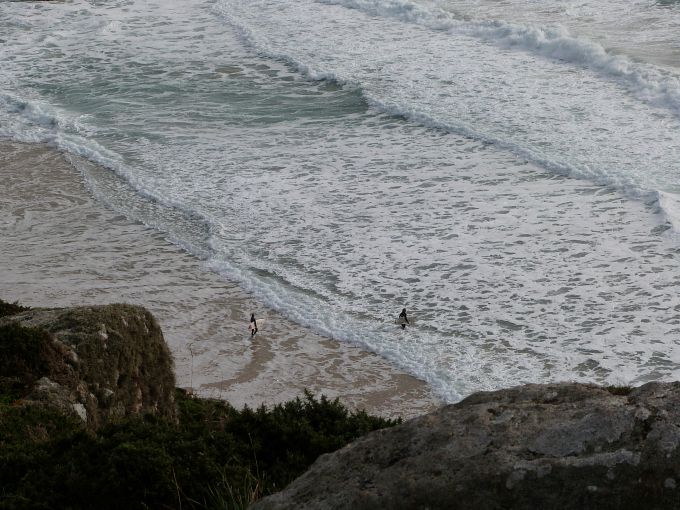 In true coastal fashion the weather had done a 180 ever since we left Land's End and we were experiencing the most beautiful sunshine (for England, at least). Cornwall is a well-known surfer paradise, so we saw some crazy people who took advantage of the opportunity.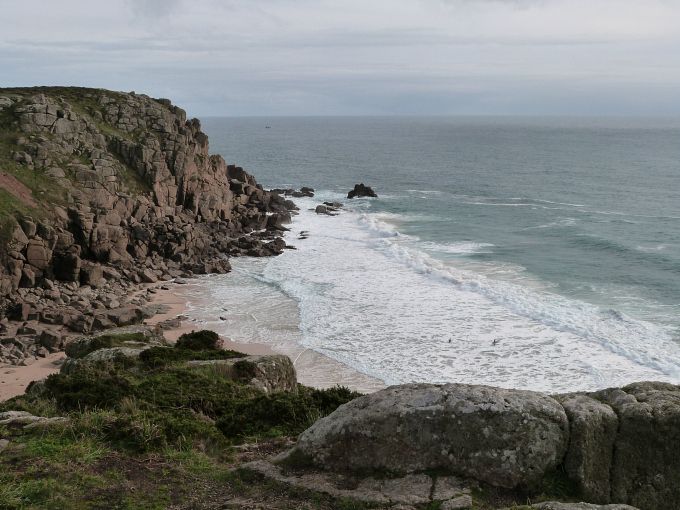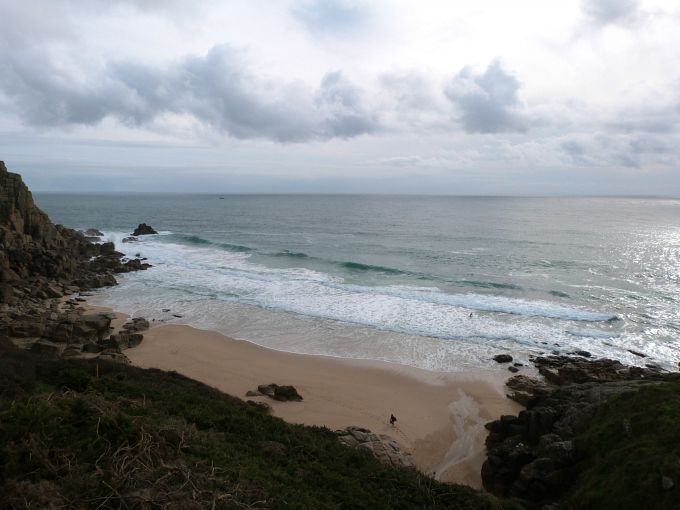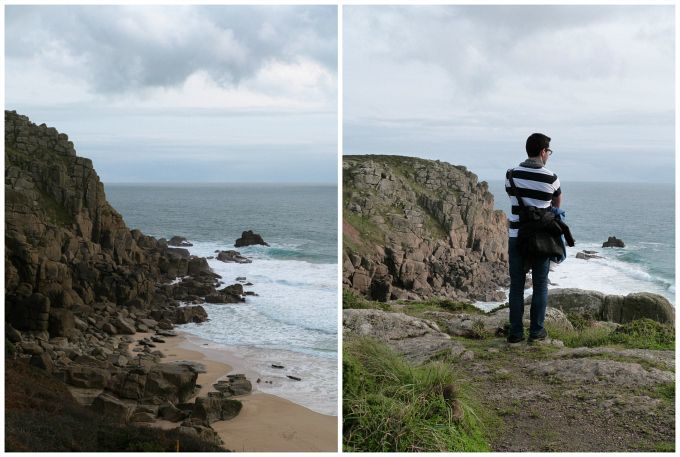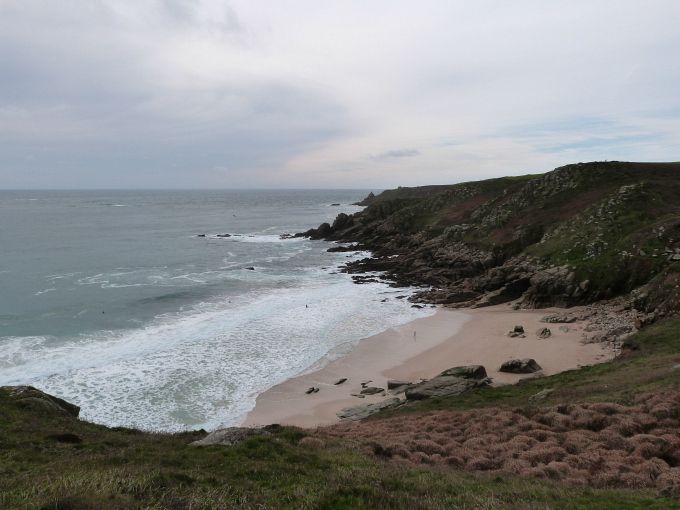 What is it with these Cornish beaches?!
When we reached our final destination of Porthcurno, we contemplated visiting the Minack Theatre, an open-air theater built right in the rock by the artist Rowena Cade the quite possibly has the most amazing view of any theater in the world. Seeing a play there is now on my life-long bucket list. However, we didn't have too much more time left before we had to catch our bus and we had seen the beach of Porthcurno for the last half hour – so of course I was eager to get down and get my Wellies wet.
There were more surfers, people walking their dogs and one crazy girl running towards the water in her Wellington Boots. I notice a common theme in these Cornwall posts.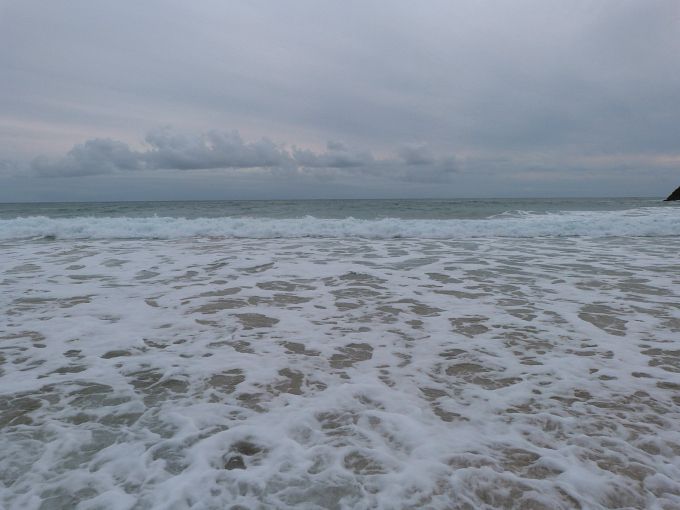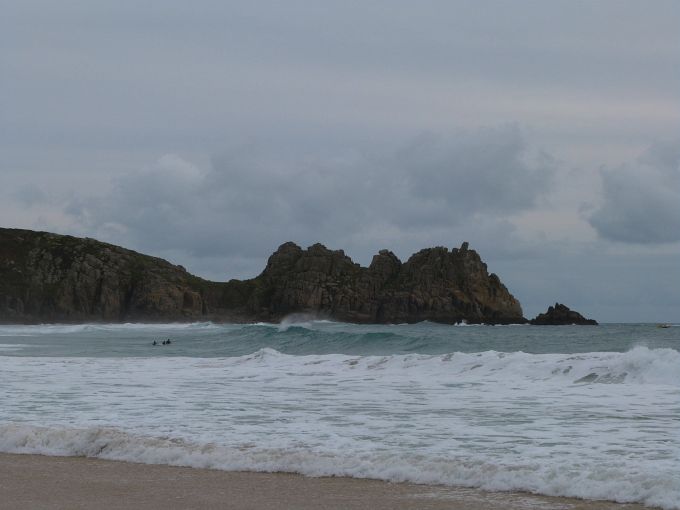 Best. Day. Ever. Need I say more?