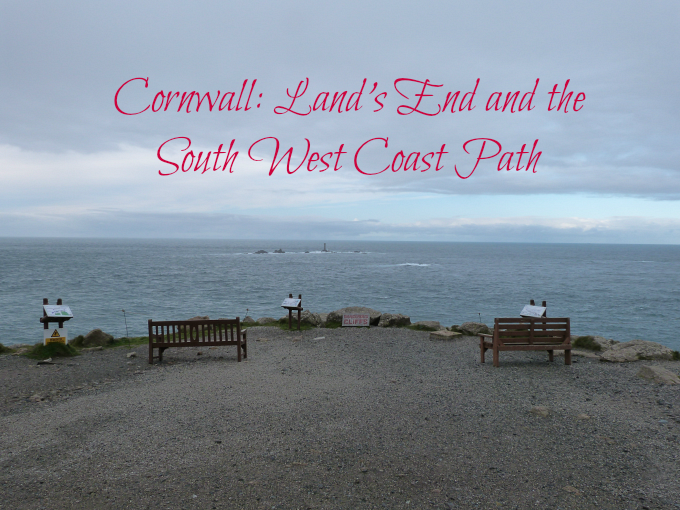 Are you ready for picture overload? I think I found Paradise on earth: I'm pretty sure it's at the Southern Cornish coast. In the last couple of years and growing up I have had the privilege to see some pretty amazing places and as much as I hate to say it, it has sort of made me into a travel snob. There are many beautiful places, but it's not often that I come to a place that I come across a place that is so mind-blowing that it makes me go "Woah!". But Cornwall is such a place.
I was going to share all the pictures of our second day there in one post, but when I edited the pictures, I realized that there were just way too many pictures that I had to share with you. It is usual that only a small fraction of my photographs make it on the blog, but Cornwall is too beautiful to deny you any of these impressions.
In the morning, we hopped on a bus from Penzance to Land's End. If you are ever traveling with Public Transport in England and are blessed enough to be traveling in one of the famous double-decker buses, make sure you sit in the first row on top – it makes for a great view! Land's End is the western most point of Great Britain and is one of THE Cornish tourist attractions. It's basically just a rock in the sea, but there's a small amusement park and according to a lot of guide books Land's End becomes some sort of ultra-commercial sight that would send any serious independent traveler running.
As it was off-season, everything was closed though and we were pretty much the only people around… it made for a bit surreal surroundings (hello Vienna Prater in the winter), but we enjoyed the solitude and managed to snap a picture of the two of us together for once.
We were greeted by rain, when we got off the bus and I was busy constantly wiping down my camera's lens, but we were eager to do some exploring – rain is never going to keep me from discovering this world's treasures! You have some pretty spectacular views from Land's End. If you squish your eyes, you might be able to see as far as the Isles of Scilly which lie another 45km from the shore and are the very last resorts of human life before there is nothing, but the Atlantic.
The Cornish coast is simply incredible. I wish I could send you all over there at once, because – once again – neither words nor pictures can adequately explain how impressive the sight is. In thousands and thousands of years, the sea has succeeded in creating steep cliffs, hidden coves and beaches and a landscape that is as rough and inhumane as it is beautiful. I just couldn't stop taking pictures and I'm pretty sure my mouth was open all the time – I've never seen anything like this before!
On a side note, these waters are also notoriously difficult to sail. We saw some graphics that showed an exorbitant amount of shipwrecks located close to the rocks and you don't need to be an expert in navigation to know how dangerous this coast must be.
But then we went on to our main activity of day – hiking along the South West Coast Path! You know you can never keep a girl living in Norway from hiking for too long! The South West Coast Path is the longest foot-path in England, spanning the whole coast of Devon and Cornwall and amounting to a length of over 1000km. Needless to say, the whole distance is for hardcore trekkers only. The leg from Penzance and St. Ives is argued to be one of the most beautiful parts of the whole path and while even that wasn't possible to achieve in one day, we settled on the short path from Land's End to Porthcurno.
The further away from Land's End we got, the more incredible the landscape became. So, if you ever find yourself in Land's End, make sure you walk to the south for five to ten minutes – you won't regret it, even if you're usually not really fond of hiking. It's an easy walk and the views you will get will last for a lifetime and are so much more worth than just being able to say that you have been at the westernmost point of England.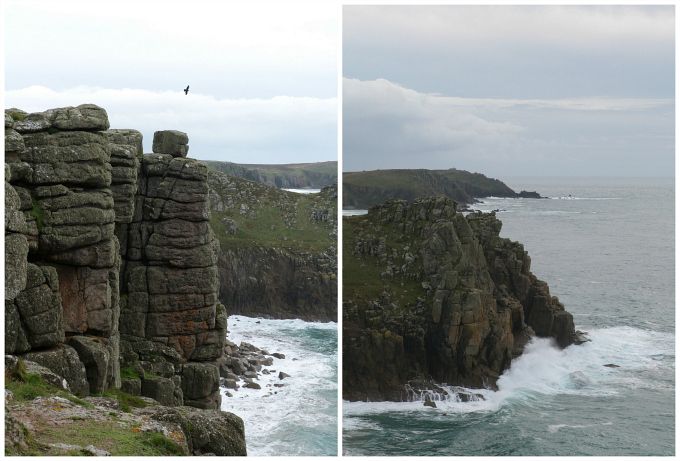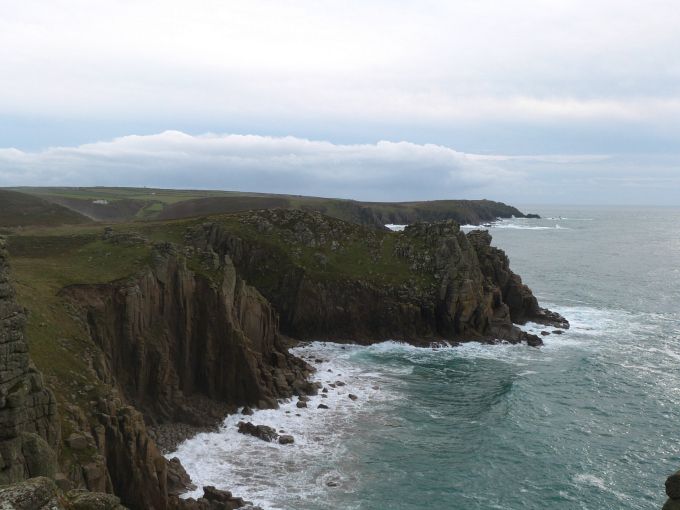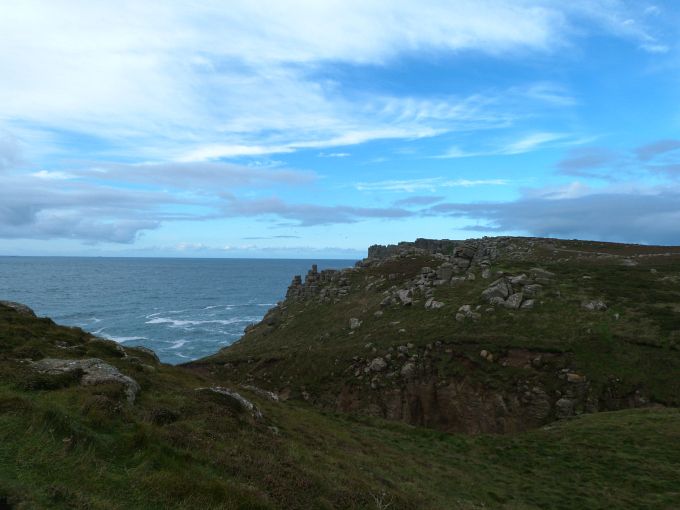 I think what impressed me most was the utter solitude we experienced on the South West Coast Path. For the first two hours of our hiking we didn't meet one single human being and it made the experience that much more special – we may as well have been the only people left on earth. This would never happen in Norway where hiking is just too popular a pastime! It's probably different during high season, but if you're a nature lover and value experiences that will leave you changed forever, you may want to look into not visiting on the highest point of high season.
Speaking of seasons: Weather on the coast has a tendency of being extremely fickle. You can often experience all four seasons in one day! November is not really an ideal time to visit Cornwall and we were prepared to face perpetual rain on every single day, but much to our surprise the sun came out soon and stayed for the remainder of the day. The weather got so beautiful in fact, that you would have thought it was September! It added to the incredible atmosphere and if I hadn't be excited before, I now definitely was.
Along the path we spotted the most beautiful and perfect beach I have ever seen in my life. Now, I haven't been to the likes of South East Asia and the Caribbean yet, but I imagine that it cannot get a lot better than this: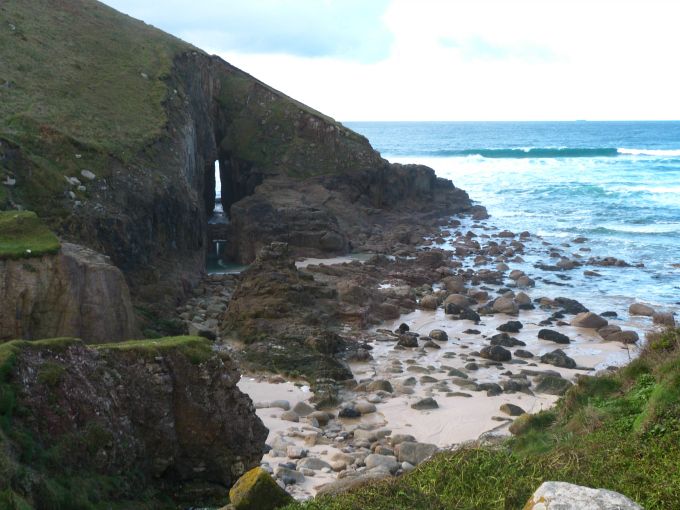 There was a house up on the cliff overlooking the bay and the beach and I just thought to myself: How amazing it must be to wake up every single morning and be greeted by a sight as this! It might be a solitary experience with the next town miles away and big cities even farther, but who needs stores, restaurants and movie theatres if you live in the most beautiful surroundings imaginable?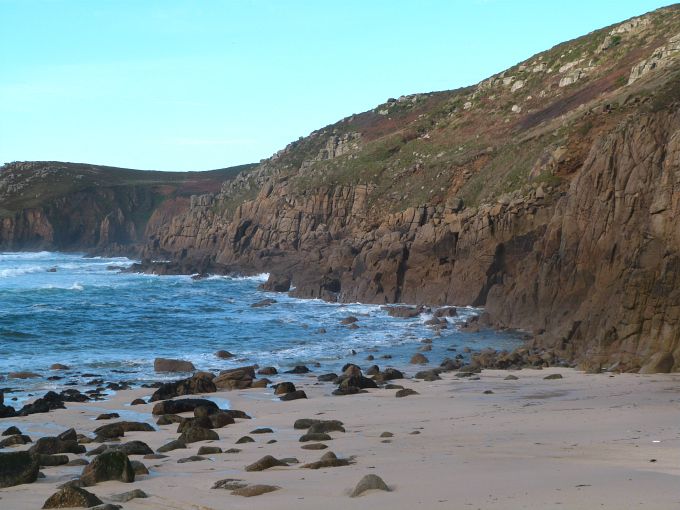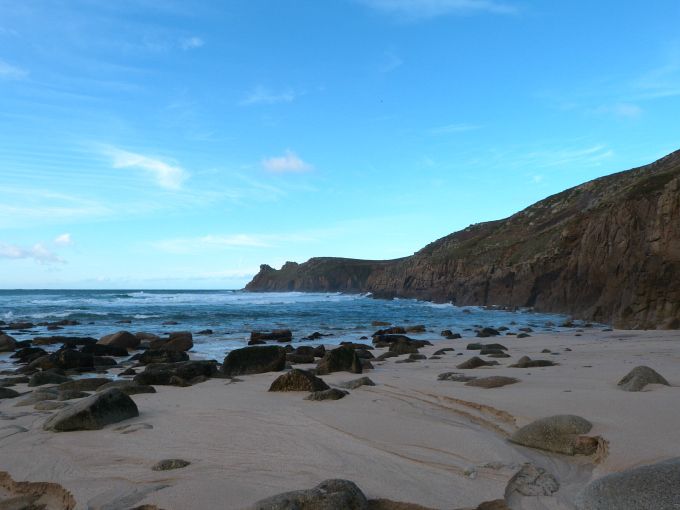 I think I lost my heart on that beach. It was just one of those incredible moments you sometimes have during travels. That moment where the world just seems to stop and nothing seems to matter anymore, where you become one with the world around you, when your heart starts to sing. It is so easy to get caught up in the struggles of everyday life and to lose your joy fighting of problems that you don't seem able to face… but sometimes it only takes one beautiful beach to make everything seem alright again.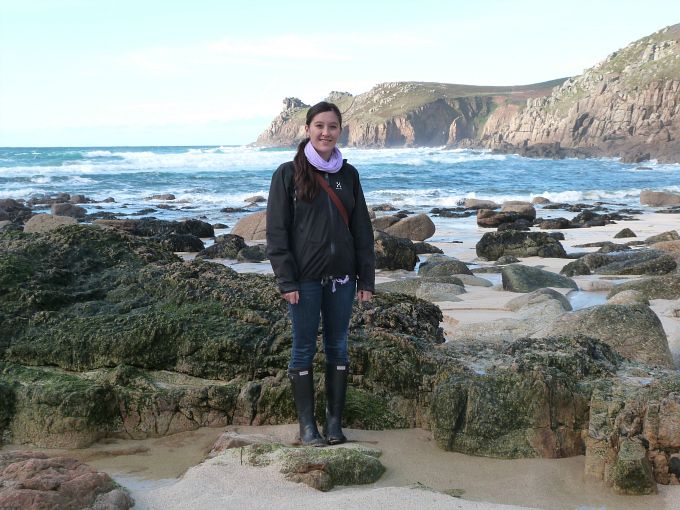 Can someone please beam me back there? Please?
By the way, I finally went ahead and created a Facebook page for my blog, so if you would like to follow along my blog from the comfort of Facebook, I would so appreciate it, if you would head over there and follow me! :)
What's the most incredible place you have ever visited?