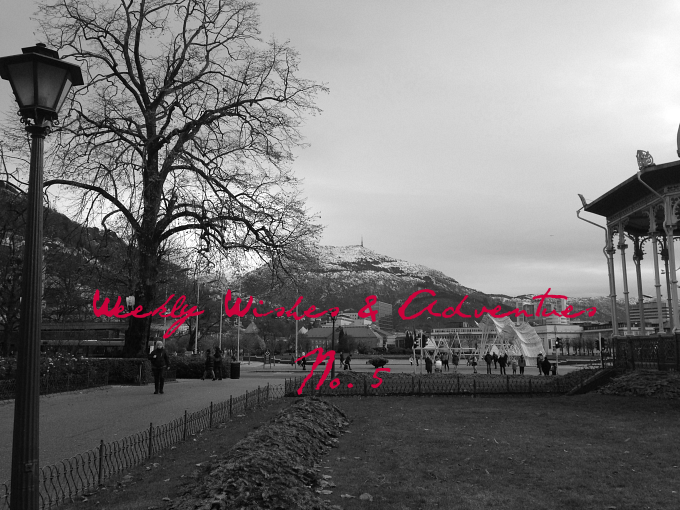 You may or may not have noticed that I took a little break from blogging over the last couple of days. Between studying for my exams, planning/dreaming up upcoming travels, the cold and the five hours of sunlight that we get every day, I suddenly felt very overwhelmed with life in general and felt like I needed to take a step back from pretty much everything, including blogging. I have been barely on Twitter, I barely read any other blogs and most days I didn't even think about my blog until the late hours of the day. This probably makes me an absolutely inconsistent blogger, but it was exactly what I needed.
But it's a new week now, a new beginning, and I'm ready to get into the game again. Today, I noticed something important about the way I approach blogging, though, and this might just be a game changer for me: There are times when I put way too much energy into blogging. There is a cycle in my blogging life that I see repeating itself over and over again: I'm working super, super hard on blogging for a couple of days/weeks and everything is going great until I am suddenly devoid of all energy and inspiration and cannot blog at all for a couple of days. And then it starts again. I always thought to myself that this time around, it would be different, but the truth is that it isn't.
It's time to draw some consequences now, though. I have goals and aspirations for my blog, but most of all I want to have fun with it and I'm not having any fun, if blogging is going to drain me from all energy every couple of weeks. My Weekly Wishes, therefore, are concentrated on achieving balance in blogging and I hope that my biggest tool for this will be to:
Get on a blogging schedule
I finally begin to accept that blogging every single weekday is not something I am currently able to do, at least not if I want to keep up a high standard on my blog. Most of my travel post probably take two to three hours to prepare and I simply don't have this time every day. I do want to update my blog consistently, though, and because of that I am finally going to get on a proper blogging schedule. According to many other awesome bloggers, this is the one thing that keeps them sane and after months of ignoring this little piece of advice, I think it's about time that I do the same.
I am going to strive to update my blog every other day, but I will adjust depending on how much time I actually have. There will be times when I will post less and times when I will post more, but for the most part this is what I am aiming for. I want to use the time I gain from this to connect with other bloggers and to – you know – just live.
How do you approach that blogging time monster? Do you have a set schedule?
I would love to hear your tips!