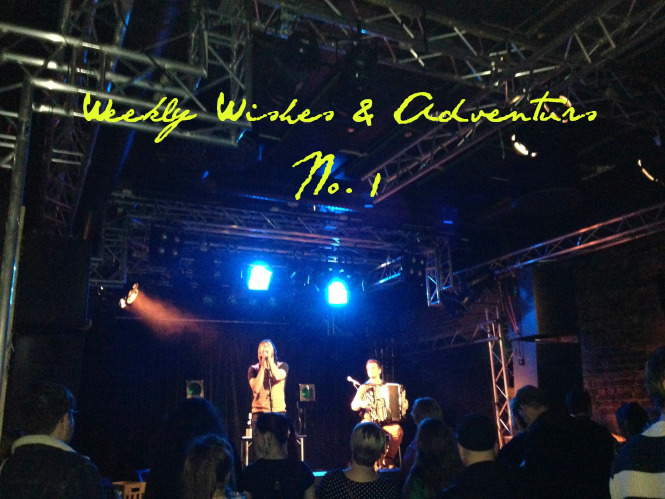 What a week! For lack of a better word, I'm just going to describe it as intense. As far as activities go this week was pretty average (the weather didn't allow for hiking, sadly), but I could definitely use a little break. But looking at my calendar that's not going to happen until after Christmas and I'm not even sure if that time will be so relaxing. I do love being on the go and having tons of things to do, but it definitely makes you appreciate when you do have some downtime.
I wrote a very emotional post on happiness last week and I'm glad to say that I've done pretty well so far on my quest to be/become a Yes-Woman. I took part in a Food Competition on Friday and while we didn't win (our food sure was delicious, though!), it was a fun event filled with food from all over the world and therefore a dream come true for Foodie Me.
Saturday Night then was probably the most surreal experience I have had in a while: I was tired and didn't feel like going out first, but honoring my promise to saying yes, I made myself get up and ready. The original plan was to go to a club, but one of us was too young, so instead we ended up at a… freaking yodeling/German folk music concert. Can I just say that again? A yodeling concert! We didn't know what we were getting us into, obviously. I still have trouble believing that my most 'German' experience so far has been in Norway.
One thing you need to know is that traditional German folk music is not popular at all with at least 90 % of my generation. In fact, it's the type of music that sends people running! But the people at the concert yesterday – who were almost all our age – everybody seemed to absolutely love it! I think one of the reasons for that is that we in Germany were brought up to not like this music by the media and other kids, whereas people in Norway are more unbiased towards this type of music. Just a theory. But hearing German music in the middle of Norway? Surreal.
Eventually we did make it to a club where we ran into some of our friends. I'm going to have to write a post on Norwegian clubbing behavior once I have lived here for a couple of months longer, because it honestly is so much different from anything I have ever experienced. The only thing I can say right now is that young Norwegians seem to go crazy once the sun goes down and you put on some music… who would have thought.
My wish from last week was to make and stick to a Study Plan. As I (unfortunately) sort of expected I didn't do so well on the whole planning thing. I did manage to write myself a To-Do-List every single day and stick to that 85 % of the time, but I could have done better. One major factor for failing was that I just didn't have enough to time to get all the things done that I wanted to get done – I kind of forgot to calculate that I would spend two afternoons just cooking. Therefore, it's going to be important for me to be more realistic in my plans in the future.
Another goal of mine was to finalize my new blog design and if you've been around these parts before than you probably have already realized that a couple of things have changed… so what do you think? :) I've been very much inspired by the sea lately, so I wanted to capture that with a nautical theme. I love it a lot more than I did my old design – this is lighter, easier on the eyes and I'm so happy with the way it turned out!
Once again, no exciting goals for this week, but one that is very important nonetheless: I need to finish the paper I've been talking about the last two weeks, but now it gets to the state where it starts to be urgent. I still have some time until my deadline, but I'm also going to be traveling again soon and I would prefer to have finished my work before that. This is also the reason while I intentionally don't make any other goals for this week, even though there are many other things that I could have written down this week: I just need to focus and prioritize right now, otherwise I kid myself into thinking that there are things which are more important – because that's definitely not the case.