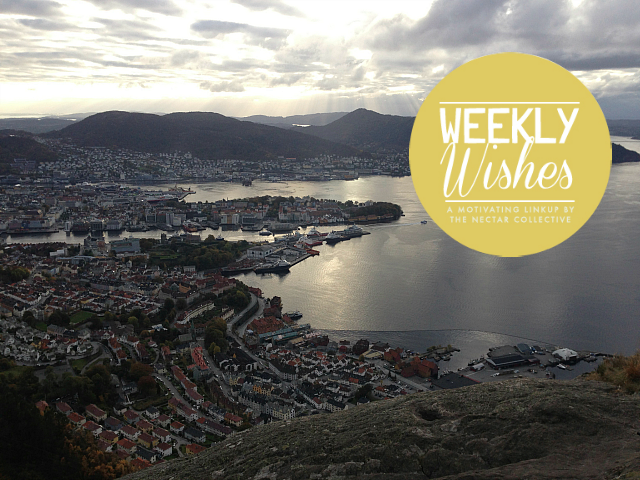 Last week wasn't quite as filled with highlights as the week before, but all in all there were some good times. To me, it feels like we're already on our way to winter, after only about a week of fall – the air is getting colder, the trees are losing their leaves quick and I just took my trusty, warm coat out from the back of my closet. We're probably not going to get much snow – if any – here on the coast, but I'm already on the lookout for the first snow to hit the mountains inland. I haven't gone skiing in a couple of years, but I definitely want to do it again here in Norway later this year.
I went hiking again this week (surprise!), because I really want to take advantage of all the wonderful outdoor opportunities in this area as long as it's possible to do so. I went to the Sandviksfjellet and have now been on six of the famous seven mountains around Bergen (though there are so many more!). Let's see if I can still get in the seventh mountain this year! The traditional path up the mountain is the Stoltzekleiven, a mostly stony stairwell consisting of over 800 stairs. It's not particularly long, but exhausting because of the ever-permanent ascension.
Many people say that you have the most beautiful view around Bergen from here and I agree – you see the island groups that guard Bergen from the rough North Sea, you see the big bridges that connect these islands with the mainland and you start asking yourself how nature could have built the perfect harbor all by itself. Its Bergen's unique geographical location that makes this city so appealing: Both the sea and the mountains have influenced this place and often you get to experience these both lifestyles right at the same moment.
And one more word on the Stoltzekleiven: This isn't as much a hiking path, as a local gym. You will notice this on pretty much every mountain you will hike in Norway, but the favorite endurance sports of the Norwegians seems to be mountain running. I know, I can't believe it either. And one of the favorite places to do so in Bergen is the Sandviksfjellet. People run up the stairs (the record is 8 minutes – I think we took 45 Minutes…), and the over to the Fløyen where they run down again. It's no surprise that almost all Norwegians seem to be so lean and fit.
Can you see that big smile on my face? It's because I got a lot of exciting travel planning done! All my plans for this year are now booked and set into stone and I'm oh so excited about it! I just booked my flight to Northern Norway, where my boyfriend and me will be going in December before we return to Germany over Christmas. I knew this was something I definitely wanted to do while I live in Norway and knowing now that this will happen just makes me so happy.
But one thing that might be even more exciting than fulfilling travel dreams that you've had for a long time, is when travel plans that weren't even on your radar suddenly happen. To cut matters short: I'm going to Paris in January! Never mind that I've been practically every year for the last couple of years – I love this city so much and could go there again and again as far as I am concerned. I've also never been there in the winter time, so it will be interesting to experience this city under a different coating.

One of my goals of last week was to finally start on one of the papers I have to write this month. And while I'm happy to admit that I did start the essay – I've got the outline ready – I have dodged around the real work so far. This is something I definitely need to change this week.
My other goal was to get working on my new blog design. And here's the thing: Last week I already had an idea that I had started to work on and so that's what I kept on doing. But for some reason, things weren't coming together right and then on Sunday I suddenly noticed that it was because I didn't really care for my original idea. I'm sure someone would have liked it, but it just didn't seem to be the right fit for me this time. So I started from the very beginning again. In other words, there is still a lot to be done, but when I look at what I have designed so far, I can't help, but love it!
My goals for this week are simple yet again: First of all, I want to finish up my blog design. Now that I'm doing something that I am really inspired by, this will probably be much easier, so I'm confident that this should be done within the next couple of days.
But my big goal for this week is to write myself a study schedule and then – this is the important part – stick to it. Here's the strange thing: I'm a workaholic. If I'm not working a lot, I feel off. There's nothing like sitting down somewhere to study for a couple of hours to make me hum the sweet sound of achievement and satisfaction. I truly believe that I am the happiest when I keep myself busy doing things. But unfortunately that doesn't mean that I hit the books automatically. I need to make myself to do it. And that's where a study plan comes in.
If I've planned out exactly what I want to do in a day or in a week – in other words: when I have made a certain commitment to myself – I tend to do a lot more, because then it's easier for my mind to be stronger than my body. Once I have started working on something, continuing to do so mostly isn't a problem. It's the beginning that gives me more trouble, but I intend to use my own weaknesses to my advantage in this case.
What are your goals for the week?