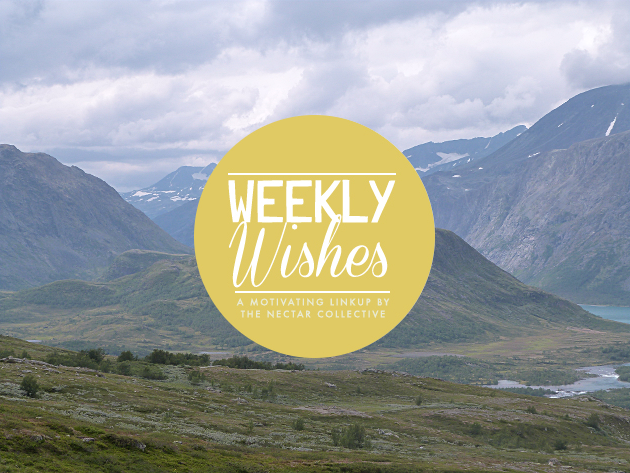 Another week, another Weekly Wishes post! In case your new to the party: Weekly Wishes is a link up that sprang from the creative mind of Melyssa from The Nectar Collective and encourages us to set goals for ourselves for the upcoming week. It's all about inspiring and motivating each other to push through and achieve what we have set out to achieve.

When I posted my last Weekly Wishes post, my goal was to have the time of my life while visiting my boyfriend in London. And what can I say? I think I did a pretty good job at that! London really was everything I dreamt about and more and I like to think that I took full advantage of my time there. Norway is beautiful, but after having lived here for two months going to a place where looking at the cash register was slightly less painful was really refreshing.
We had some amazing food, explored the city together on foot, squeezed in some shopping and in the end, I definitely wasn't ready to leave. The good news is, though, that I will be back in November and I honestly can't wait! Consider these Weekly Wishes a success!
I will be posting more about my week in London this week, so please stay tuned if you're interested.
Which leads me to these week's wishes. There aren't any exciting travel plans for this week yet, but that's okay because I've got a lot of work to do related to university. I want to get on top of all of my readings (it's probably just 500 pages or so…) and maybe even start an essay that I need to write. On top of that, I also want to concentrate on studying Norwegian. It's been going really good so far and I have made quick process - thank goodness I'm a native German speaker – but I want/need to devote more of my time to learning the language. One of my goals before going to Norway was to potentially become fluent in Norwegian by the end of my stay and while I still have many more months to accomplish that goal, I think it's best to take the bull by the horns and just really throw myself in it.
And in order to give my academic goals are vital chance off being accomplished, I need to have an eye on myself to not succumb to my new addiction: I've started watching both Pretty Little Liars and Game of Thrones and now I'm hooked on both. Which is great if it's a rainy weekend and you don't really want to go outside anyway, but not so great if you actually want to get some work done. So I suppose I will have to be stronger and not watch 5 episode a day… which is totally not how I spent Sunday Afternoon. ;)
What are your goals for the week?