I love food. I really do. I love to get creative in the kitchen and I certainly love to eat a good meal. It's a love that's currently definitely underrepresented on my blog, but who knows, maybe that will change in the future? But until then, I will leave you with my second post on all the amazing food I had in London last week. If you missed the first part, you can find it here.
One of my favorite places in London was Chipotle. I love Tex-Mex Food and frequently cook it at home, so this place was high up on my list for eating in London. It's a chain found all over the US, but sadly they only have a handful of restaurants in Europe most of which are located in London. They serve delicious Tacos and Burritos and we actually loved it so much that this was the only place we went to twice.
The first time I ordered the Soft Shell Tacos filled with Steak, Lettuce, Mild & Hot Salsa and Cheese. They were full of flavor with just the right amount of heat. The second time we went, I decided to be greedier and opted the Crispy Shell Tacos for a filling of Carnitas, grilled Veggies, mild Salsa and then a large topping of Guacamole and Hot Salsa. They were a bit of a mess to eat, but that's what I loved about it. My boyfriend had a vegetarian Burrito both times and was more than satisfied with the flavor and the amount of stuffing (if that's what you call it). We both left with happy grins. :)
I will definitely be going to Chipotle again in the future, but I'm also wondering if you have any recommendations for me for great Mexican food in London? Please let me know if you do!
We absolutely LOVE to eat Indian Food. My boyfriend introduced me to this cuisine when we first started dating and I'm so glad he did. There's not a lot in the food world that I love as much as a spicy Curry with fresh Naan Bread (well, I do love Burgers….). And since the UK allegedly serves the best Indian Food outside of India, we knew we just had to go to an Indian restaurant one evening.
We went to Masala Zone on a whim one night when we were out and felt like eating Indian and mostly went because Lonely Planet and the Internet gave a favorable review. And gosh, were they right. This was the single best meal we had in London. Screw that, probably the single best meal I had at a restaurant in a very long time. My taste buds are still fantasizing about this place.
There was a queue and we prepared for quite a long wait, but it moved quickly and we were seated in less than 15 minutes. Masala Zone is famous for serving for their Thalis. It's how Indian Food is traditionally served: You choose the type of Curry you want (I went for Butter Chicken) and it is accompanied by two vegetable dishes and a dal (lentils) to make it a complete, balanced meal. The veggies and the dal change regularly, but when we went they were Potatoes with Tomatoes and Onions and Eggplant in a spicy yoghurt sauce. All the components of my dish were phenomenal, but it was the combination of them that was mind-blowing. I also had a very delicious and refreshing Mango Lassi and left the restaurant barely able to walk because I was so full, but with a big smile.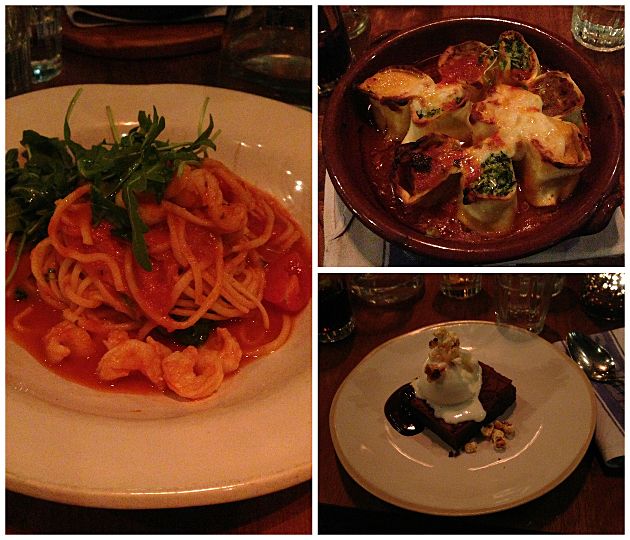 On our last evening together, we decided to go to Jamie's Italian in Covent Garden. It's a restaurant chain owned by Jamie Oliver and we already went to its sister restaurant in Edinburgh last year, which we loved. I'm a huge Jamie Oliver fan because his cookbooks were what ignited my passion for food and cooking and I therefore love to support his brand. (On a side note: Did you know that he runs a fantastic YouTube channel called Food Tube?)
We waited for a table for about 20 minutes and started our day with a started of Arancini with a spicy Marinara Sauce. Arancini are Sicilian rice balls stuffed with mozzarella cheese and then fried and are the ultimate decadent appetizer. For mains I had Prawn Linguine topped with Arugula and Samuel had Cannelloni three ways: Stuffed with Pumpkin, Eggplant and Spinach. Both dishes were beautifully presented and enjoyed every bite.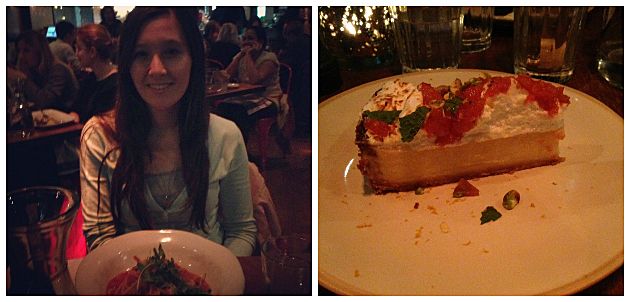 We were already pretty full at this point, but couldn't resist ordering two desserts. I had the Lemon Meringue Pie (I never say no to pie), which was probably my favorite part of the whole meal: I just love the tanginess of the lemon paired with the sweetness of the Meringue! My boyfriend chose the Epic Brownie (he'll never say no to chocolate) and yeah, that name was pretty much to the point. Topped with Amaretto Ice Cream and Chocolate Syrup this was pure Chocolate heaven. I don't really like Brownies so I'm not the best judge, but if you're a chocolate addict you should go for it.
I would recommend that you share these desserts, though (at least if you have done nothing else but eat for the last couple of days), because we had a really hard time finishing – they were that decadent!
My conclusion for this week in London? I love the food scene! I kind of suspected that before I even came, but looking back now my expectations have definitely been fulfilled! I can't wait to go back in November and have some more great food! If you have any recommendations for me, I would appreciate it so much if you could let me know!