I'm not ashamed to admit that part of the reason I was so excited to go to London was the food scene. While I really love to cook, I also really like to go out to eat and that aspect of my life is kind of lost here in Norway where restaurants are generally insufferably expensive. London on the other hand has a full range of eating options from street food to decent mid-class/budget options to Michelin-stared restaurants and I came prepared with a long list of places to hit up.
And what can say? It was magnificent. I don't think I ever traveled somewhere where I ate as good as in London (sorry Paris), especially considering that I was still trying to watch my budget and therefore concentrated on discovering London's budget food scene. I might be a stone heavier now, but heck was it worth it! I originally intended to write only one post about the food I had in London, but while writing I quickly noticed that I just had way too much to say about this topic so I've decided to divide this post in two parts. What can say, I love food!
Byron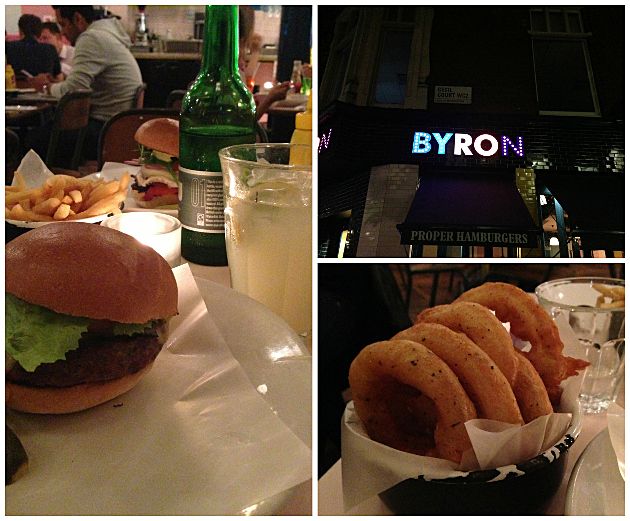 Confession: My favorite food item is a burger. People sometimes have trouble believing that, but there's really not a whole lot in the food world that gets me as excited as a really good Burger. Byron is a chain food all over London that prides itself for serving 'Proper Burgers'. I read about this place on The Londoner (just one of my favorite blogs ever) a long time ago and because she identifies herself as a Burger Snob, I figured I could trust her word.
And Byron certainly didn't disappoint. I had a Cheese Burger with a side of Onion Rings while my boyfriend went for the Veggie Burger (a grilled Portobello Mushroom) with a side of regular fries. My burger was great, cooked perfectly to medium and Samuel really loved his one as well. What really stole the show, though, were the Onion Rings. I don't think I've ever had Onion Rings before so I didn't really know what to expect, but the were such an interesting addition to the burger.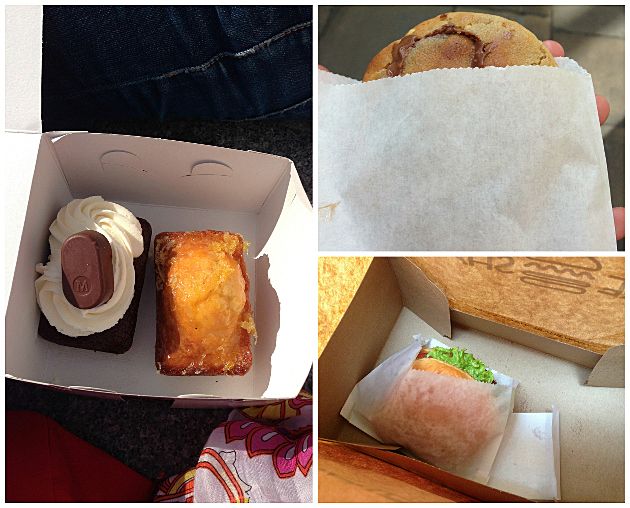 One of my favorite places in London in general was Covent Garden which is not only a beautiful area for shopping, but also jam-packed with restaurants, cafes and everything a foodie needs to be happy. Not that there's any correlation between my love for this part of town and its food scene…
I picked up these cakes on a whim at a market in front of the Covent Garden Market building and they were beyond delicious. I picked up a Lemon Drizzle Cake for myself that was perfectly balanced between acidity and sweetness and a Chocolate Magnum cake for my boyfriend that was topped with Buttercream and an adorable miniature Magnum 'ice cream'. The stand I bought these cakes from also had tons of other adorable Mine Pound Cakes, from classics like the Carrot Cake to awesome creations like a Kinder Surprise Cake. I think I prefer these to Cupcakes!
And while we're talking about indulging one's sweet tooth (not that I have one), I also picked up a cookie at the infamous Ben's cookies – on another day, though, as I would like to point out! ;) According to Lonely Planet the cookies are "quite possibly, the best in the history of cookie-making" and even though I'm not even the biggest cookie lover in the world (I prefer cake), I will admit that they're onto something. I went for a Peanut Butter and Milk Chocolate cookie that was everything a cookie should be: Perfect amount of chewiness with runny chocolate… I want one right now!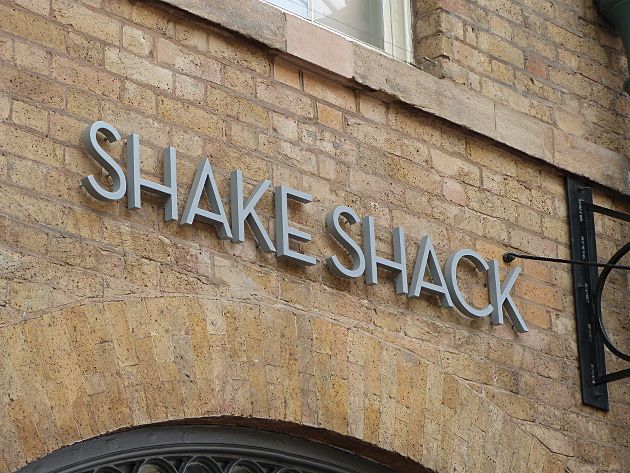 Inside of the Covent Garden Market, there has also recently opened a Shake Shack. If you're a Burger lover then you probably have heard of this place before – it has a reputation for selling the best burgers around and is notorious for its long queues. I went for lunch on a weekday and even though there was a substantial queue it moved quickly and I could place my order in less than ten minutes.
I came with very high expectations because so many people have raved about this place and I think it was because of that that my expectations were a bit disappointed. I had the Shake Shack Burger which was pretty decent, but… I kind of expected more. It wasn't an orgasm/explosion/party in my mouth and after hearing so much rave about this place, that was kind of what I wanted. I would go again (even if only to have their famous cheesy fries that I opted out on this time), but with slightly more realistic expectations.
Check in tomorrow for Part II! :)