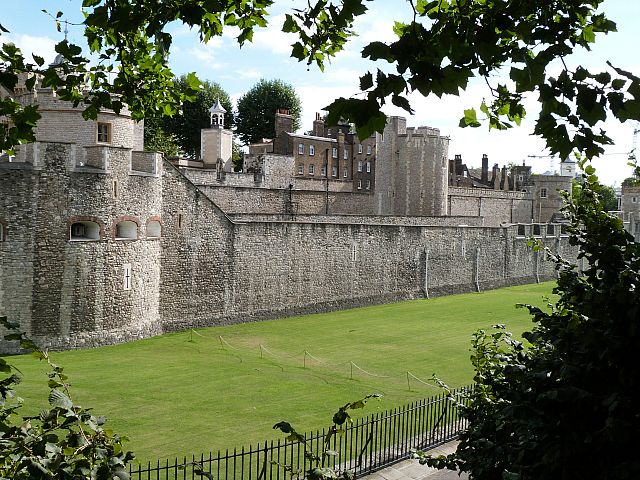 After hanging out in Covent Garden, I made my way to the City of London to meet my boyfriend at the Tower of London. This was the one sight I was really set on seeing while visiting London and because the weather was so gorgeous that afternoon, we decided to take advantage of it. Both Samuel and me are very interested in history and when we travel somewhere we always make a point to visit the important cultural sights to gain an insight to the history of a place.
I believe that in order to understand a country today, we need to know what it used today and while history might have a reputation as being stuffy and boring, I feel that visiting sites of the post usually prove the opposite. The Tower of London is one of the most amazing remnants of English history. Spanning almost a thousand years, it has been a home to kings, a prison to (alleged) traitors, a zoo, one of the oldest museums in the world (opened in the 17th century!) and is now one of London's most popular sights.
It was here that Anne Boleyn, the second wife of the infamous Henry VIII. was held prisoner and beheaded. It was also here where that two little princes mysteriously disappeared after their father's – the king's – death, only for their bodies to be found two hundred years later, sparking rumors about the origin of their untimely death, that are yet to be solved. The stories and legends that are entwined with the Tower have been a source of inspiration for literature and film and continue to do so and are a prime example of how history isn't just in the past: We breath and live history in every moment, we experience it with everything we do. History isn't just what has happened in the years before we were: It is what has formed our world to be what it is today and it should be appreciated as such.
One thing I love about London is how effortlessly the old fits in with the new. The Tower is a massive accumulation of buildings in midst of a busy modern business city, but it doesn't stick out like a sore thumb: It looks just as in place as the newer houses it surrounded by. The old is just as important a part of London as the new.
The Tower of London is also home to the Crown Jewels and hence regarded as one of the most secure places in the UK. (The other one is Gringotts, obviously). The Crown Jewels of the UK are special not only because of the sheer magnitude of the collection, but also because they contain one of the largest diamonds in the world. Koh-i-Noor originated in India where it belonged to many different dynasties, before it came into the possession of the British during their imperial rule over India and Queen Victoria was crowned Empress of India. If you love your bling, you're going to love the Crown Jewels. The princess in me (which girl doesn't have a princess in her?) was certainly giddy!
If you're interested in culture and history, the Tower of London should definitely go on your list of things to visit in London. The entrance fee is quite high (around 20 Pounds per Person), but the area is pretty big and you can easily spend half a day exploring. The entrance fee also includes a voluntary donation of about 2 pounds. If you don't want to pay this donation just say so at the register and they will subtract it from your bill.
What sight in London would you most like to visit?