I'm cheating in this 'Photo of the Week'-feature because these pictures weren't actually taken this week, but the week before. I didn't have time to post them on the last weekend, though, so I decided to just go ahead and do it today. I didn't really have the opportunity to go out this week and shoot anyway, but the week before was just a bit too exciting to not share already!
My boyfriend and me went to explore the Fjord Norway area a bit further, but I suffered from a really nasty cold that week and was therefore – unfortunately – not be able to enjoy it as much as I would have had I felt better. We still did many great things, though, and I'm glad that I chose to go out rather than suffer at home in misery. ;)
The highlight of the week was a weekend spent in Stavanger and hiking up to Pulpit Rock, but we also visited the beautiful little town of Rosendal at the Hardangerfjord and took the famous Flambanen. All in all it was an amazing week! My boyfriend has left Norway by now, but we already have something great planned out for September (little Teaser: England, here I come!).
Photo A
Sheep in Flam
Photo B
Naeroyfjord, a UNESCO World Heritage Site
Photo C
Beautiful Rosendal at the Hardangerfjord: Norway's only Barony
Photo D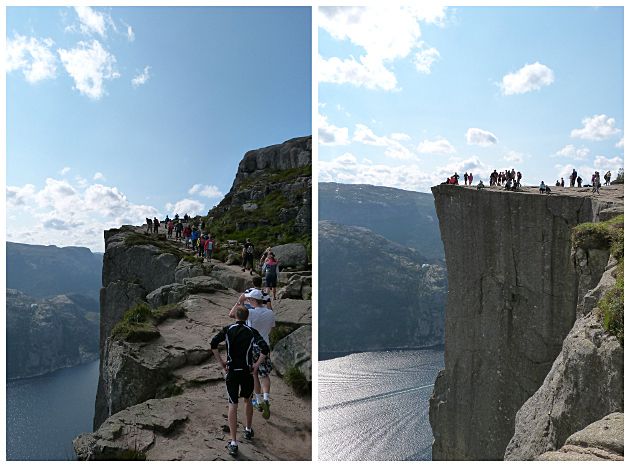 Hiking Pulpit Rock – with tons of traffic!
Photo E
Gamle Stavanger – the Old Town of Stavanger, filled with gorgeous white houses
Before I ask you which picture you love the most, I have an announcement – drum roll, please! ;) I'm sure pretty much everyone of you reads the blog 'Story of my life'. In May, Jenni hosted a 'Blog everyday'-Challenge and now she's back to challenge us all to get into blogging again! August has been a bit slow blog-wise for me, so I've decided to take part in 'Blogtember' because I'm sure it will really help me pick up the pace. There's a prompt for every weekday of September and some of my posts will be based on those prompts, but I will try to alternate my posts to still write my usual content. My main goal for September is to blog every weekday for September – let's hope this is a realistic plan! :)
What is your favorite picture?