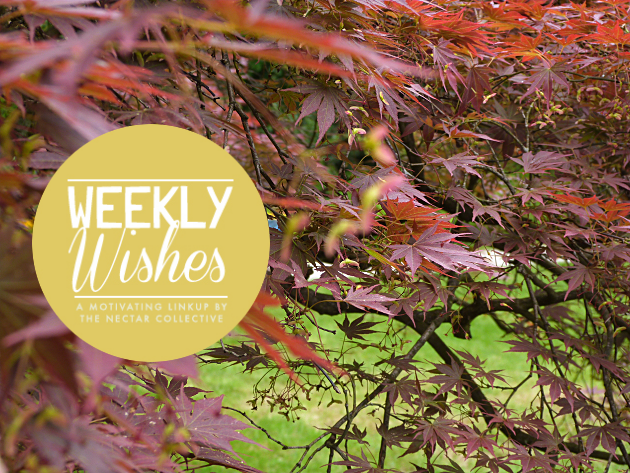 I contemplated not doing a Weekly Wishes post this week, because – I'm going to be honest – I really failed on all my goals from last week. I wanted to work on recharging my batteries and becoming more energetic, but… nothing happened. If at all, I'm more tired now! But that might be my legs talking after I achieved my biggest physical accomplishment to date this past weekend.
This brings me to a far more important point though: In order to make your goals/wishes happen you need to do something about them. And you will only do something about them, if your goals/wishes are important enough for you. It's easy to say 'I want to study more', but if you genuinely don't care about this, you're probably not going to do it. I do believe we should take on goals that we know are hard to achieve, but at the same time we also need to be aware that it is going to take some work and then ask us: "Do I really want to do this?"
In conclusion: From now on I will only take on goals that I really care about. And if that means that my only goal for a week is to do laundry then so be it. We don't need to have big, exciting goals every single week.
With that in mind, what is my goal for this week? Simple enough: Get organized. I'd like to think that I'm a pretty organized person: I can't stand clutter and actually genuinely enjoy cleaning, but that's not the kind of organization I'm talking about. But I want to organize my life a bit better, because I have so many things coming up in the next months that it'd be good to get a head start and stay on top of things.
I have many travel plans for the rest of the year, but none of them – except of my London trip next week – have been planned yet and I'd really like to get them set into stone a bit more. On top of that I also have some schoolwork to do and a lot of assigned readings that I want to start reading while I'm not under stress yet. It's not particularly hard to organize both my travel and my school life, however, I just need to finally sit down and just do it. And I feel like this is something I actually care about enough to do it.
What are your Weekly Wishes?