I think I loved Trondheim even before I stepped foot in this city. Trondheim just has the best name EVER! This will be difficult to understand if you don't speak German, but in the pronunciation of my native language I can barely imagine a greater sounding name for a town. Sadly, it doesn't work as well in Norwegian – never mind in English – but it did ensure that I arrived in Norway's third largest city in good spirits.
Trondheim is everything you would imagine a quaint Scandinavian town to be: There are beautiful wooden buildings nestled along a beautiful waterfront. It is home to Scandinavia's largest sacral building and the greatest pleasure lies in just walking through town and taking all in. Top this with the fact that we had beautiful weather for the duration of our stay (I'm talking sunshine for once) and you get a really great combination.
We arrived in the early afternoon and stayed for two nights, the perfect duration for a stay in this town. You could get away with staying for only one day and still visit all the major attractions, but your stay would also be a lot more rushed and give you less time to leisurely stroll around.
Central Trondheim is situated on a peninsula which gives the city quite a unique geographical location: To the North, there's the sea and and to the east, south and parts of the west there's the river Nidelven. In other words, you're never far away from the water.
One of my favorite places in Trondheim were the Bryggene. Similar to their more famous cousins in Bergen, these building are colorful remnants of a time when sea faring trade was a much bigger part of society. Trondheim's Bryggene seemed much less touristy to me than Bergen's Bryggen. There's not a whole lot to explore, but it does make for a beautiful photography backdrop.
The most famous sight of Trondheim is definitely the Nidaros Cathedral. Nidaros is Trondheim's old name (going back to the beginning of the post: Nidaros is pretty cool name as well) and was Norway's (if not Scandinavia's) most important Pilgrimage site.
It's the burial site of Norway's most important saint, Olav Haraldsson, a Norwegian king in the 11th century. He was responsible for the spread of Christianity in Norway, but died in battle while doing so. Nidaros was quickly declared a bishop's see and hence eventually became Scandinavia's most important sacral town.
The Cathedral is a beautiful and definitely surprising sight - you wouldn't imagine to find such a building in Norway. While the facade is full of interesting statues showcasing different saints, the interior is nothing terribly new if you've been to a lot of European cathedrals already, but it is still impressive.
Once a year, at the end of July, there's a festival in honor of Olav Haraldsson with all sorts of cultural activities, ranging from church services to concerts and craftsmen workshops. There's also a historical market where you can purchase all sorts of goods (and delicious cinnamon almonds) in the Archbishop's Palace, right adjacent to the Cathedral. In the Palace, there's also a small exhibition showcasing the Norwegian Crown Jewels.
There are several ways to cross the river and leave the peninsula, but the most idyllic one is definitely Bybrua that connects to the lovely quarter of Møllenberg. If Trondheim is everything you would imagine a Scandinavian town to look like than Møllenberg is going to fulfill all your Scandinavian dreams: Quiet streets, bustling cafes all situated amongst beautiful wooden buildings and an all-round friendly vibe make me really want to live there.
I also saw one of the craziest (albeit coolest) things I've ever laid eyes on in Trondheim: A Bicycle Lift. If you're wondering if I've lost it, please allow me to explain. Møllenberg partly lies on a pretty steep hill, so to make life easier to residents (I guess) someone decided to install a bicycle lift on one of the main streets. The concept is pretty easy: Your right foot gets pushed forward while you sit on your bike. I saw some people (unsuccessfully) try to use the lift, so it seems to be a lot harder in practice than in theory. Combine this with the fact that the hill really isn't all that high and you wonder if maybe this town has too much money lying around.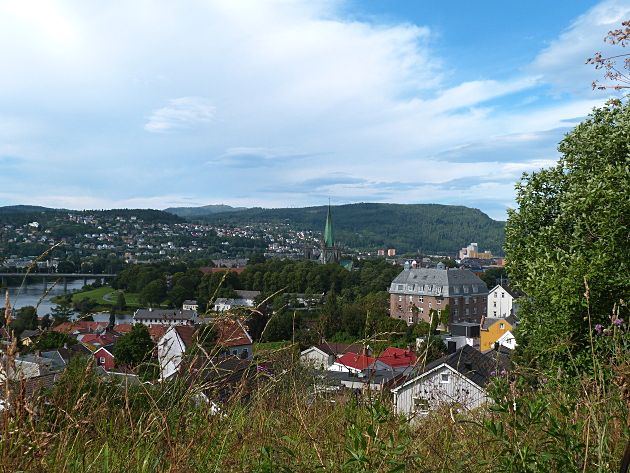 Stay tuned for more on Trondheim!