Hello from Norway! I'm still traveling and finally at a point where I can safely say that the honeymoon with this country has started. I'm planning to start the coverage of my recent travels here soon (fingers crossed for the week-end), but until then I present you my last (really) post on traveling Scotland. Don't forget to check out Part 1 of 'Our Scotland Itinerary'! :)
Day 8: Isle of Skye - Portree
After our exhausting first day on the Isle of Skye, we took it a bit slower on the second and visited the picturesque seaside village of Portree. Portree is a gorgeous town complete with colorful harbour, lush surroundings and screeching seagulls and even the constant rain (to which we had sort of gotten used to at this point) couldn't degrade its beauty. We went on a short walk around a nearby peninsula and spend the rest of the day recovering from our usual fast-paced travel.
Day 9: Traveling from Skye to Glen Coe
Our ninth day in Scotland was largely spent traveling. We took the bus from Skye to Fort William and where we took the Cable Car up to a neighboring mountain of Ben Nevis (the UK's highest mountain) and walked around on top for a bit. The weather was horrendous and I took about two photographs the whole day, just because there wasn't anything to see but clouds. It was a bit of a disappointment, but at least we left with a funny memory of Asian tourists on top of a cold, rainy mountain wearing shorts and flip-flops.
Day 10: Hiking in Glen Coe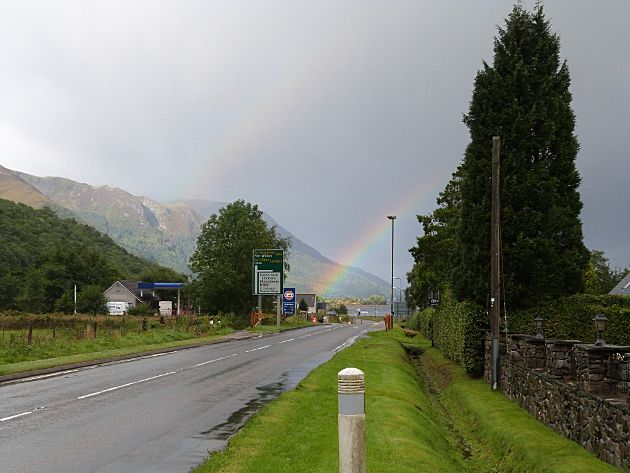 We woke up to a beautiful rainbow above Glen Coe, Scotland's most famous valley and our destination for the day. It set the tone for the day, and man, was it a great one! We went hiking and while the path was often undefinable and sometimes down right dangerous, we had a great time. It was a rainy day again (anything new?), but we still had a good time. I still talk about this hike every time I'm going hiking somewhere, just because it was that exciting.
Day 11: Discovering Loch Lomond
Loch Lomond is simply beautiful! If I was living in Glasgow, I'd probably head there every single weekend, but at the very least every time the sun comes out. After a succession of rainy days, we were finally graced with sunshine. We went on a cruise across the lake, explored the tiny uninhabited Isle Inchcailloch and walked through a beautiful country park in Balloch. Utter bliss.
Day 12: Stirling Castle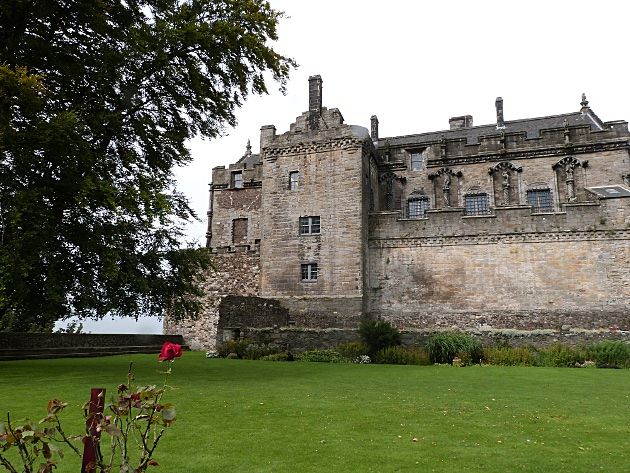 We finally headed back towards proper civilization (who needs that anyway) and visited Stirling for a couple of hours on the way to Edinburgh. Stirling is a picture-book perfect example for a town that is utterly Scottish. There's an amazing castle, old cobblestone streets and just something in the air and that made me think 'Yes, I am in Scotland!'.
Day 13 & 14: Exploring Edinburgh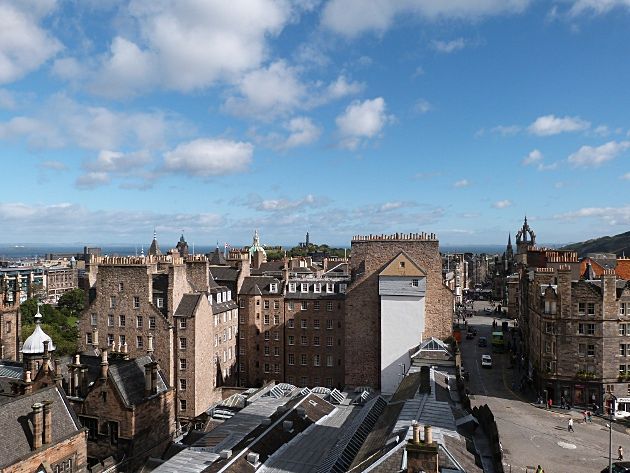 Our last two days in Scotland were completely devoted to exploring Edinburgh. Edinburgh is such an amazing and great city – I could so see myself living there! There's culture, beautiful architecture, shopping, history and it certainly doesn't hurt that the city is located in one of the most gorgeous countries imaginable. I was enjoying the moment so much that I barely gave any thought to taking photographs and while the photographer in me is looking angry, the traveler is glad to have savored the time.
I'm linking up with Belinda and Bonnie for Travel Tuesday.