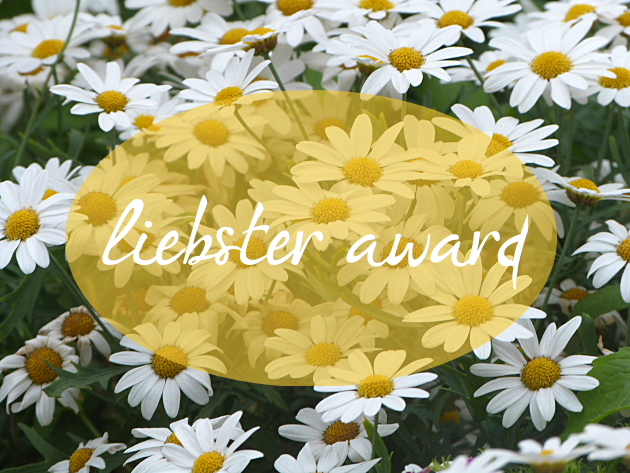 A while back I wrote a post about the things that my first month of blogging taught me and one of the things I mentioned was that the most important part of it all is building connections with your fellow bloggers. And one great way to do that is by participating in fun tags, especially when other people graciously go out of their way to tag you.
Over the last couple of weeks (I can almost say months), I have been nominated for the Liebster Award by three wonderful ladies: Claire was the first one, Alyssa was the next one and Ashley just recently nominated me. Thank you all so much – I honestly appreciate it!
The rules are simply: You answer the questions that your fellow bloggers have asked you, you share 11 facts about yourself and then you nominate up to 11 other bloggers with less than 200 followers to do the same. Since there were more than thirty-three questions for me to answer, I took the liberty of choosing the ones that I had the most to say to – because ain't nobody got time for reading thirty-three long-winded answers.
The Facts
I play the harp // I was a scout for all of my teenage years // The first thing I learned to cook was Lasagna // Italy is my culinary home // I'm half-German and half-Chinese // I dream of shoes and handbags that are unreasonably expensive // I used to be a Foreign Exchange Student in Canada // My favorite food item is a stunning burger // I know Latin // The country I have visited the most often is China // I strongly prefer American to German TV
The Questions – Answered
Claire
1. What was your dream job when you were a kid?
Way back in the day, I wanted to become a ballet dancer. I even took classes! Later I dreamt of owning my own horse farm. Looking back now makes me realize just how much of a typical girl I was! Shortly before starting Secondary School, though, I also became interested in becoming a judge. My dreams of dancing and horse-back riding may not have worked out, but considering I'm studying law now, the chances of me becoming a judge one day are still tangible.
2. What's the best blog post you've read this week?
This is difficult – I read so many great blogs that continue to produce the best content ever. One post that really stayed with me this week, though, was a post on the Truths of Living as a Professional Travel Blogger by AdventurousKate. She writes one of the best and most successful travel blogs out on the interwebs and her words were really touching and eye-opening.
3. What's the best Youtube Video you've found?
Impossible to answer. I'm subscribed to around 100 awesome people on Youtube and actually watch almost all of the videos they post. One great one this week is this 'Getting ready' –video by Evelina: Stunning cinematography!
4. What is/was your favorite video game?
I'm not going to lie: I'm not a gamer. But while I was an Exchange Student in Canada, I had a love affair with playing 'The Lord of the Rings: The Third Age' on PS2. I've played a bit of Assassin's Creed and Skyrim with my boyfriend, though, and thought that was fun, but I will probably never be really into the Gaming world.
5. What one thing do you do to brighten your day?
Go work out. I don't really love working out, but it never fails to get my endorphins running.
Alyssa
1. What time do you usually go to bed and wake up?
I go to bed way to late (after midnight is usual…), but my wake up time really depends on the time I have to be at the university. It's usually some time between 7 and 9 o'clock in the morning, though.
2. What's your favorite flower?
I love roses in all shapes and forms, but pink ones probably the most.
3. How do you relax?
I tell myself to let go of all my responsibilities and just enjoy a day of doing nothing. In other words, this never happens.
4. If you could never be on land again… would you rather swim in the seas or fly in the skies?
Definitely fly in the skies. I might not be able to stand on ground, but at least I would be able to fly to virtually every point in the world. If I was swimming in the sea, there would be so many places I could never lay eyes on again.
5. Do you have a recurring dream?
Not that I know. I rarely ever remember my dreams, but they are usually all over the place.
Ashley
1. What is your ultimate vacation destination?
This changes constantly. However, I do have three countries on top that are constantly rotating: New Zealand, South Africa and French Polynesia. Three places of stunning beauty and two of them about as far away from my current location as possible. Hopefully, I will be making these dreams a reality within the next ten years.
2. How would you describe your blog?
Melanie Fontaine is a lifestyle blog with a strong emphasis on travel and photography. I plan to get more into food blogging in the future, though, since that is a big passion of mine as well.
3. Where is your favorite place to shop?
Confession: I strongly dislike shopping. I just don't see the appeal of strutting through stores overflowing with people on a Saturday afternoon. I do, however, love online window-shopping and my favorite place for that is 'Net-a-Porter'. Looking at the shoe section always makes me wild with envy!
4. What is your favorite movie and why?
My favorite movie is hands down 'The Lord of the Rings'. I love everything about it: The characters, the stunning landscapes, the epic battles. I also love the original books – they're masterpieces of literature that invite you to dream up your own adventures.
5. What is the best dessert you ever ate?
While I do love to go out to eat, dessert is not usually one of the things I order, though I have a huge sweet tooth. However, I do love to bake at home and one of my favorite things to prepare (and eat, of course) are Cinnamon Rolls. If I'm in a hurry, I love to bake simple Pound Cake, an abbreviated version of which you can find here.
----------------------------------------
Since this is an age-old tag, all the people I intended to tag have already been tagged by other people and even written about it before I got to it. Therefore: If you haven't been tagged, but are interested in answering some of these questions, please go ahead and consider yourself tagged! :)