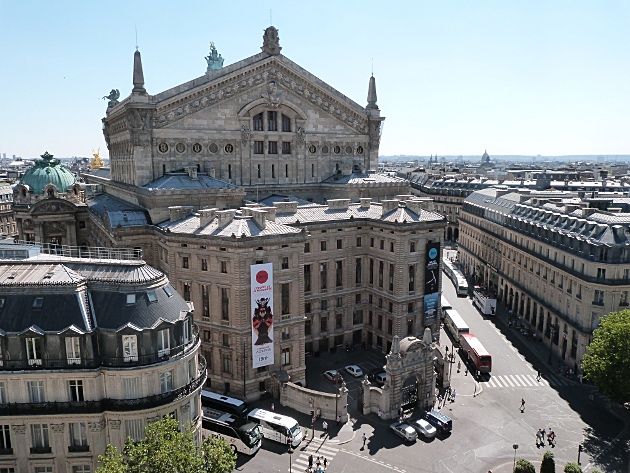 Paris is little more than three hours away by train from where I live in Germany and it's a shame that I don't make it over more often. Not that I have much of an excuse not to, but since I don't have a Paris trip coming up in the immediate future, I have to resign to day dreaming.
I spent two summers in Paris studying French and used that time to explore as many different sited of the city as possible. And I have found places that will forever leave memories with me and that I will want to go back to for a very long time. The temptation of jumping on a train to Paris for a day is definitely there. But what would I do?
10am – Arrival
Since I'm coming from Germany, I arrive at the
Gare de l'Est
. I make my way down to the Metro, purchase a ticket and then get on Line 4 in the direction
Porte d'Orleans.
I get out a few stops later at
Les Halles.
10.30 am – Centre Pompidou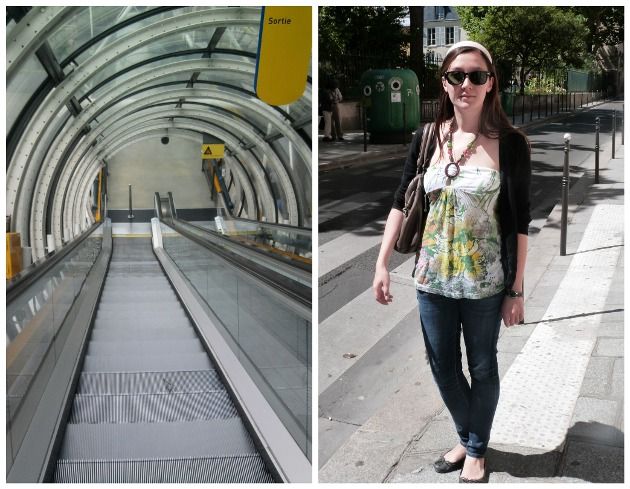 I walk towards the
Centre Pompidou
. It's not exactly a pretty building from the outside, but I have come to appreciate it more over the years. I love Modern and Contemporary Art and no visit to Paris is complete without going to the Pompidou. I get a free ticket, because I am a European Citizen between the age of 18 and 25 and head up the stairs to the collections. The first floor is dedicated to more recent works: It was here that I first understood that Contemporary Art isn't just crazy, but that there is a special meaning hidden behind it. The second floor showcases the big masters of Modern Art: Picasso, Matisse, Dalí. I leave the museum deeply inspired.
12 am – Le Marais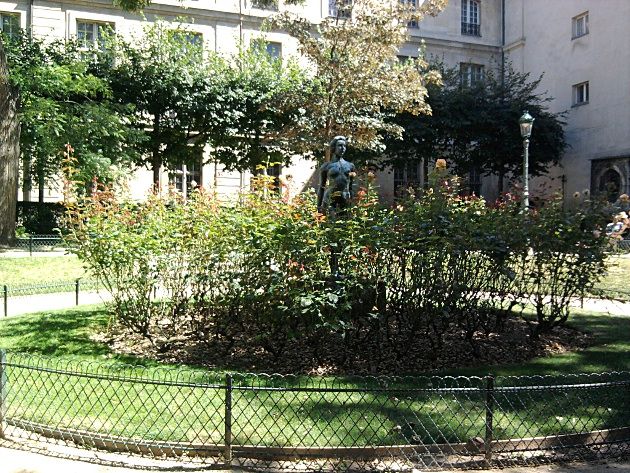 The museum visit was short, but Paris is big and there are many other things I want to do. I'm on my way to the Marais now which is one of my favorite quarters of Paris. I decide to stop for an early Lunch
.
I don't want to lose time on an elaborate meal, so I grab a Falafel at one of the many stores at
Rue des Rosiers
and proceed to my favorite hidden park in the area. While I eat I take a moment to realize that I am indeed in Paris. I spend some more time walking through the streets of the Marais and then head to the Metro Station
Bastille
while passing the famous
Place des Vosges
.
2 pm – Rive Gauche
I get on the Metro Line 5 in the direction of
Place d'Italie
and get off two stops later at
Gare d'Austerlitz.
I change lines to Number 10 until
Odéon
. I spent the majority of my summers at
Rive Gauche
(the part of the city south of the river Seine) – this feels like coming back home. I walk along the
Boulevard Saint-Germain
, but take a detour into
Rue Bonaparte
to pick up some Macarons at Pierre Hermé. I haven't tried them before, but am curious to see how they compare to Ladurée. I'm headed towards the
Assemblée Nationale
where I cross the Seine at the
Pont de la Concorde.
I am sad to have missed out on the
Jardin de Luxembourg
, but know I will be back some other day.
3.30 pm – Opéra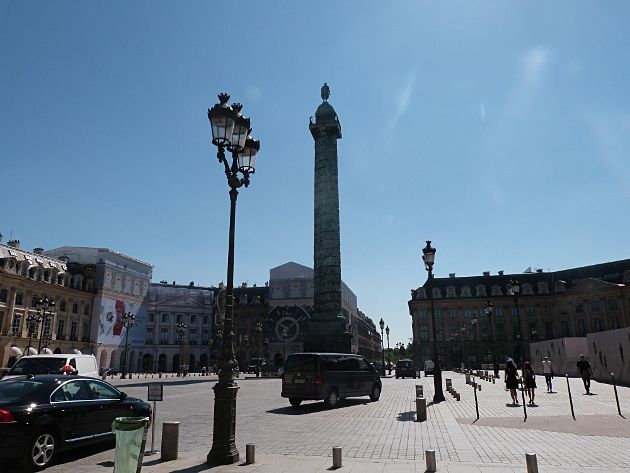 As I'm standing at the
Place de la Concorde
, I'm wondering which direction to head next and I'm feeling overwhelmed by the amount of possibilities. There's the
Jardin des Tuileries
, the
Madeleine
and the
Champs-Élysées
! I finally decide to walk along the
Rue de Rivoli
. I take a turn to the left and find myself at the
Place Vendôme
. I look at the beautiful jewelry displays and pretend for a second that I have all the money in the world. I keep on going until I am standing in front of the
Opéra
.
4.30 pm – The Shopping District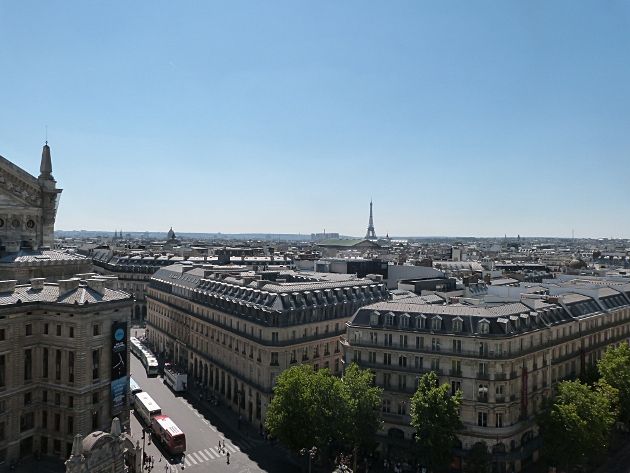 I am tired and wonder why I didn't come up with a less ambitious plan for the day. I want to take a break, but find myself stressed out in one of the busiest areas of Paris. In the end, I can't resist and head towards the Boulevard Haussmann to go to my favorite store of all time: The
Galeries Lafayettes
. I go straight to the top of the building where there is a terrace from which you have a marvelous view. I see how truly stunning the Opera is, I catch a glimpse of the Eiffel Tower and in the far back, there is the Arc de Triomphe standing far higher than any picture would ever make you believe. It is at that moment that I realize how truly beautiful Paris is and how blessed I am to have visited this city so often already.
6 pm – On the way to the train station
After convincing myself that buying a designer handbag is not a good idea, I sadly realize that is time to go soon. I pick up something to eat at a bakery and start to make my way back to the
Gare de l'Est
. I will probably be at the station to early, but I take the opportunity to pick up a
Vogue Paris
and have a coffee at the train station.
7 pm – On the way home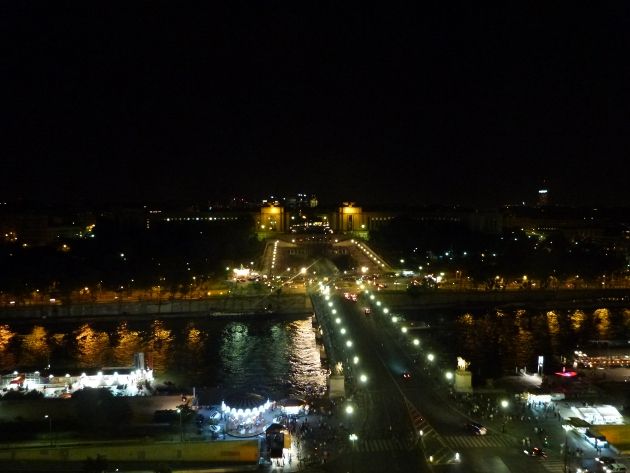 I'm on my way back to Germany now. I'm exhausted and happy that I had a coffee before boarding the train. And I start to reminisce about the day. I think of the places I could have visited: I could have walked up the Montmartre and gone to the
Sacre Coeur.
I could have picked up a book at
Shakespeare and Company
. I could have wandered along
Avenue Montaigne
and looked through the windows of the most expensive stores on earth. And it all would have been wonderful.
I feel a bit nostalgic about the both summers I spend in Paris and there's a certain part inside of me that wishes I could go back to those times. But I don't stay sad for too long. Paris will always hold a special place in my heart, but I'm also glad at the prospect of being home again soon. I know it will not be the last time I will have been there. Because after all as Audrey Hepburn once famously said:
Paris is always a good idea.
Today I am linking up with Belinda and Bonnie, who write two of my favorite blogs! They have started a new 'Travel Tuesday' link up and if your heart is even a little bit wanderlusting you should definitely check it out!