Today, I'm excited to bring you the second installment of my 'Travel Tips for Scotland' series! Don't forget to check out the first post 'An Introduction to traveling Scotland', in case you have missed it! This time, I will give you some tips on getting around Scotland without a car.
I should start out with a disclaimer: I love traveling by car. It is actually my favorite way of traveling. I love to be able to go wherever I want and whenever I want and there's nothing like the luxury of stopping whenever there is something exciting to see. But here's the thing: Samuel and me are in the beginning of our twenties. And that means we're in the age group that companies really don't want to hire cars to, because – statistically – we're much more likely to drive recklessly and get into accidents. As a result there are supplemental fees for young drivers that make the expensive act of hiring a car even more expensive – and therefore we elected to use Public Transport instead.
If you're concerned that you won't get anywhere if you don't travel by car, then don't worry! Scotland has a surprisingly smooth and wide-spread system of Public Transport considering that big parts of the country aren't densely populated: We were able to get everywhere we wanted by bus, train or ferry – even our B&B on the Isle of Harris in the middle of nowhere! Just keep these pointers and common sense in mind and you'll be fine.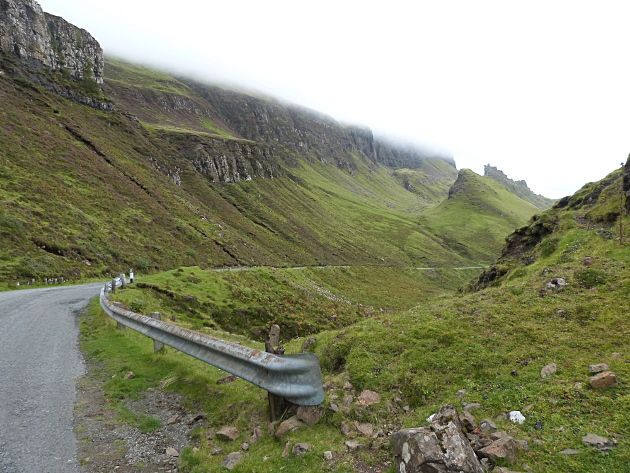 1. Be prepared and plan ahead
While you can get to pretty much every place on Scotland by Public Transport, you need to keep in mind that a lot of the connections only go a very limited amount of times a day – sometimes just once or twice! So do your homework, check the times and plan out your day. A great tool to do so is travelinescotland.com. You type in where you're traveling from, to which destination and when and this website will give you all the possible connections. This is especially valuable considering that there are several bus companies serving different parts of the country and it saves you from having to navigate three different time-tables.
I would recommend writing down three connections before you set off in the morning: The connection you really want to take, one connection before that and one after. I cannot stress how important it is to always check that there's a later connection that's actually feasible, if you don't want our Skye Fiasco happen to you!
2. Taking the train
We only took the train twice on our journey – once from Aberdeen to Inverness and then from Stirling to Edinburgh. There are not as many train as bus connections in Scotland and they're usually only between the bigger towns. Taking the train is also more expensive then going by bus. We always bought our tickets on the train station the day we were going, but you can save some money by booking in advance on scotrail.co.uk.
3. Going by bus
If you're using Public Transport to travel through Scotland, chances are you're going to be taking the bus a lot. It's the cheapest and often the fastest way of getting from A to B and just so convenient. Usually, you will buy the tickets from the driver (have cash ready) when you get on the bus. If you're going on an overland bus it may be worth to check online a couple of days earlier, though, because there sometimes are big discounts on some of the longer routes. We only paid 2 £ each for our tickets from Inverness to Ullapool and probably would have paid five times as much if we had just shown up on the bus station. It was the only time such a discount was available on one of our routes, but it can never hurt to check beforehand.
But the best thing about taking the bus is something completely unrelated to the price: Out in the country, the bus will stop everywhere along the road for you, if you ask the bus driver. And if a bus is passing you by, you can stop it by giving a hand sign and then get on. It took us at least a week until we figured out that bus stops were more of a suggestion than a necessity and until then we had always been a bit confused: Why is the bus stopping again? Where the heck are we anyway? But this system just makes so much sense. There are enough people who don't live anywhere near a bus station and instead of having to worry about how to get to the station five miles down the road, they can just step out of their house and wave their hands. It's barely an inconvenience to anyone who's on the bus, but makes life so much easier for the people who live there. track.
4. What about the ferry?
You're obviously not going to take the ferry unless you're visiting the islands, but it's an important part of traveling Scotland nonetheless. We took two ferry journeys: One from Ullapool to Stornoway on the Isle of Lewis and one to get back from the Outer Hebrides to the Isle of Skye. The Isle of Skye is connected to the mainland by a bridge, so you won't have to take the ferry.
Taking the ferry is relatively inexpensive if you don't take a car and it's such a serene way of traveling. You can show up at the ferry terminal an hour before the boat is going and purchase a ticket without problems. If you have a car, you should probably book your spot beforehand, though, especially if you're traveling during the high season.
If you don't want to take the ferry, you can get to a lot of the islands by plane as well, but it's much more expensive, not to mention bad for the environment, so I would always recommend taking the ferry, if just for the experience.
~+~+~+~
Wow, that was one heck of a long post! I hope it was helpful to some of you and should you have any other questions on traveling Scotland, please do let me know!
Have you ever traveled through a country using only Public Transport?