About a year from now, we set out on our journey to Scotland. I have written tons about this trip already and this is likely going to be the last post on this country in a while, so I thought it was about time to share the itinerary of our travels. We had quite an ambitious and sometimes stressful plan, but I am so happy that we got to experience all of our adventures. Today, I am going to share the first week of our journey and the second week is going to come up soon.
Day 1: Aberdeen
We left Germany in the early morning hours and flew to Aberdeen. After checking into our hotel, we went to the beach where my camera died on me and continued to walk through the city, exploring the university grounds and some of the local museums. We went back to the beach at night with a charged camera and I took some of my favorite photographs of the trip. Aberdeen is not a must-visit destination in Scotland, in my opinion, but if this is the airport you're arriving at, it might be worth it to spend a couple of hours there.
Day 2: Glen Grant Distillery
On our second day, we took the train from Aberdeen to Elgin and visited Glen Grant Distillery where we got introduced into the mystery of Scottish Whisky. Because we happened to be the only people visiting at the time, we ended up having a private tour by default. Glen Grant Distillery also had a beautiful garden where we went for a walk, before we headed back to Elgin and got on the train to Inverness, our base for the next couple of days.
Day 3: Culloden Battlefield & Loch Ness and Urquhart Castle
Early in the morning, we left Inverness to visit Culloden Battlefield, the ground of Scotland's most iconic battle. The visitor centre had a very interesting historical museum (yes, that's possible) and the audio-guide over the battlefield made us understand the battle in a more profound way. If you're interested in history and especially military history, you shouldn't skip out on this place.
In the afternoon, we took a bus to Scotland's most famous tourist attraction, Loch Ness. We didn't catch a glimpse of Nessie, but spent the rest of the day walking around the ruins of Urquhart Castle, right at the shores of Loch Ness. Urquhart Castle looks exactly how you would an old Scottish castle to look like and its unique location definitely makes for a stunning vista!
Day 4: The Cairngorms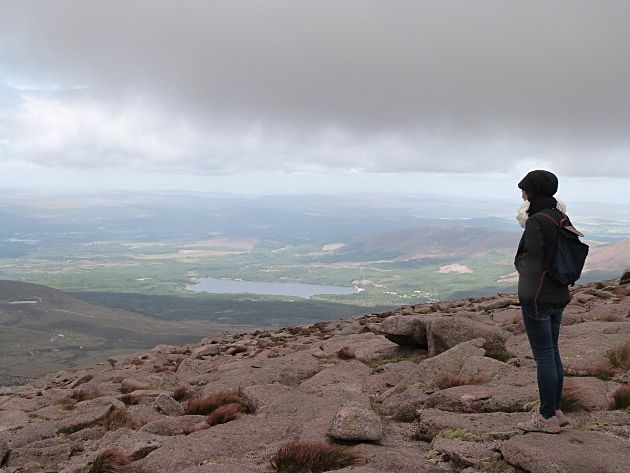 On the fourth day, we set out to the Cairngorms National Park to do some hiking. We took the bus from Inverness to Aviemore (a town I really want to visit in winter as well!) and then another up the mountains to the Cairngorm Mountain Railway. We hiked up to the summit of the mountain from which we had a wonderful view of the surrounding landscape, but also froze our butts off. I was certainly happy to have bought a scarf at Primark earlier that day.
Day 5: Dunrobin Castle
The next day, we headed up north to Dunrobin Castle that still holds a spot in my heart as my favorite castle. It is located on a hill right by sea and has a gorgeous green garden. The highlight of the visit for us was the bird show that is held twice a day – it was such a great experience! Afterwards, my boyfriend decided it was time for him to get a falcon, whereas I was ready to embrace my inner Harry Potter and get an owl.
Day 6: Isle of Lewis
We left Inverness the next day and went to Ullapool from where we took the ferry to the Isle of Lewis on the Outer Hebrides. It was a whirlwind adventure because we only had 24 hours on this archipelago and I wished we could have stayed longer. We saw the Stone Circle of Callanish and drove around the island by bus. We spent our night at a beautiful B&B on the Isle of Harris.
Day 7: Isle of Skye – Getting Lost
After going for a walk on the Isle of Harris in the early morning hours, we left the Outer Hebrides for the famous Isle of Skye. We went hiking in the Quiraing, got lost, missed our bus and then met a super friendly Scottish couple that saved the day. Skye was beautiful, but this day was probably are lowlight of our journey, where it now for the friendliness we encountered that day.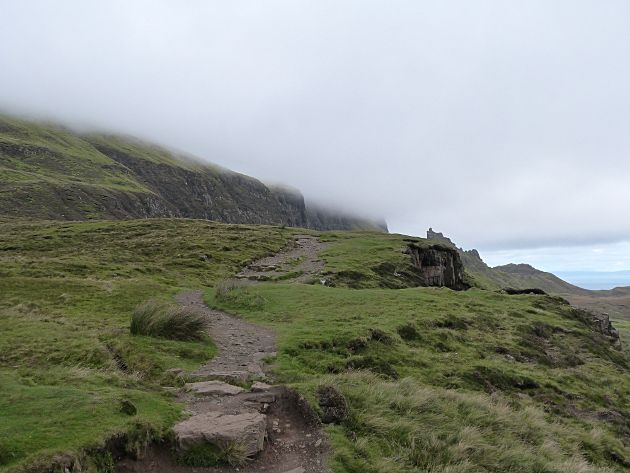 Our second week is coming up soon! Get ready for Glen Coe, Loch Lomond, Stirling and Edinburgh!
I'm linking up with Belinda and Bonnie Rose for Travel Tuesday!